"Wounds of Existence," an exhibition of the works of Los Angeles artist Jim Morphesis, now on view at the Pasadena Museum of California art, explores the predicaments of human life. Based on themes inspired by the Greek Orthodox faith and the paintings of Old Masters, Morphesis' works of the past four decades communicate the artist's ideas about both human vulnerability and transcendence.
I recently interviewed Jim Morphesis and asked him about his background and the themes of his work.
John Seed Interviews Jim Morphesis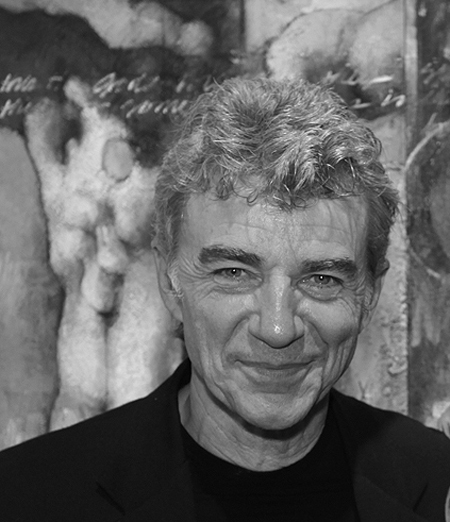 JS: Tell me about the early years of your life and how they shaped you. When did you know you were an artist?
JM: As a child growing up in the Philadelphia area, I would draw, paint, make models and catch bugs and slimy things. By the time I was in the fourth grade, I knew most species of frogs and butterflies in the Northeast United States. My father was an exceptionally talented illustrator whose burgeoning career was interrupted by war and a call to service. He remained in the military long enough to achieve the rank of Air Force Colonel.
This had me growing up in a disciplined house that, to this day, affects my studio practice. In time, my father returned to art, becoming a designer for the government. This meant that I had access to wonderful, good quality art materials and I took full advantage of the situation by using these materials to draw and paint everything that interested me. At thirteen, I decided that I would become a working artist following my retirement as a professional football player.
My high school football career convinced me to give up the dream of being a Philadelphia Eagle and I headed straight to art school. I attended the Tyler School of Art for my BFA degree and then headed to the West Coast to be a part of the first graduate class at the California Institute of the Arts. CalArts landed me in Los Angeles and, while I lived and worked in New York for eight years, I have spent most of the past four decades working as a Los Angeles based artist.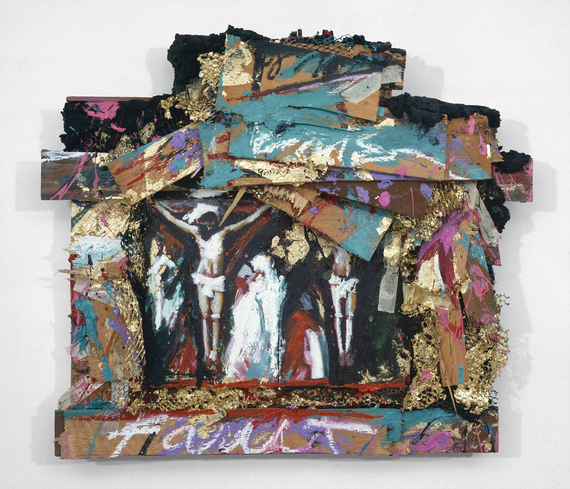 No Sanctuary, 1981, Oil, acrylic, wood, nails, wire, tape, and gold leaf on wood panel, 26.5 x 29 inches
Collection of Dr. Ray Mnich, Palm Springs
JS: What role has your Greek Orthodox faith had in your artistic development?
JM: For anyone raised in the Greek Orthodox tradition, strictly or loosely, the church will remain a significant part of your life. For me, the aesthetics of the church affected my work from the beginning. Entering the church of my youth, in Philadelphia, was like stepping into Byzantium. Hundreds of bees wax candles illuminated gilded icons and filled the air with an aroma of honey that mixed with the scent of incense. Along with the chanting that also filled the large open space of the church, this was quite a sensual experience.
I was fascinated by the icon images that lined the top of the altar. St. George slaying the dragon was heroic and the Christ on the cross presented man in both the most vulnerable and certain position possible. To this day, these experiences and remembrances affect my work both in content and the materials that I use.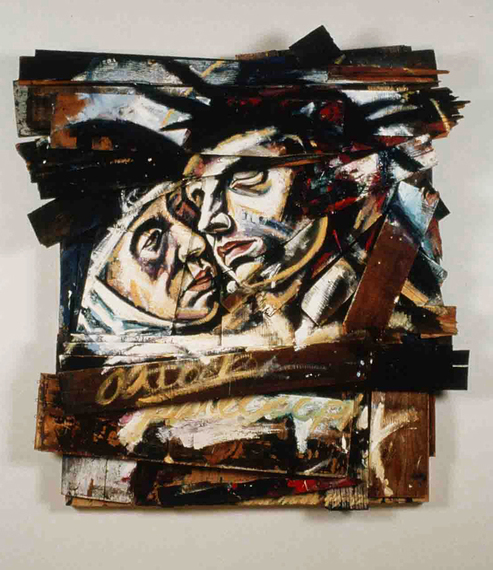 Destiny, 1982, Oil, magna, alkyd resin, and wood on wood panel, 68 x 64 inches
Collection of Laifun Chung and Ted Kotcheff, Beverly Hills
JS: You are known for experimenting with media. Tell me about some of your experiments.
JM: I never consider combining different mediums and materials as experiments. At the same time, I suppose all that we do as artists can be seen as experimental; the outcome is never a certainty. The materials used in my mixed media paintings were in response to the natural growth of the work.
There was a time, years ago, when I wanted to bury my history and make way for something new. I began collaging all the personal letters that I had been keeping into a series of works on paper. This was a cathartic endeavor that lead to the works in which I rendered versions of historic paintings such as a Bellini, Pieta and the Velazquez, Christ on the Cross, onto surfaces constructed of found timbers, old furniture and doors. These were objects that brought their own history into my work. The process was natural and never seemed experimental.
There was, however, that one time very long ago when I tried to create a thick silver colored paint matter using rhoplex, glass sand blasting beads and aluminum powder. The concoction exploded all over the walls of my studio, ...twice. That was something that I might consider an experiment.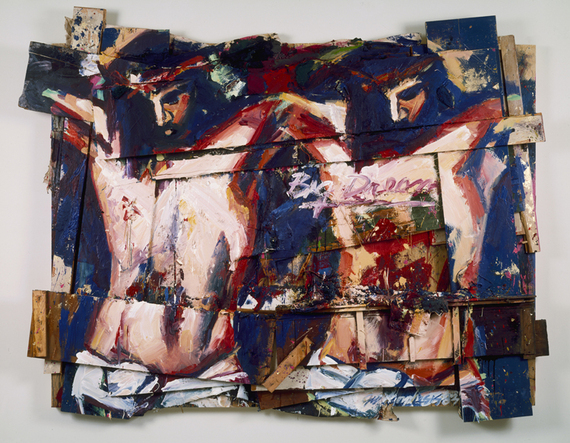 Big Dream, 1983, Oil, magna, wood, fabric, and gold leaf on wood panel, 68 x 86 x 9 inches
Collection of the San Antonio Museum of Art
JS: Is it fair to say that your art really began to take off when you began working with the imagery of the crucifixion?
JM: The paintings that included crucifix images were first shown in a 1981 exhibition at Mt. St. Mary's College called Cruciform Paintings. Solo exhibitions soon followed at then popular Los Angeles galleries including Traction Gallery and Tortue Gallery. These exhibitions received a great deal of attention, created a demand for the work and had me realizing that I was one of the artists at the fore of the Los Angeles Expressionist art movement.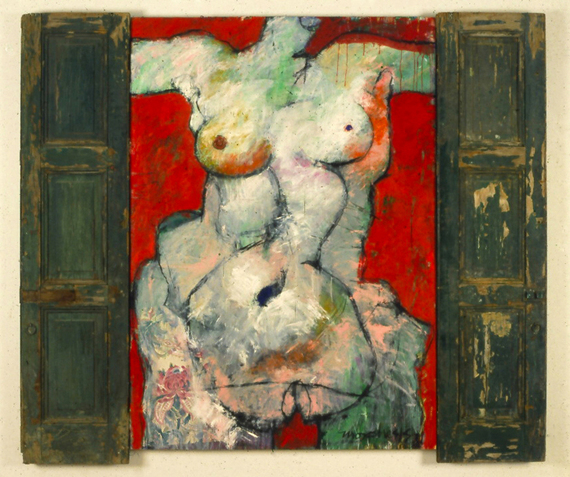 Female Torso with Green Doors, 1989, Oil, acrylic, gouache, charcoal, and collage on wood panel with wood doors, 71 x 83 inches
Collection of the Orange County Museum of Art
JS: You have been working with Peter Selz, who curated your show. What kinds of revelations has working with Peter given you?
JM: Working with Peter Selz has been an honor and an opportunity for which I am very grateful. I often asked Peter about artists who have influenced me as a painter. Because Peter personally knew people such as Jean Dubuffet, Willem de Kooning and was a close friend of Mark Rothko, these artists seemed very present during our conversations.
There is a humanist connection among all of the Expressionist artists that Peter is interested in. Peter's enthusiasm for my work was most encouraging and reminded me that I am a part of this continuing tradition. We all need an occasional shot in the arm by someone for whom we have the greatest respect.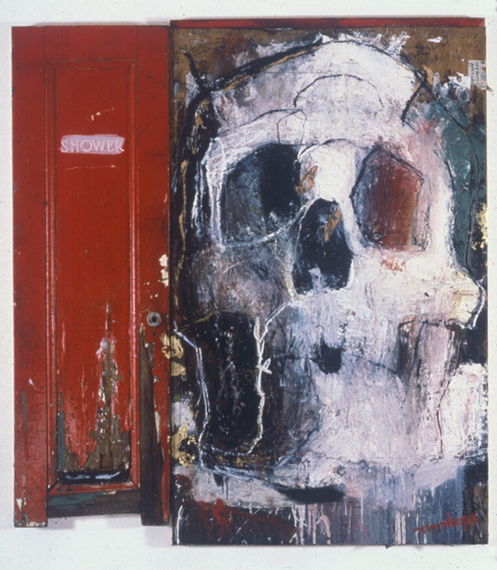 Skull and Red Door, 1987, Oil, magna, enamel, charcoal, paper, wood, and gold leaf on wood panel, 80 x 72 inches
Collection of the Museum of Contemporary Art San Diego

JS: Are you a Neo-Expressionist? If not, is there a school of painting you feel most connected to?
JM: I never considered myself a Neo-Expressionist, but the weighty Expressionist paintings that I was doing through most of the 1980's connected me to the Neo-Expressionist movement and that has been fine with me.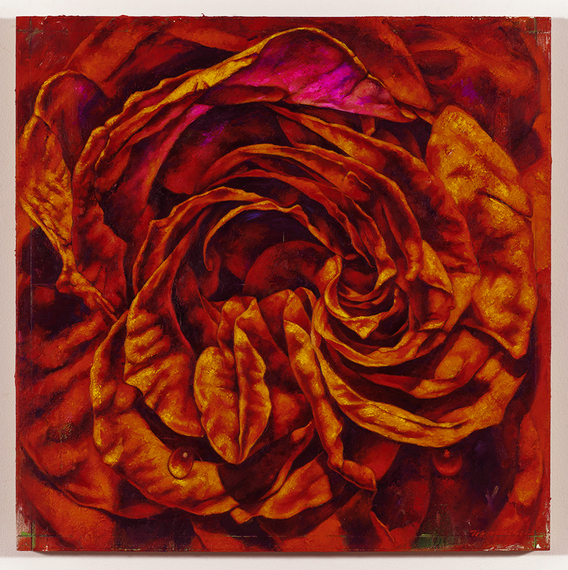 Rose XV, 2012, Oil, enamel, gouache, and collage on wood panel, 26 x 26 inches
Collection of the artist
JS: What has your most recent work been about?
JM: I have been painting images of fleshy and brooding roses. These works are my versions of a classic memento mori. They are, like my paintings incorporating images of the crucifix, skulls and mythological characters, meant to represent us all as both heroic and painfully mortal.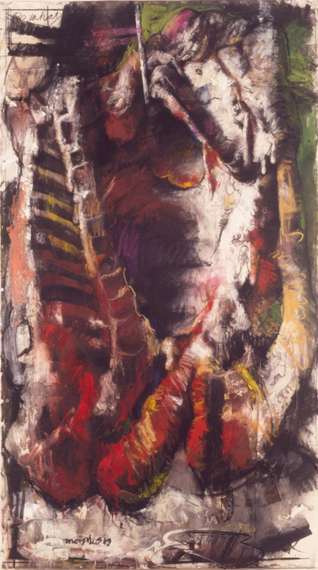 Marsyas III, 2001, Oil, gouache, charcoal, pastel, joint compound, and collage on paper, 80 x 45 inches
Collection of Brent Giddens
JS: How do you hope viewers will respond to your show?

JM: This exhibition includes a selection of my paintings from the past four decades.. I would like visitors to the PMCA to have an appreciation of my commitment to the development of my art. I hope that viewers might realize a connection, in the paintings, with their own triumphs and wounds of existence. And I would, of course, be delighted if some viewers see my work as dynamic and beautiful to look at.
JS: What are your interests outside of art?
JM: I apologize for how this might sound, but outside of making art, I am primarily interested in finding more time to make art. Okay, I admit that I also want to be a responsible art educator, put some energy into maintaining relationships, occasionally watch sports on television, make time to damage my joints at the gym and there are certain movies that I can see again and again. Everything, however, still relates to making art.
January 25, 2015-May 31, 2015
The Pasadena Museum of California Art
490 East Union Street
Pasadena, CA 91101
Wednesday-Sunday: 12-5pm
3rd Thursdays: 5-8pm
Support HuffPost
The Stakes Have Never Been Higher
Related
Popular in the Community