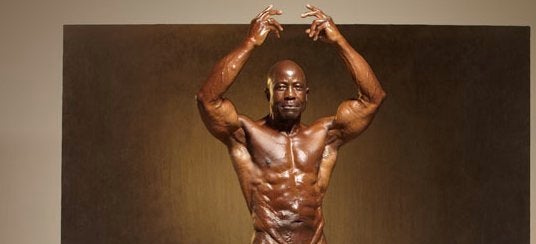 We've seen our fair share of more than able-bodied post 50s (does Ernestine Shepherd ring a bell?), but 77-year-old bodybuilder Jim Morris is giving Shepherd and Mark Sisson a run for their money.
The former Mr. New York (1966), Mr. California (1970) and Mr. Universe (1977) was interviewed by online health magazine Frugivore about his five-decade-long body-building career and vegan diet. That's right, those muscles come from a diet stripped of animal products and byproducts (he became a vegetarian at 50 and a vegan at 65). Becoming a vegan has totally changed his health, Morris told Frugivore:
"At one point I was getting cortisone injections directly into both elbows every week. The arthritis kept me awake at night. Since becoming vegan all my health problems have completely disappeared. Most miraculously, after wearing eyeglasses for 35 years, my sight improved to where I only wear them on rare occasion for extremely small print. I no longer take any medication. I do take a weekly injection of Testosterone and vit B-12. My yearly checkups are perfect."
Morris has lived a life of excitement and travel thanks to his bodybuilding career, which started at age 19 when a coworker introduced him to working out, he told Iron Man magazine. The openly gay bodybuilder was also the first to break through the color line in the 1970s in his field, according to Bill Pearl, a well-known former competitor. He told The Los Angeles Times: "if you were black and had the greatest physique in the world at that time, you were not going to win a major physique contest."
Morris has modeled, traveled the world for body building competitions (winning at least 29 titles) and owned a gym; he was Elton John's body guard for 15 years and also served as a private personal trainer for a number of celebs he met through John.
Morris ended his 19-year retirement from bodybuilding to compete for the Mr. Olympia title; he won in the over-60 division. Morris now lives in Venice Beach, California and works as a trainer. "My clientele consists of mostly baby boomers and older who want to become more fit," he writes on his website.
Before You Go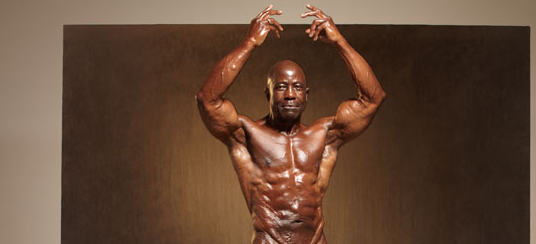 Jim Morris, 77-Year-Old Bodybuilder
Popular in the Community