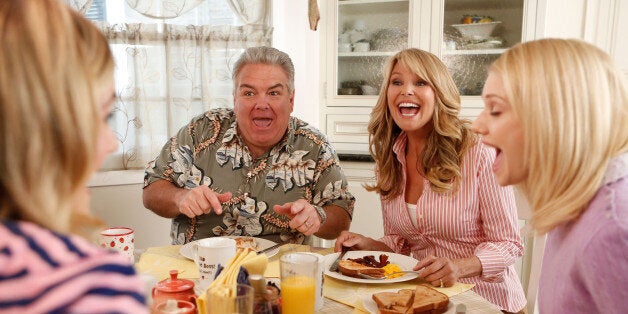 "We don't have to be there every day, depending on what's going on in the episodes, but I hate when I'm not there," the "Parks and Recreation" star told The Huffington Post in a recent interview. "That's crazy, because who doesn't want a day off, but I go there and laugh my ass off."
O'Heir, of course, isn't alone: "Parks and Recreation" is one of the most critically acclaimed shows on television, with a rabid fan following that belies its fledgling Nielsen ratings. (The show's Season 5 finale last spring was watched by just under 3 million viewers.)
"We don't have amazing numbers in the Nielsen world, but luckily the network understands that our world is younger people and they're not watching it on TV. They're watching it on Netflix and Hulu and iTunes," O'Heir said. "I've had people running at me in the street, but they're not necessarily credited on the traditional ratings chart. We're very appreciative of the show. We know our ratings according to Nielsen, but I don't think the ratings equate to who's watching in the real world."
O'Heir made guest appearances on numerous television shows before finding a home in Pawnee, Ind. as Jerry (Garry) Gergich, the put-upon office punchline for the Pawnee Parks Department. The 51-year-old -- who got his start as a radio broadcaster in the town of Rensselaer, Ind. before catching a break from Chicago's Second City -- spoke to HuffPost about "Parks and Recreation," the coming departures of series co-stars Rob Lowe and Rashida Jones, and how the show has remained so strong after 90 episodes.
When did you first realize that Jerry had become an integral part of the show? In the beginning, the role of Jerry was that there was no Jerry. I had auditioned for Ron Swanson, like everybody else did, and they liked whatever they liked about me. Greg Daniels said, "Just put him at a desk and let's see what happens." I had an occasional line here or there. At the end of the Season 1, though, Amy and I ended up in the forest and we just played around. From what I understand, the producers said to my manager later that they were like, "OK, he can play this game with us. He can handle himself."
In Season 2, we did an episode where we played a game where everybody in the parks department tries to find dirt on each other. Jerry's like, "I don't want to play." But it came to where I had some real dirt on Paul Schneider, who played Mark Brendanawicz, about parking tickets. I bring it up and he says, "Oh really, did you know your adopted mother smokes marijuana?" I say, "I didn't know I was adopted." That there is when the writers realized that Jerry was something. I thank Dan Goor to this day for writing that. That was a game changer for me.
How much is Jerry like you? I'm not so much like that in real life, but I like to think I'm a nice guy. Jerry walks around with a smile on his face, and I kind of do that -- it's my nature. Jerry lets things roll off his back that Jim O'Heir wouldn't let roll off his back. The thing about Jerry is -- and I believe this in life also -- if you have a good thing at home and with your friends, that's more important than what's going on at work. Because that is the important stuff in life, and Jerry is a testament to that. He lets everything roll off his back because he goes home to Christie Brinkley and his beautiful daughters who think the world of him. They think he's the top of the heap. How lovely is that?
How surprised were you that Christie Brinkley was playing your onscreen wife? There was talk that it could have gone a couple of different ways. One was that we would never meet Gayle, only hear about her. Another was that she was this skinny little nervous woman, because maybe when Jerry went home -- because he's so beat up at work -- he's this crazy tyrant. That would have been an interesting way to go, but Mike Schur, his thought was that the Jerry character couldn't survive -- that people could not keep watching -- if everything in his life was horrible. So Mike said let's give Jerry the best life of anyone.
They told me, "We're going to go for a Christie Brinkley-type." Then I heard through the rumor mill that they actually called Christie Brinkley and it turned out her daughter was a big fan of the show. Christie Brinkley, that's my age range of supermodels. That's on my radar. This isn't someone where I don't know who she is. She turned out to be such a bright light. She walks into a room and just lights it up. She's just that person. We have a lot of laughs. I'm proud to say that we're email buddies. She's really awesome.
I bet the Jim working in Indiana didn't think he'd be friends with Christie Brinkley. Never in his life did he think he would be working with Christie Brinkley. Amy always says that when she walks in the room you can't help but smile. There's something special about her.
How are you guys handling the departures of Rob and Rashida? With Rob, no one ever thought we would have Rob for this long. Rashida has been there since day one and she's a big part of the show -- they both are, but Rashida has been there since day one. She's got so much on her plate that everybody understood the decision. But this will be tough. The last episode filming with them is going to be a tough one. We're a really close cast. We laugh all day long and have a great time together. Creatively, I'm not worried, because Mike Schur is a genius. I have no doubt that he'll smoothly make it happen. It's more of a personal thing. No one is leaving out of anger, no one has been fired. It's none of that. We'd love to have them back.
This show is beloved, but always on the bubble. Do you worry about that, or is it something that you guys don't really think about? We constantly worry. The critics and fans have just been amazing, and we're so appreciative of that. That being said, I'm quoting Amy: We've never been able to breathe. From the beginning, we've never be assured of anything. It's always, "What's going to happen?" Everybody wants the show to keep going. Most of the crew have been to my house. We've all grown to love each other. We don't even find out until the last minute. We found out the day or two before upfronts this year.
Do you think being on the edge like that is one of the reasons the show has remained so strong into this sixth season? Mike Schur always says that we have no control over where we are. His point is to just do the best show we can do. That's the only power we have -- and that's a lot of power. Every week we have a table read, and every table read we're laughing to tears. I'm like, "How the hell do they keep this up?" Six years in, it's still there, and that's because the writing is so strong. They know our characters so well and they know Pawnee so well -- Pawnee is very much like Springfield. Knowing Mike, I know he would never put out anything other than the best. As actors, of course our faces are on the line, so we want it to be great, too. Some of my favorite shows -- I love television, always have -- but there are some seasons where you're like, "Eh, that was a weaker season." Without taking any credit, I think the show has gotten stronger every season.
Tune in to the Season 6 premiere of "Parks and Recreation" on Thursday, Sept. 26 at 8 p.m. EST on NBC.
This interview has been edited and condensed.
PHOTO GALLERY
'Parks and Recreation'
CORRECTION: A previous version of this piece referred to Christie Brinkley as "Christine Brinkley."
Calling all HuffPost superfans!
Sign up for membership to become a founding member and help shape HuffPost's next chapter