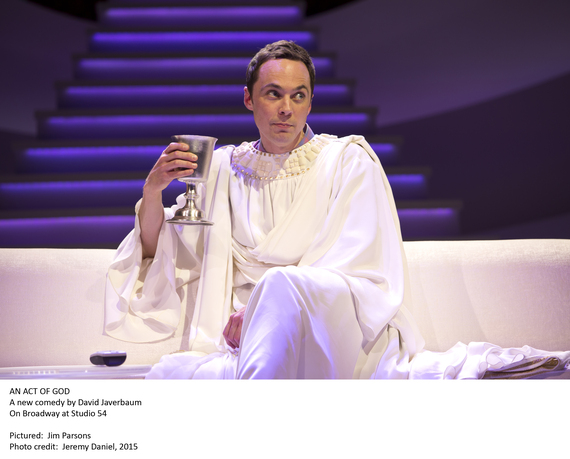 Studio 54 boasts a legacy of irreverence. The opera house turned television studio turned disco club became one of the sexiest venues in New York City during the '70s, kenneling the coolest cats in the country. Bianca Jagger straddled a horse for a display of exhibitionism during her birthday bash. Musicians like Donna Summer and Stevie Wonder strummed on as night owls danced the hours away. Andy Warhol explained the exclusivity of the locale, claiming that "every time I go to Studio 54, I'm afraid I won't get in."
Now, the place is tamer; no one tends to make out in the corner or snort coke in the bathroom (or at least so I assume). Instead, the theater plays host to some of Broadway's most acclaimed hits, like last season's Cabaret. Of course, Cabaret has an underground, "seedy" tone, so the material doesn't always diverge too far from the site's ambiance during its heyday. Certainly, Studio 54's latest play, An Act of God, is anything but quiet and respectful.
Based on former Daily Show head writer David Javerbaum's 2011 book that was heralded as "like the Bible, if the Bible were narrated by Mel Brooks on crack-laced manna," An Act of God features Jim Parsons as the Creator himself with a little help from two "Genesistants," the archangels Michael and Gabriel. The production explores religion's influence on some of society's most poignant tragedies, like alleged divinely inspired homicides and prejudices against communities that don't conform to the heteronormative mold. As the action unfolds, Parsons reveals a new set of 10 commandments that reflects a 21st-century outlook, emphasizing LGBTQ rights, the United States' shortcomings, the absurdity of prayer, and the origins of a post-God state.
The play is funny, for sure. Studio 54 resounds with cackles as Parsons carries his role with the acting chops that have earned him four Emmy Awards and a Golden Globe. The script may be a little withheld, but for Broadway, it's not so sterilized as Gigi or cold and isolated as last year's Betrayal. With A Gentleman's Guide to Love and Murder and Something Rotten! now gracing stages on the Great White Way, wit seems to be making a comeback even in the live equivalent of big budget Blockbusters, and An Act of God is no exception. Jokes land, even if they feel forced, and Javerbaum's history with Jon Stewart sets the precedent for the show's humor.
However, while the majority of the play feels like a stand-up routine by one of comedy's leading writers, when Javerbaum aims for depth, he falls flat. As Michael (Christopher Fitzgerald) asks why we suffer and die, Parsons' flippant attitude and answers might solicit negative reactions from sections of the audience, especially when he makes fun of 9/11 and the Holocaust. There are lines that not even satire can cross, when wounds are too fresh to dress.
This is the shortcoming of An Act of God: for the most part, it proves a relaxing, fun evening investigating the implications of religion on sociopolitical issues, but it can't quite overcome the trap of banter to reach a more essential destination. It also abruptly ventures into very real and hard discourse without much capacity to engage with it. Yes, Parsons is extraordinary. Yes, he will make you laugh. And yes, if you want to guffaw, I recommend the show. I enjoyed it.
But if you're searching for significance, look elsewhere. You won't leave Studio 54 feeling uplifted, or informed, or fascinated, or perplexed. You'll have had an amusing evening, like when Bianca rode her horse, or Donna and Stevie played, or Andy got through the bouncer for the umpteenth time. Maybe that was enough in the '70s; I don't know because I wasn't there. But as a member of this generation, I'm not sure an amusing evening is all I want. It's nice, but nice isn't as en vogue these days. We long for something more, and we won't find it in An Act of God.
Calling all HuffPost superfans!
Sign up for membership to become a founding member and help shape HuffPost's next chapter