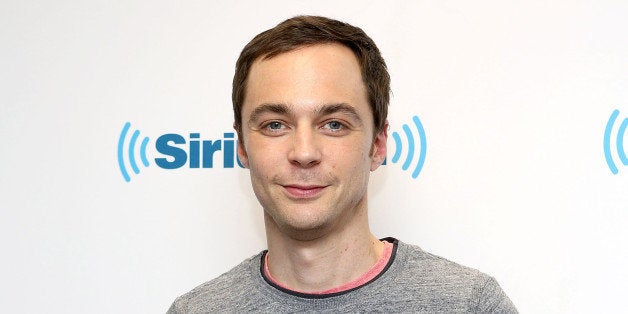 Jim Parsons, co-starring in "The Normal Heart," the powerful, emotionally wrenching HBO film adaptation of Larry Kramer's searing play about the very first few years of the AIDS epidemic (debuting May 25), talked about that day in 2012 when he matter-of-factly came out as gay in The New York Times — and the rest of the world treated it much less than matter-of-factly, the interview sparking lots of commentary about the new trend in celebrities coming out quietly.
The star of the CBS hit comedy "The Big Bang Theory" explained that he was "thrilled" that a reporter had finally just brought it up, since it was something he'd not really hidden from public view.
"I was 33, 34 when I first started doing 'Big Bang,'" he explained in an interview with me on SiriusXM Progress. It was his breakout role, having done pilot after pilot for years and not seeing any of the projects take off.
"I was four years into my relationship that I'm in now," he continued. "What happened was that we were very fortunate with the show, and we started getting invited to awards shows and stuff. I had to deal with it very quickly — I mean, there was no option. I was going to take Todd. And so I had to deal with it."
But nothing ever came up. Todd went with Parsons to show after show, opening after opening. No one ever asked anything about him or their relationship. Perhaps it's the double standard in the Hollywood press, in which reporters ask every detail of heterosexual stars' love lives but steer clear of asking questions of those rumored to be gay, assuming they don't want the question asked, queasy about the subject and believing that it would be inappropriate.
'This went on for years," Parsons explained, "until I was sitting there with [The New York Times'] Patrick Healy — and I just love this — he just [asked a question, beginning with], 'As a gay man…' and I was kind of thrilled. He finally just took the information that I'd presented in front of him, and everyone, and just talked about it. My recollection was hearing the question pretty calmly. That was where I found the peace about it, actually. If it's going to be talked about that's exactly how it should be talked about. Just something else to mention."
Healy asked the question in the context of what it meant to Parsons, as a gay man, to have taken a role in the 2011 Broadway revival of "The Normal Heart," the Tony Award-winning drama based largely on Larry Kramer's own life as an AIDS activist in the early years of the epidemic. The character of Ned Weeks, based on Kramer, is played stunningly and meticulously by Mark Ruffalo in the film. Parsons played Tommy Boatwright in the play as well as in the film. His character is based on the late AIDS activist and dear friend of Kramer's, Rodger McFarlane, the first executive director of Gay Men's Health Crisis. It's a role with a lot of heart, which Parson understands well, and in many ways, Boatwright is the glue that, for a while, holds the other characters together. Parsons discussed the experience of having played the role in both the play and the film, directed by Ryan Murphy of "Glee" and "American Horror Story" fame, who also is openly gay.
"It's always tricky when you take material from one genre and throw it into another genre," Parsons said."This has transferred seamlessly. It's different than the theatrical production. It's more fleshed out. There are scenes added. There are characters added. It's certainly more realistic. The production we did on Broadway was, in many ways, physically not realistic at all. On set, we had a chair, we had a gurney, we had a carton of milk to throw and break. Other than that, it was very — there was something almost ethereal in the staging. It enhanced the dialogue and the characters — very very real and gave them gravity. In this case it's a movie, and everything's taken care of. You're never in an unrealistic set. So, for whatever reason, it transferred beautifully from one genre to the other, and maybe because of that my time with the production on Broadway really felt to me like an accidental chance to do a lot of homework and background that I never would have a chance to do otherwise. I was able to know it so well that I was able to respond to the new people in new roles and the new director, Ryan."
Parsons explained that the role connected with his own childhood and with gay history in a way that moved him.
"I was about 10, 11, 12 when all of this stuff was going down that 'Normal Heart' is really about [in the early 80s], that period of time," he said. "I found it frightening. I did grow up very much with the banner over 'casual sex is a death sentence.' So I didn't miss that boat completely."
He related to the character of Tommy Boatwright because Boatwright was roughly the same age Parsons was when the AIDS epidemic broke out — 10 or 11 — when the Stonewall riots happened in 1969, kicking off the modern, sexually-liberated gay movement.
"I always really liked that, that I had a relationship to the topic at hand in this play that Tommy had to Stonewall, that we all had to fight for our sexual liberation and now you're just telling us to cool it," he said. "I started consciously making the connection of what level of importance doing this part has to me as a gay man."

Calling all HuffPost superfans!
Sign up for membership to become a founding member and help shape HuffPost's next chapter
BEFORE YOU GO
PHOTO GALLERY
Celebrities Who Have Come Out As LGBT