 Costco, the Seattle-based warehouse store, has always been a bit unconventional. In its 29-year history, the big box retailer has sold paper towels alongside gasoline, designer jeans and Picasso drawings. It has no internal public relations team and has never raised the price of its hot dog-soda combo meal -- $1.50.
Its top executives are also aligning themselves with the Democratic Party this election season -- a rarity in the retail industry. At the Democratic National Convention Wednesday night, Jim Sinegal, the co-founder and former CEO of Costco, plugged President Barack Obama's investment in education and affordable energy, as well as his immigration policies. One of only two corporate voices of the night, Sinegal preceded Massachusetts U.S. Senate candidate Elizabeth Warren.
"We don't want one set of rules for ourselves and another for our employees," said Sinegal, who hosted an Obama fundraiser in July. "Some of my friends in corporate America say that all they need is a government that gets off the backs of businesses ... But I think they get it all wrong. Business needs a president who has covered businesses' backs."
Sinegal, who retired as CEO in January, was a rarity among Democratic convention speakers, who have mostly consisted of government officials. He is also a rarity among CEOs -- most of his peers at retail companies are fighting hard against policies like the Affordable Care Act. Last week at the Republican National Convention, Tom Stemberg, the founder and former CEO of Staples, spoke in favor of GOP nominee Mitt Romney. Romney was one of Staples' first investors while working at Bain Capital. Unlike his rival Obama, the Republican candidate understands "what it means to risk money to create something new," Stemberg said.
Fellow retailers say that when lawmakers create uniform regulations for businesses on issues like health care, it stagnates growth. "While retailers are committed to continuing to provide health coverage to their employees, overregulation jeopardizes their ability to do so," Retail Industry Leaders of America said in a June statement, in response to the Supreme Court's upholding of the Affordable Care Act. The trade association counts Staples, Costco and Walmart as members. The retail industry's $4.8 million in PAC contributions to federal candidates so far this election cycle have gone mostly to Republicans -- 66 percent of contributions -- over Democrats, who received 34 percent, according to the Center for Responsive Politics' OpenSecrets database.
While Sinegal and Costco are cozy with the Democratic party, the retailer has also helped Romney portray himself as a regular guy with middle-class shopping habits. Earlier in August, Mitt and Ann Romney professed their love for the store's dress shirts on David Letterman's show, claiming that the candidate not only loves the $18 garments, but irons them himself.
Before You Go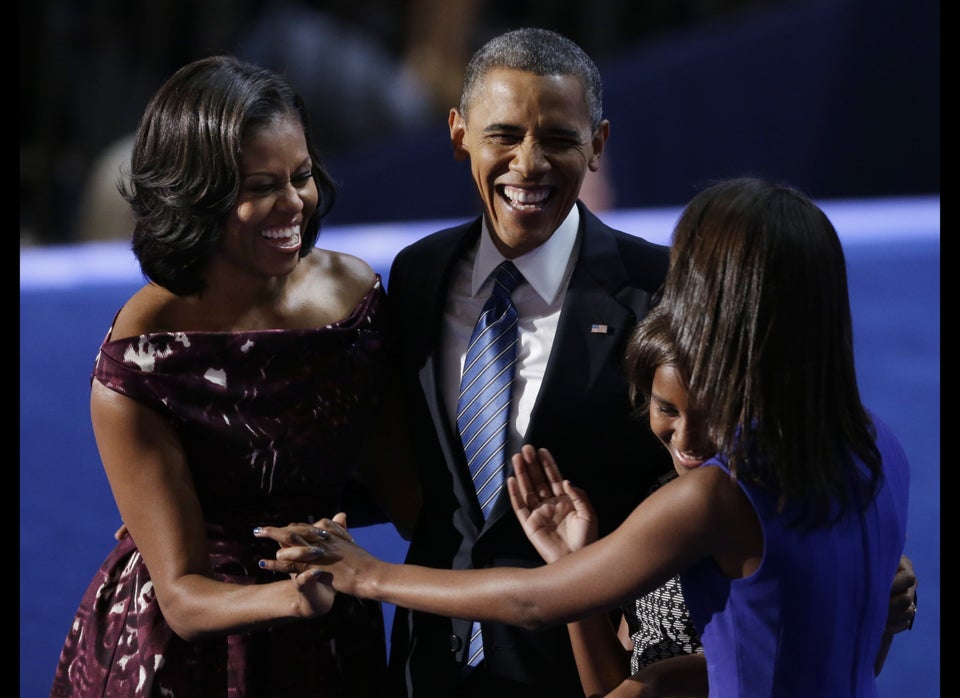 Obama Rocks Democratic Convention
Popular in the Community