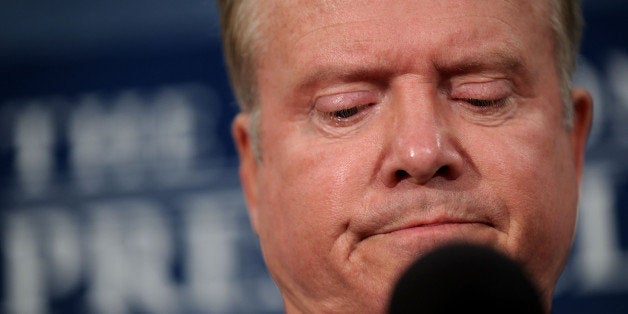 I found it weirdly poignant when, late this last week, former Virginia Democratic senator Jim Webb said that he could imagine voting for Donald Trump, but not for Hillary Clinton. Maybe Webb, who lasted about 10 minutes in the primary with a resenting-affirmative-action populist deal, and used to be a Republican (as a military official in the Reagan administration), is just an opportunist hoping for a VP slot. But there was a time when his victories in Appalachian Virginia, where other Democrats lose and Trump dominated last week, were seen as a hopeful front for the party.
It also got me thinking. One of the provocative but under-developed claims in Ta-Nehisi Coates's Between the World and Me is that "white" people, if they want a heritage, should look to what their families were before they were "white." It's attractive, but, unlike much of what Coates writes, simplistic.
I think of this because Webb is a literary practitioner of a certain kind of white-ethnic identity politics. He wrote a book about the Scots-Irish called "Born Fighting." These descendants of lowland Scots and northern English folk were settled in Ulster to displace the Catholic Irish after the colonial wars of the late c16, then moved to the colonies, where they fought in Washington's armies and settled the frontier. (My four-greats grandfather was one: he wintered with Washington at Valley Forge.) They have always been the foot soldiers for blue-blood wars, right down through Vietnam, and they have always been reliably, even belligerently patriotic. As an ethnicity, they were formed by serving as the bleeding edge of two colonial projects - the Anglo-Ulster and the American.
Given the bloody and racially hierarchical history of this country, there are a lot of "white" people whose inherited cultural identity basically comes out of the violent crucible that made "whiteness," without a lot more left back there to recover. In a time when many of those people are economically abandoned and feel culturally displaced, it's not surprising that they are reasserting what they've got. Which, as a matter of culture and (as they like to say in the South) "heritage," is pretty much restricted to fighting for the winning side and getting some spoils (material and symbolic) of victory.
I think this is a reason to want politics to be about principles and programs - including programs of economic fairness and inclusion. I'm a Sanders voter. I know Coates agrees, and I think Webb once did, too. But the identity politics of whiteness, intensified by a time when there have been no economical alternatives on the table, may have closed that door for tens of millions. Whether you can bring yourself to care about them or not, that is a bad end to a bad story. Washington's troops are fighting for Generalissimo Trump.
REAL LIFE. REAL NEWS. REAL VOICES.
Help us tell more of the stories that matter from voices that too often remain unheard.