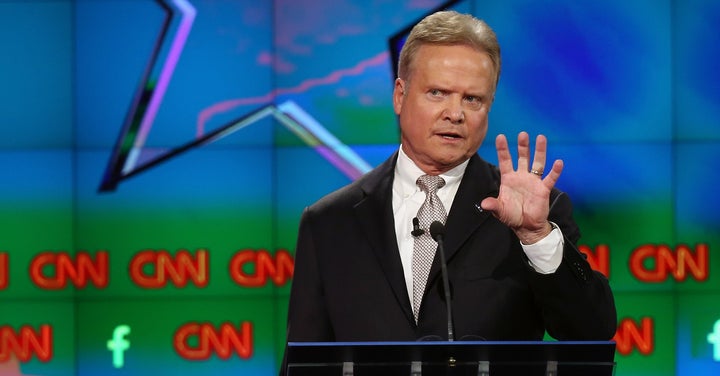 Former Virginia Sen. Jim Webb said Tuesday he is dropping out of the Democratic primary race for president.
"I'm withdrawing from any consideration of being the Democratic Party's nominee for the presidency," said Webb at the National Press Club in Washington, D.C., on Tuesday. "This does not reduce in any way my concerns about the challenges facing the country."
Webb added that he would meet with people on "all sides of America's political landscape" to figure out how he would adjust his campaign going forward. He was "thinking about all his options" and called for "a new declaration of independence not from an outside power but from a paralysis of a political system."
"I know the history of independent candidacies," Webb added. "They kind of top out around 20 percent historically. But I've also had some very smart political people who say because of the political paralysis in our country," it could be doable.
Webb announced his run for president in July. He struggled to gain traction in the race, complaining throughout the first debate that he didn't get enough talking time. His most memorable debate moment came when he alluded to the fact that he once killed an "enemy soldier" while serving in Vietnam. 
Webb did not shy away from making contentious statements about race during his campaign, once defending "Southern white cultures" in an interview with Fox News and shying away from recognizing the Black Lives Matter movement during the first Democratic debate.
Throughout his run Webb struggled in the polls, trailing former Secretary of State Hillary Clinton and Sen. Bernie Sanders (I-Vt.). According to HuffPost Pollster, Webb is also currently lagging behind former Maryland Gov. Martin O'Malley and Vice President Joe Biden, who hasn't yet said if he will even enter the presidential race.
A former Republican, Webb served as secretary of the Navy and assistant secretary of defense under President Ronald Reagan.
A source close to Webb told The Huffington Post that the decision to drop out of the primary was so abrupt and so closely held that as of Friday night, only a small group of people knew it was coming. "He never mentioned to me an independent run," said the source, who noted that Webb may have not yet decided on one. "And he never mentioned dropping out to me in our conversation on Friday." 
This story has been updated to include information from the announcement.
PHOTO GALLERY
Democratic Debate 2016
Calling all HuffPost superfans!
Sign up for membership to become a founding member and help shape HuffPost's next chapter