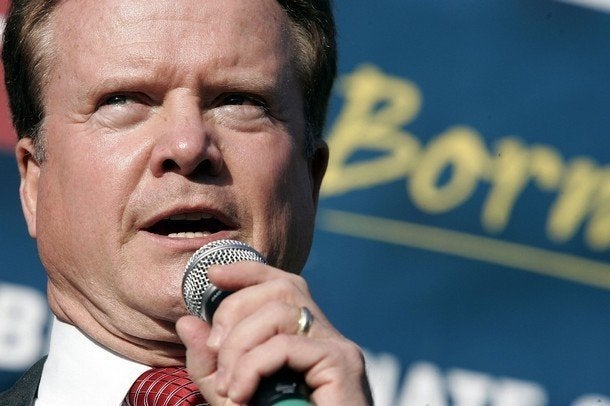 Sen. Jim Webb, fresh off his passage of an historic expansion of the GI Bill, has found a new issue: the criminal justice system. And when Webb, a Virginia Democrat, sets his legislative sites on a priority, his colleagues pay attention.
On Thursday, Webb, along with the ranking Republican on the Judiciary Committee, Sen. Arlen Specter (R-Pa.), introduced a bill to create a commission that would undertake an 18-month study of the criminal justice system and come back with legislative recommendations.
In an interview with the Huffington Post, Webb said that everything should be considered. And he means everything.
"I think everything should be on the table, and we specifically say that we want recommendations on how to deal with drug policy in our country. And we'll get it to the people who have the credibility and the expertise and see what they come up with," said Webb.
What about legalizing, taxing and regulating marijuana?
Webb paused. "I think they should do a very careful examination of all aspects of drug policy. I've done a couple of very extensive hearings on this, so we'll wait to see what they say about that," he said.
So it's on the table? Webb flashed a wry grin, laughing mischievously.
The last government study group to look at drug policy, the 1972 Shafer Commission, recommended that President Richard Nixon decriminalize marijuana. He didn't.
This commission will have a broader mandate, said Webb. He expects a "pretty broad range of legislative priorities to come out of it [covering] not just incarceration but the entire panorama of criminal justice."
Webb's bill, he said, is backed by Judiciary Committee chairman Pat Leahy (D-Vt.) as well as Majority Whip Dick Durbin and Sen. Lindsey Graham (R-S.C.) -- the chairman and ranking Republican of the Crime and Drugs Subcommittee. It has a powerful list of cosponsors, including the top four Democrats, Majority Leader Harry Reid (Nev.), Durbin, Charles Schumer (D-N.Y.) and Sen. Ted Kennedy (D-Mass.).
"We've got a good chance to get this done this year," said Webb, suggesting that the "dramatic" growth of the prison population makes it an issue that needs to be addressed. See the charts Webb brought to the Senate floor.
Webb cited "the exponential growth of incarceration since 1980," saying that "a huge percentage of that growth has been nonviolent crimes associated with drugs."
Webb, a decorated Vietnam veteran who was Secretary of the Navy under President Ronald Reagan, has as much military cred as any Democrat. "I'm very concerned about the issue of gangs and transnational gangs and I think a big piece of that -- not all of it -- a big piece of that is the movement of drugs. So that's a huge piece of this," said Webb.
The growing prison population has bipartisan roots, which I explore in a book be published soon, This Is Your Country On Drugs. Throughout the 1980s, Democrats in Congress and state governments around the country increased prison sentences for drug offenses, coming down particularly hard on crack. In 1986, Congress instituted mandatory-minimum sentences for powder and crack cocaine. To trigger the powder minimum, a dealer needed to possess 500 grams. For crack, just five grams. Two years later, the law was extended to anybody who was associated with the dealer -- girlfriends, roommates, etc.
In 1991, Michigander Allen Harmelin argued that his life sentence for possessing roughly a pound and a half of cocaine is cruel and unusual. The Supreme Court ruled that it is neither. California enacted its three-strikes law in 1994 -- three felonies equals a minimum of 25 years -- and the feds one-upped the state, declaring a third felony to result in life without parole. Twenty-three more states enacted three-strikes laws by 1995.
In 1984, just over 30,000 people were in prison for drug crimes; by 1991, the number had soared to more than 150,000. The Department of Justice found in a study of the prison population that the average length of a federal stay drastically increased between 1986 and 1997. If you walked into prison in 1986, your average stay would have been 21 months. In 1997, it was 47 months. For weapons offenders, the rise was from 23 to 75 months, and for drug offenders, it was from 30 to 66 months. Not all criminals could expect such increased time behind bars, however: A bank robber could expect 74 months in 1986 and only 83 months a decade later.
Three-strikes laws and lengthening prison sentences explain what appears to be a contradiction: U.S. crime rates are falling while U.S. incarceration rates are rising. It stands to reason that if fewer people are committing crimes, then fewer people should be locked up. But locking up fewer people every year and putting them away for much longer mushrooms the prison population.
The result is that more than one out of every 100 Americans is currently in prison. If you're a black male between 20 and 34, there's a better than one in nine chance that you're imprisoned. To keep all of these people behind bars, states spent a combined $44 billion in 2007.
Sen. John Cornyn (R-Texas) said he's open to working with Webb. "It'll be interesting," Cornyn, a former prosecutor, said of the coming debate. "I would be open to ideas that would take certain first-time, nonviolent offenders and try to give them a shock probation or something like that which would encourage treatment but then would go serve their time if they didn't fully cooperate," he said.

Popular in the Community