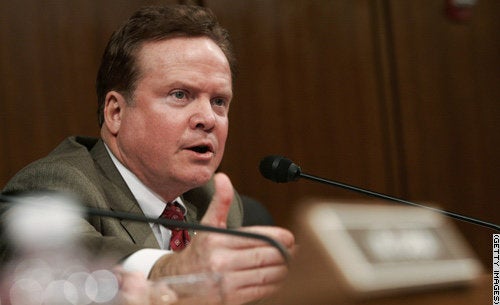 **UPDATE BELOW** Behind Webb's Decision
Vice presidential searches are always punctuated by potential candidates making stern statements about their lack of interest in the job, or their sense of obligation to their local constituencies. But on Monday, Sen. Jim Webb offered what appeared to be a far more sincere rejection to a possible V.P. offer.
Considered by many an ideal running mate for Barack Obama, the Virginia Democrat (through his Senate office) said that "under no circumstances" would he consider the nomination.
The move makes Webb one of a handful of individuals to preemptively take themselves out of the running (see: Strickland, Ted). And while the sentiments of politicians can surely change, those who have followed Webb's career note that his free-talking temperament and history of being his own boss (he's been a film writer, journalist, secretary of the navy, etc...) made him unlikely to want, let alone accept, the running mate role.
"Last week I communicated to Senator Obama and his presidential campaign my firm intention to remain in the United States Senate, where I believe I am best equipped to serve the people of Virginia and this country. Under no circumstances will I be a candidate for Vice President.

"A year and a half ago, the people of Virginia honored me with election to the U.S. Senate. I entered elective politics because of my commitment to strengthen America's national security posture, to promote economic fairness, and to increase government accountability. I have worked hard to deliver upon that commitment, and I am convinced that my efforts and talents toward those ends are best served in the Senate.

"In this regard, the bipartisan legislative template we were able to put into effect through 18 months of work in order to enact the new, landmark GI Bill will serve as a prototype for my future endeavors in government. This process, wherein we brought 58 Senators from both parties to the table as co-sponsors, along with more than 300 members of the House, gives me renewed confidence that the Congress can indeed work effectively across party lines and address the concerns of our citizens.

"At this time I am also renewing my commitment to work hard to make sure that Senator Obama wins both Virginia and the presidency this November. He is a man who speaks eloquently about our national goals and calls for the practical solutions that must be put into place to obtain them. I will proudly campaign for him."
Marc Ambinder has more details on how Webb came to his decision:

Barack Obama's vice presidential selection team has begun to ask potential candidates for information and documents, a signal that the formal vetting phase of the search process has begun.

Last week, members of the team gave Sen. James Webb of VA a list of what they needed to begin their investigation of his background and career. Webb refused, telling them that he did not want to be considered for the position.

A Democrat close to Webb confirms that a request for documents preceded his declaration to the Obama campaign. The Democrat said that Webb did not want to relive the vigors of a campaign so soon after his election to the Senate.