Just days after a New Jersey special education teacher reportedly posted that homosexuality is "a perverted spirit that has existed from the beginning of creation," and a "sin" that "breeds like cancer" on her Facebook page, another teacher is coming under fire for anti-gay remarks.
Jim Whitney, a math teacher at Joplin High School in Joplin, Missouri, allegedly posted anti-gay comments on a former student's Facebook page on October 19 reports the Joplin Globe.
A post from Whitney's account replied, "Moral of the story: Don't be gay."
When an individual responding to the Facebook thread asked "How many more kids have to kill themselves before everyone realizes that this is an actual issue?" another post attributed to Whitney stated, "11-13 ought to do it."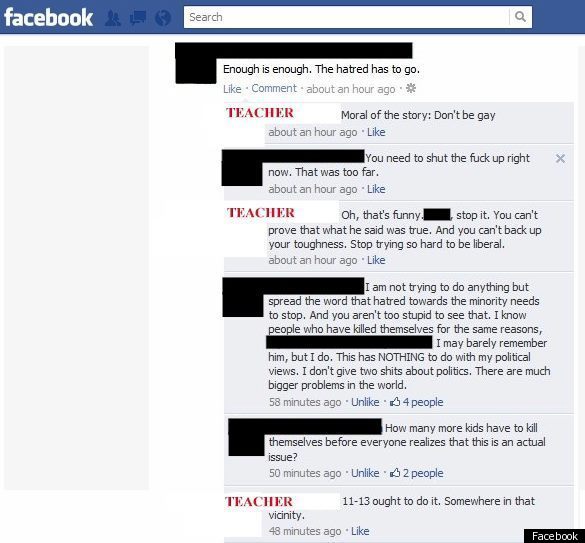 "We became aware of the incident from patrons of the district," said Tina Smith, who works in the human resources department of the Joplin School District, reports KOAMTV.com.
Board President Ashley Micklethwaite and Superintendent C.J. Huff told the Joplin Globe they received an unspecified number of complaints from others and assured the community that they are looking into the incident.
Gonzalez told the paper that Whitney said his laptop was confiscated after the incident was reported.
Gonzalez also remarked that Whitney liked to debate on the social networking site, but that the comments appeared "out of character for Whitney and that makes him believe they weren't made by him."
"The part that got me really fired up was the '11-13 might do it,'" Gonzalez said "At that point I was like, 'OK, that can't be him.'"
However, Whitney, who did not reply to the Joplin Globe's request for an interview, did release a statement via email on Monday in which he appears to take credit for the posts:
"I do not condone bullying or harassment of any kind and I am very aware and saddened by the negative impact this type of behavior creates. I regret that the posts appeared on Facebook. They do not reflect my personal views and I apologize for any and all offenses caused by the comment."
KOAMTV.com notes that Joplin High says it's "not aware of a specific school guideline on discriminating against homosexuals."
Popular in the Community