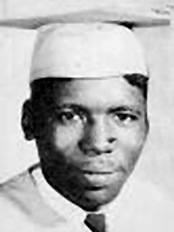 On the night of February 18, 1965, Jimmie Lee Jackson accompanied his mother, Viola Jackson, and his maternal grandfather, Cager Lee, to Zion's Chapel Methodist Church in Marion, the county seat of Perry County in west central Alabama.
Jimmie Lee had a wispy mustache, gentle smile, and a weariness in his face that belied his 26 years. Some of it reflected the hard work he did felling trees for six dollars a day. More of it, perhaps, came from his frustration as a young black man and Army veteran whose city, county and state had denied him the right to vote.
Over a four-year period, Jimmie Lee had gone to the voting registrar's office in Marion, often accompanied by his elderly grandfather. A federal court had ordered the county to open its registration to all regardless of race, but each time Jimmie Lee and his grandfather went to the courthouse, the registrar used one stratagem or another to prevent their becoming voters.
Voting registrars throughout Alabama and the Deep South in those years kept blacks from registering through delay, deception and deceit. The registrar might claim to be out of application forms when a black person approached the desk. Completed forms would disappear or be disqualified for the slightest error. The registrar would ask a series of complex questions about government - so-called "literacy tests" - and arbitrarily flunk black applicants. So, while two of every three residents in Perry County, population 17,000, were black, only 300 had been allowed to register.
These ugly, un-American tactics were the reason that nearly 400 people jammed into the church that February night forty-five years ago. They sang and prayed. They heard from people who had been beaten and jailed for marching to the voting registrar's office in nearby Selma.
While they were in church, Col. Al Lingo, the commander of the Alabama State Troopers, took direct command of 50 troopers and deployed them in the streets. Standing at twenty-foot intervals along the sidewalk adjacent to the church, the troopers were in riot gear -- helmets strapped in place, long black nightsticks held lengthwise at chest level.
The people planned to walk from the church to the city jail, a block away, where a young civil rights organizer who had been arrested that morning was incarcerated. They planned to sing, kneel and pray, then leave. Pledged to nonviolence, none were armed.
The night was cold; the full moon had taken on an odd color, almost orange, as people began filing out of the church. Reporters, photographers and TV cameramen could see the church on the southeast corner of the square but were effectively penned in by the police.
About a hundred had exited the church when they heard the voice of Sheriff T.O. Harris, amplified over a loudspeaker: "This is an unlawful assembly. You are hereby ordered to disperse. Go home or go back in the church."
James Dobynes, a church minister, called out: "May we pray before we go back?"
Harris did not respond. Suddenly, all the streetlights went out. Within seconds, reporters began to hear wood cracking against bone, thudding into flesh, people screaming. Using their clubs, two state troopers began beating the minister, who had gone to his knees to pray and now cried out: "Jesus! Oh, Jesus! Have mercy. Jesus!"
Local thugs joined in the melee, attacking churchgoers as well as reporters and photographers. NBC reporter Richard Valeriani was clubbed and suffered a bloody head wound. Someone slugged UPI photographer Pete Fisher while others took his camera and smashed it on the ground. Other photographers had their cameras sprayed with black paint. As a result, not one photo of this bloody police riot was taken. (Many years later, artist Jonathan Frost created a series of paintings based on historical accounts of the riot and events that followed.)
The church's doorway was jammed. People could not go back; so, they began to run, seeking refuge in a neighboring funeral parlor, homes and other buildings close to the church. Jimmie Lee tried to shepherd his mother and 82-year-old grandfather to safety, but a trooper knocked the older man to the ground. Jimmie Lee picked him up and carried him into Mack's Cafe, where a dozen or more people had sought sanctuary. On Col. Lingo's orders, state troopers charged into the cafe and began swinging their clubs, smashing the light fixtures, spewing glass throughout the room until all that was left was one bare bulb in a far corner.
One trooper knocked Viola Jackson to the floor. When Jimmie Lee sprang forward to shield his mother, the trooper grabbed Jackson and pushed him into a cigarette machine. Without warning, a second trooper, James Bonard Fowler, drew his revolver and shot Jackson twice in the abdomen. The powder burns on Jackson's torso indicated the unarmed man had been shot at point-blank range.
Jimmie Lee staggered outside, was clubbed again and lay wounded in the street for half an hour. Later that night, Jimmie Lee, his mother and grandfather were transported to Good Samaritan Hospital in Selma. Viola Jackson and Cager Lee suffered head wounds but were treated and soon released. Jimmie Lee remained under treatment in the hospital, but his condition grew steadily worse.
Four days later, Col. Lingo walked into the hospital. He was in full uniform, lightning bolts on his service cap, silver eagles on his collar, a warrant in his hand. He read aloud the state's charges against Jackson: assault and battery with intent to murder a peace officer. On Friday, February 26, eight days after he was shot, Jackson died of a massive internal infection.
Though hundreds had been beaten and jailed in Alabama for marching and carrying signs demanding the right to vote, Jimmie Lee Jackson was the first to be murdered. On March 3, the Rev. Martin Luther King, Jr., spoke at his funeral:
A state trooper pointed the gun, but he did not act alone.
He was murdered by the brutality of every sheriff who practices lawlessness in the name of law.

He was murdered by the irresponsibility of every politician, from governors on down, who has fed his constituents the stale bread of hatred and the spoiled meat of racism.

He was murdered by the timidity of a federal government that can spend millions of dollars a day to keep troops in South Vietnam and cannot protect the rights of its own citizens seeking the right to vote.

He was murdered by the indifference of every white minister of the gospel who has remained silent behind the safe security of his stained-glass windows.

And he was murdered by the cowardice of every Negro who passively accepts the evils of segregation and stands on the sidelines in the struggle for justice.
A thousand people followed Jimmie Lee's casket through a teaming rain to a local cemetery.
Four days later, several hundred marchers left Brown Chapel in Selma, formed a long column, two abreast to fit the narrow sidewalk, and began walking up the steep incline of the Edmund Pettus Bridge, which spans the Alabama River. Their goal was to walk the 54 miles to the state capitol in Montgomery to protest Jackson's death and petition the governor and legislature to open the state's voting rolls to all citizens.
They never made it across. Alabama State Troopers, again in riot gear, fired canisters of tear gas and charged into the marchers with clubs flailing. Though no one died, many suffered severe wounds. This time, however, the cameras were rolling. That night millions of Americans saw and heard what transpired on what came to be called "Bloody Sunday."
That event spurred thousands of people to travel to Selma to join the protest. President Lyndon B. Johnson directed the U.S. Department of Justice to intervene, and later that month, with National Guard troops stationed along the route, civil rights supporters completed their march from Selma to Montgomery.
In August of that year, President Johnson signed into law the Voting Rights Act of 1965. With the power of the federal government now engaged, African-Americans began registering in Alabama and other states that had long prevented them from voting. Today, they constitute a formidable force at the polls and in local government in Perry County and other places where racists once used lawful and unlawful force to maintain their stranglehold on power.
The death of Jimmie Lee Jackson set in motion a train of events that stirred a lethargic nation and compelled once-reluctant politicians to use the power of federal law to ensure that every adult citizen could register and vote. Denied that birthright in life, Jimmie Lee Jackson by his death shamed politicians to take up a cause that many had long ignored, giving millions of his brothers and sisters, once voiceless, the right to determine who will hold office and the power to hold them to account for their deeds and misdeeds.
Popular in the Community