In food styling, like most small businesses, you say, "Yes" no matter what. If the client can think it, we can achieve it. My latest lesson learned in, "I can't make this shit up" came in the form of a whole pig.
I'm not sure when we started calling Mr. Piggy, "Jimmie". It was my colleague, Cindie, who named him.
Working on a Cuban cookbook, we ended up needing as a prop a whole, dressed pig.
A task not as easily accomplished as it sounds. Many, many Mexican markets later,
we bought Jimmie. I will admit that Cindie's backseat has never been quite the same.
The sacrifices we make for art.
"Dressed" means his innards were gone, with a split up his belly, but his trotters, eyeballs, and snout were totally intact. Here piggy, piggy. You can't help yourself, I dare you.
Jimmie was big for a suckling pig, there were even whispers in the studio that he wasn't a suckling pig at all (people can be so cruel).
Regardless, he was a beauty.
I picked a caramel colored, distressed wood background for Jimmie to lie on for his photo shoot. Why? Because blondes look great on brown, and with his "pink glorious pink" birthday suit popping, Jimmie was photographed at Jon Edwards' studio from every direction.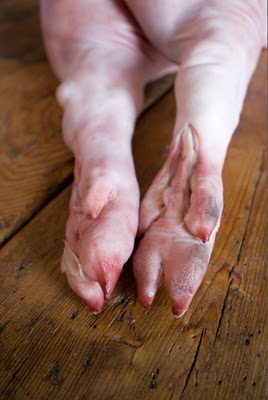 All was going smoothly until the book publisher asked me if I could save and oven roast Jimmie, whole and Cuban style, for the cookbook party happening the NEXT Sunday.
I had to think hard for a minute, but we both knew I'd say yes. I also knew I did not have an oven big enough to cook Jimmie.
The on-the-spot-plan for holding Jimmie (respect the pig!) became wrapping him in a big, clean garbage bag and placing him in the studios' gigantic top loading freezer. His bed was several wholesale boxes of frozen pizza and a bag of shrimp as a pillow for his head.
Night night, Jimmie.
It took a few days and then I saw Jimmie's future! I called the caterer of the Sunday bash and asked if he might be able to cook Jimmie. Well, he was hesitant at first, and warned me that he would have to cut Jimmie into two pieces... oh my. But the guests would be assured authentic crispy, mahogany roasted pork. Not only was he a caterer, he was also Cuban. He knew how to properly cook pork. I breathed easier knowing Jimmie was going to his final resting place in style.
I did not mention to the caterer that Jimmie was frozen; details often have a way of killing the sale. That was a poor choice of words. Forgive me.
I told Katie, our latest intern, to deliver Jimmie. I told Katie the truth; the caterer did not know that Jimmie was frozen stiff, it was best not to mention it and if at all possible, just drop Jimmie at the back door of the kitchen, ring the delivery buzzer, and run like hell.
No matter what, do not return with Jimmie.
Katie is one smart girl. She played dumb about Jimmie's "temperature" and as the caterer and his wife had a furious fight in Spanish, Katie turned slowly away singing and waving goodbye. I love a girl who completes a task.
In the end, it was all good. Jimmie was the talk of the party, truly delicious, treated like the guest of honor. I had no doubt, I knew he had it in him.
Denise Vivaldo is an award winning cookbook author and food stylist. Her latest book, The Food Stylist's Handbook, is available for sale on Amazon.com
REAL LIFE. REAL NEWS. REAL VOICES.
Help us tell more of the stories that matter from voices that too often remain unheard.