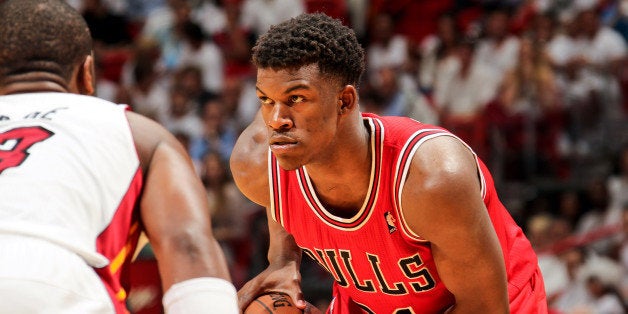 Perennial All-Star and former MVP Derrick Rose may indeed be the face of the Chicago Bulls, but Jimmy Butler has become an essential part of Chicago's blueprint for success as well. Butler, the final pick of the first round in the 2011 NBA Draft, has quickly ascended as one of the league's premier on-ball defenders, despite humble beginnings as a basketball player.
"Confidence is a big part," he told The Huffington Post this past summer. "You put in the work, and you can never question the confidence ... I always look at myself as the underdog whenever I step on the court."
Butler's underdog mentality stems from real-life experience. He was raised by a single mother until the age of 13, when she kicked him out of the house and left him to fend for himself, he said. After starring in high school and earning All-District honors in Texas, he went unranked by scouting services and without the attention of college recruiters. He then attended Tyler Junior College, and finally accepted a scholarship offer from Marquette -- a rugged program known for finding hidden gems.
In a 2011, one anonymous GM told ESPN.com that Butler's "story is one of the most remarkable I've seen in all my years of basketball. There were so many times in his life where he was set up to fail. Every time, he overcame just enormous odds. When you talk to him -- and he's hesitant to talk about his life -- you just have this feeling that this kid has greatness in him."
Butler, in turn, has carried his underdog mentality to the NBA."I feel like when I go up against guys, they're supposed to score against me," he said, "because I'm a nobody. When I get a stop, that gets me excited."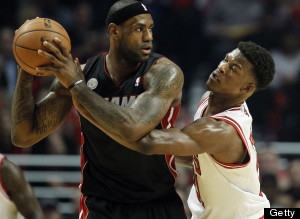 Butler's defense of LeBron James during the playoffs resulted in James' worst offensive numbers of the postseason. (Brian Cassella/Chicago Tribune/MCT via Getty Images)
In an era of basketball where offense and highlight reel plays drive culture, Butler's old-school approach to the game is refreshing. During his two professional seasons, he has gone from a deep reserve to the starting shooting guard on a team that's a legitimate championship contender.
"Everything [changes]," Butler said of his new role as a starter. "When you're on the bench, you can see, this guy is making a lot of shots. ... [Now], you can't sit there and watch."
Watching from the bench is the role reserved for Bulls head coach Tom Thibodeau, who entrusted Butler to play heavy minutes on LeBron James during last year's playoff run. While Miami ultimately wore down the Rose-less Bulls in five games en route to its second straight title, what also became evident was just how talented a defender Butler had become. With Butler guarding him during the series, James' overall efficiency rating dipped over 12 percent from the regular season, and his true shooting percentage fell nearly 7 percent, according to BlogABull.com. It was also during that series that the tireless Butler played all 48 minutes in all five games, the second-highest number in NBA history.
Butler, who is still just 24 years old, said that Thibodeau deserves a load of credit for his growth as a player: "He taught me to be aggressive on both ends of the floor. Don't be one-dimensional." For all the talk about Butler's defensive prowess, the impressive growth of his offensive game can easily be lost. Last season, while averaging a healthy 15 points and 7 rebounds as a starter, he ranked in the league's top 10 in total offensive rating, a statistic that measures a player's efficiency. And yet, Butler -- perhaps as expected -- is not resting on his laurels. He spent the summer improving his jump shot and conditioning to handle the immense physical toll of starting in the NBA. According to Thibodeau, he commonly puts in extra hours before and after practice.
"My teammates tell me, the game will humble you really quickly," Butler said. And as for Thibodeau, Butler said that "he taught me that nothing is given to you."
Email me at jordan.schultz@huffingtonpost.com or ask me questions about anything sports-related at @Schultz_Report. Also, be sure and catch my NBC Sports Radio show, Kup and Schultz, which airs Sunday mornings from 9-12 ET, right here.
Calling all HuffPost superfans!
Sign up for membership to become a founding member and help shape HuffPost's next chapter