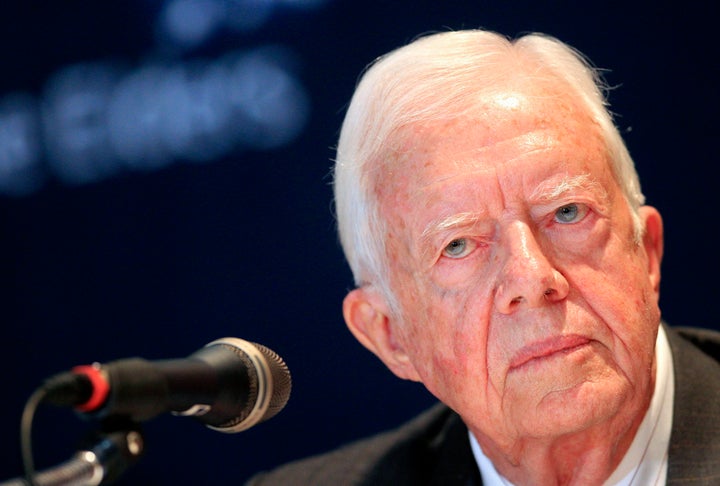 ATLANTA -- Former President Jimmy Carter says the execution of death row inmate Troy Davis in Georgia shows that the nation's death penalty system is "unjust and outdated."
The Georgia Democrat said Thursday in a statement to The Associated Press that he hopes "this tragedy will spur us as a nation toward the total rejection of capital punishment."
Davis was executed late Wednesday night for the 1989 murder of off-duty Savannah police officer Mark MacPhail. His supporters say he was the victim of mistaken identity, while prosecutors and MacPhail's family said justice was finally served after four years of delays.
Carter says "if one of our fellow citizens can be executed with so much doubt surrounding his guilt, then the death penalty system in our country is unjust and outdated."
"I am innocent," Davis said moments before he was executed Wednesday night. "All I can ask ... is that you look deeper into this case so that you really can finally see the truth. I ask my family and friends to continue to fight this fight."
Prosecutors and MacPhail's family said justice had finally been served.
"I'm kind of numb. I can't believe that it's really happened," MacPhail's mother, Anneliese MacPhail, said in a telephone interview from her home in Columbus, Ga. "All the feelings of relief and peace I've been waiting for all these years, they will come later. I certainly do want some peace."
She dismissed Davis' claims of innocence.
"He's been telling himself that for 22 years. You know how it is, he can talk himself into anything."
Hundreds of thousands of people signed petitions on Davis' behalf and he had prominent supporters. His attorneys said seven of nine key witnesses against him disputed all or parts of their testimony, but state and federal judges repeatedly ruled against him — three times on Wednesday alone.
Davis' execution had been halted three times since 2007. The U.S. Supreme Court even gave Davis an unusual opportunity to prove his innocence in a lower court last year. While the nation's top court didn't hear the case, they did set a tough standard for Davis to exonerate himself, ruling that his attorneys must "clearly establish" Davis' innocence — a higher bar to meet than prosecutors having to prove guilt. After the hearing, a lower court judge ruled in prosecutors' favor, and the justices didn't take up the case.
His attorney Stephen Marsh said Davis would have spent part of Wednesday taking a polygraph test if pardons officials had taken his offer seriously. But they, too, said they wouldn't reconsider their decision. Georgia's governor does not have the power to grant condemned inmates clemency.
Calling all HuffPost superfans!
Sign up for membership to become a founding member and help shape HuffPost's next chapter