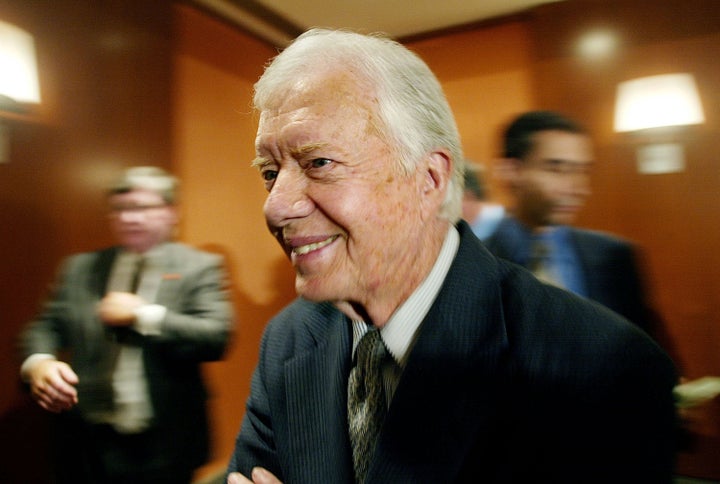 Several months ago I began work on a biography of President Jimmy Carter. For me, that means intensive research. I read books about Carter by both his admirers and his critics. I read books by Carter -- he's written 20, including various memoirs, a children's book, a volume of poetry, and a novel. One theme recurred throughout: the importance of faith in Jimmy Carter's day-to-day life and work.

Church attendance and Sunday school has always been an integral part of Jimmy Carter's life. However, his faith deepened after the 1966 Georgia gubernatorial race. He had exerted tremendous personal energy to meet voters throughout Georgia, spending $66,000 of his own money in the process. Despite the effort, Carter lost the election. When he shared his disappointment with his sister, the evangelist Ruth Carter Stapleton, she advised him to take the words of James 1:2 seriously: "Consider it pure joy, my brothers, whenever you face trials of many kinds." She counseled her brother to try something new and to live a "constantly expanding" life.

Carter turned to Bible study and prayer. He accepted the opportunity to participate in a church-planting program in New England. Working side-by-side with a Cuban pastor, he witnessed to his own faith and rejoiced at the power of God to strengthen new believers. The experience changed his life. It ignited his compassion for others and fostered his ideas about social justice.

When he ran for governor of Georgia again in 1970, he won. He brought his faith to the governor's office. His commitment to social justice led him to expand the role of African-Americans in Georgia's government and to promote education and healthcare programs. When racial violence threatened, Carter sent trained negotiators, rather than National Guard soldiers, to bring about a peaceful resolution.

In 1976, Carter ran for president. He was unknown, but his openness, his honesty and his passion for social justice convinced American voters that he would bring truth and justice to the executive office. He tried to do just that.

In his inaugural speech, Carter included the words from Micah 6:8: "He has showed you, O man, what is good; and what does the Lord require of you? To act justly and to love mercy, and to walk humbly with your God." In many ways, this verse became was the blueprint for Carter's presidency. Human rights became his primary goal, and he was committed to keeping the nation at peace. As president, he prayed often, turned to Scripture for wisdom, and tried to do what he believed was right, whether or not it was politically expedient.

While living in the White House, the Carters joined First Baptist Church, located a few blocks from the White House. They attended worship and the adult Sunday school class, which Jimmy taught 14 times during his presidency. When I recently spoke with David Hunter, who was a member of that class, I asked if the class ever discussed politics. No, he said, it was a Bible study. "Politics was never a part of it. The Sunday after the Palestinian/Israel accord at Camp David, it was suggested we stand and applaud when he entered, but we thought it inappropriate. We Baptists are strong on separation of Church and State."

Although the members of the adult Sunday school class remained respectfully silent, people throughout the world applauded Jimmy Carter's efforts to bring peace to the Middle East. Carter hosted peace talks between Egyptian President Anwar Sadat and Israeli Prime Minister Menachem Begin at Camp David. Although the high expectations promised by the Camp David Accords failed to fully materialize, the talks were significant and historic.

The Camp David peace talks had a profound effect on Jimmy Carter. After he left Washington, he became convinced that he could help resolve conflicts and promote freedom in his role as a former U.S. president. He needed a platform, so he created one -- the Carter Center, a nonprofit organization dedicated to human rights. Carter raised money, chose expert advisors and traveled the world as an unofficial ambassador of peace. Some condemned him for interfering with official American diplomacy. Others, particularly those fighting for human rights in developing countries, praised his efforts. For Carter, peace and justice are biblical mandates.

Since 1982, Carter and his staff have supervised 83 elections in 34 different countries. Carter's presence assures voters that they can cast their ballots safely and secretly and that the results will accurately reflect votes cast. In addition, Carter has worked behind the scenes to obtain the release of political prisoners and to defend those who are fighting for human rights. In 2002, the Norwegian Nobel Committee awarded the Nobel Peace Prize to Jimmy Carter "for his decades of untiring effort to find peaceful solutions to international conflicts, to advance democracy and human rights, and to promote economic and social development." In a March 2011 telephone interview, President Carter told me, "My life since I left the White House has been the most enjoyable and gratifying and unpredictable and adventurous."

Among the most gratifying programs are those designed to improve health in developing countries. The Carter Center enlisted agriculture specialists to help eight million farmers in 15 African nations double or triple their crop production. Another Carter Center program provided children with vaccinations against common childhood diseases. The Carter Center established public health and mental health programs in places like Ethiopia and Liberia. These programs educate nurses and other professionals and provide support for families dealing with various health issues.

Under Jimmy Carter's leadership, the Carter Center has tackled the problem of neglected diseases. These are diseases or conditions that affect the world's poorest peoples. Neglected diseases may result from unsafe drinking water, poor sanitation or limited health care services. They are often infectious. They are considered neglected because governments, public health programs, the media and drug companies typically overlook them.

Guinea worm disease, also known as dracunculiasis, is one such disease. In 1986, about 3.5 million people in 20 countries throughout African and Asia contracted this disease annually from drinking water infested with Guinea worm larvae. The worms matured inside the human abdomen, and after a year's incubation, they emerged from the body through a debilitating lesion on the skin. Although the disease is not fatal, victims are too incapacitated to work, care for their families or attend school. The Carter Center devised a program to educate people about the causes of the disease and a system of water filters to remove the worms from drinking water. Today, the disease has been reduced by more than 99 percent. Soon it may be totally eradicated.
The Carter Center also oversees programs to eliminate river blindness, to control malaria, and to reduce or eradicate several other diseases affecting the world's poorest people.

Carter is also known as an enthusiastic supporter of Habitat for Humanity. He's helped build dozens of homes in the U.S. and overseas. Each year he and Mrs. Carter host an annual Jimmy Carter Work Project.
When he's not traveling for Habitat or the Carter Center, he teaches Sunday school at the Marantha Baptist Church in Plains. Visitors, many unchurched, come to see the former President and take photos. They also hear an experienced Sunday school teacher, Jimmy Carter, explain the truths of Scripture. Wherever he is, Jimmy Carter is promoting peace, social justice and human rights for all God's children. His faith leads him to follow Christ's command: "Love your neighbor as yourself."
Calling all HuffPost superfans!
Sign up for membership to become a founding member and help shape HuffPost's next chapter