In 1975, as a high school student in the Midwest, I was a strong supporter of Jimmy Carter's bid for the White House. Fast forward forty years, and I continue to write about and be inspired by this great man.
Former President Jimmy Carter and former first lady Rosalynn Carter, along with country music stars Garth Brooks and Trisha Yearwood, helped build a home this week in Memphis, Tennessee -- and joined Habitat for Humanity in announcing its 33rd Carter Work Project, which will take place in the city's Uptown neighborhood, Aug. 21-27, 2016.
President Carter spoke to the press there:
Rosalynn and I are thrilled to play a role in helping Habitat continue the great work underway in the Uptown neighborhood of Memphis. We look forward to returning in August next year and by then, I know a wonderful family will have made this house we are starting today a home -- where they can find the strength and stability they need for a brighter future.
Since 1983, Habitat for Humanity of Greater Memphis (profile) has been dedicated to eliminating substandard housing throughout the city, where more than 29% of the population lives below poverty level, according to the U.S. Census Bureau's American Community Survey.
During yesterday's press conference in Memphis, President Carter said:

I think the whole attitude of a neighborhood is transformed when Habitat comes in and takes over a model place in the middle of a neighborhood -- everyone tries to emulate or copy what Habitat has done.

We just make sure we pick out the families that need it most and are most deserving to be the homeowners, and quite honestly those homeowner families, their lives are transformed. The kids do better in school, they stay out of trouble.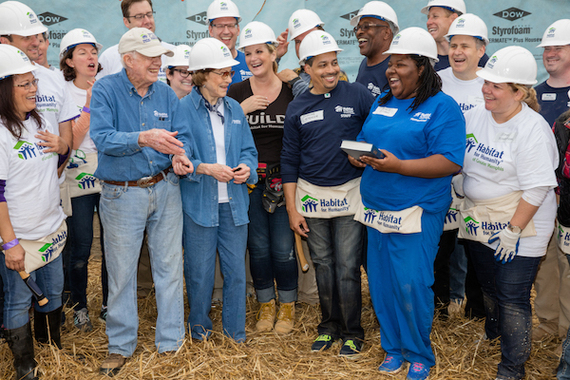 Future Habitat for Humanity homeowner Arlicia Gilliams, 25, celebrates the end of a build day with President and Mrs. Carter, Garth Brooks and Trisha Yearwood in Memphis, Tennessee. Photo: Habitat for Humanity.
Habitat for Humanity has served more than 445 Memphis families through new home construction and an additional 80 families through critical home repair projects in the Uptown neighborhood.
With support from volunteers and donors, Habitat will help improve living conditions for Memphis families during the Carter Project, as well as continue to improve communities in the city and surrounding areas.
Habitat's Carter Project volunteers will conduct multiple projects during the build week, including new home construction, beautification projects such as minor repairs, painting and landscaping, and Aging in Place projects, including critical home repairs, weatherization, and modifications to enhance accessibility and mobility for low-income seniors.
"We are excited to work alongside President and Mrs. Carter, our volunteers and the partner families in Memphis next year," said Jonathan Reckford, C.E.O. of Habitat for Humanity International. "The efforts in Uptown are great examples of what can happen when members of the public, private and social sectors invest in a neighborhood. Tremendous opportunities lie ahead for families who will have a mortgage they can afford and the stable foundation they need to build strength and self-reliance."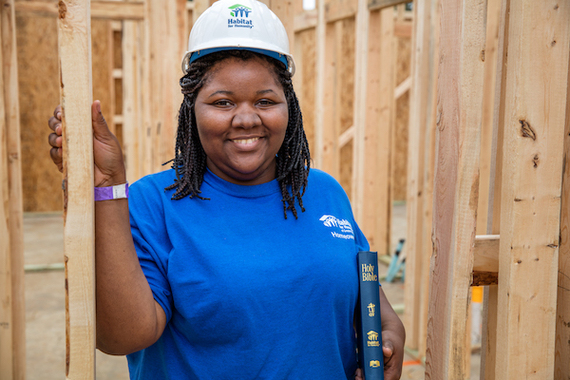 Standing in front of what will soon become a new home for her and her 2-year-old daughter Parisse, Arlicia Gilliams helped raised walls with local volunteers in Memphis, Tennessee on Nov. 2. Photo: Habitat for Humanity.
Speaking of homeowner Arlicia Gilliams, the President said:
I think that she will also see that she has been blessed by the love and care of other people, and I believe she will also be more loving and caring for other neighbors just because of the experience that she's had.
Garth Brooks and Trisha Yearwood will also build with Habitat during the 2016 Carter Project, which will make it the country music stars' eighth time to volunteer with President and Mrs. Carter. Brooks and Yearwood have been helping Habitat improve communities since 2007, including building homes after Hurricane Katrina and in Haiti following the 2010 earthquake.
President and Mrs. Carter have worked alongside 92,000 volunteers to build, renovate and repair 3,943 Habitat for Humanity homes in 14 countries, while raising awareness of the critical need for affordable housing.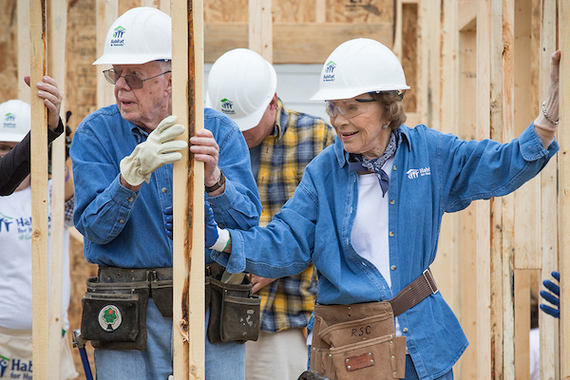 President and Mrs. Carter worked alongside volunteers on a Habitat for Humanity build site in Memphis, Tennessee, where volunteers, including Garth Brooks in the plaid shirt, will return in August to build and repair additional homes during the 2016 Carter Work Project. Photo: Habitat for Humanity.
"It's kind of an equalizer for the better, when a Habitat project comes into a neighborhood and contributes to it," the President said. "It opens up a way to love each other and have compassion for one another, and not to be proud or arrogant that you're better than other people."
Habitat for Humanity was very important to my father. He had been a college professor and loved to build houses during the summer as his hobby. Eventually he volunteered with Habitat, becoming our hometown's construction supervisor.
At his funeral in 2007, a professional looking woman approached me saying, "I believe you have no idea who I am, correct?" I confirmed that, unfortunately, I did not. "I was living with my daughter in a car when your father and Habitat built us a home. I used that home as a base to finish my education, get a job, and put my child through college. Your father and Habitat changed our lives," she continued.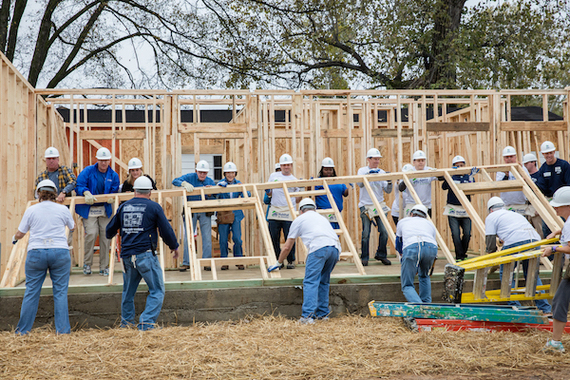 President and Mrs. Carter lead volunteers in raising the wall of Arlicia Gilliam's Habitat for Humanity home in the Uptown neighborhood of Memphis,
Tennessee, where the 2016 Carter Work Project will take place next August.
Photo: Habitat for Humanity.
It hit me: Habitat for Humanity truly transforms lives. That is why the J. Luce Foundation and I support their work so strongly. President and Mrs. Carter are true, compassionate American heroes.
Habitat for Humanity International

Habitat for Humanity International's vision is a world where everyone has a decent place to live. Anchored by the conviction that housing provides a path out of poverty, since 1976 Habitat has helped more than five million people through home construction, rehabilitation and repairs and by increasing access to improved shelter through products and services. Habitat also advocates to improve access to decent and affordable shelter and offers a variety of housing support services that enable families with limited means to make needed improvements on their homes as their time and resources allow. As a nonprofit Christian housing organization, Habitat works in more than 70 countries and welcomes people of all races, religions and nationalities to partner in its mission. To learn more, donate or volunteer, visit habitat.org.

See Stories by Jim Luce on:

Corporate America & CSR | Health | Philanthropy

The James Jay Dudley Luce Foundation (www.lucefoundation.org) supporting young global leadership is affiliated with Orphans International Worldwide (OIWW), raising global citizens. If supporting youth is important to you, subscribe to J. Luce Foundation updates here.
Calling all HuffPost superfans!
Sign up for membership to become a founding member and help shape HuffPost's next chapter