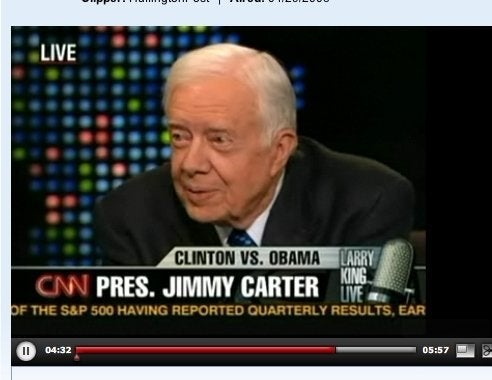 Former President Jimmy Carter appeared on CNN's Larry King Live on Monday, addressing everything from the 2008 election and Rev. Jeremiah Wright to his recent talks with Hamas.
In the first segment, Carter said he would not have left Wright's church after hearing his remarks, and that Wright wouldn't be "anything permanent or damaging" to Sen. Barack Obama's candidacy.
CARTER: I grew up in Plains, Georgia and we have 600 people and 11 churches. And the largest and most powerful church is the Lebanon Baptist Church, which is an African-American Baptist church, so I have heard this kind of preaching all my life when we visited their church and they came to mine. What I think he's teaching is a liberation theology and his origins... I think sermons are still shaped by the deprivation of racial discrimination that our country has felt for 100 years after the civil war.
Carter said he would not be endorsing a candidate during the primaries (despite the fact that "all of my grandchildren and all of their spouses and all of my children and all of their spouses were for Obama"), and predicted that the party would rally around a winner after the primary elections were over in early June. But he did offer praise to both candidates:
I think [Obama] has brought a new level of eloquence and inspiration to a lot of people. Hillary has also surprised a lot of people with her tenacity and her capability as a formidable candidate. I think at first she was kind of in the shadow of her husband. I think now she's blossomed forth in a very formidable fashion. If I were she, I would not withdraw until defeated and if I was Obama I would go forward as well.
In the second part, Carter addressed his recent trip to Israel and the Palestinian territories, during which he spoke twice to representatives of Hamas. King played clips of John McCain challenging Obama to condemn Carter's meetings, and of Obama saying he personally would not have met with Hamas.
Well, you know, I know the pressures that are on candidates running for president or Congress or governor or anything else in this country, and I don't blame Senator McCain for making what I consider a very foolish statement, telling Obama to tell me what to do. And I think Obama takes the right attitude by saying it's not his place to tell me what to do, but he would not go and meet with them. I think it's perfectly rational.
Calling all HuffPost superfans!
Sign up for membership to become a founding member and help shape HuffPost's next chapter