The night that former president Jimmy Carter met his future wife, Rosalynn, he had planned on going out on quite a lovely date -- with a completely different woman. One Sunday evening in the 1940s, Carter had intended to take out a Georgia beauty queen; however, a family reunion prevented her from going out with the peanut-farmer-turned-midshipman. So Carter, on a break from the U.S. Naval Academy in Annapolis, drove around his hometown of Plains, Georgia, looking for someone to hang out with. That's when he laid eyes on Rosalynn.
"I wanted to have a date because I was getting ready to go back to Annapolis for another time of isolation," Carter tells Oprah in the above clip from his "SuperSoul Sunday" interview. "I was cruising around... and saw Rosalynn on the front steps of the Methodist church."
Something about Rosalynn struck Carter, who immediately asked if she'd like to go see a movie with him. She agreed.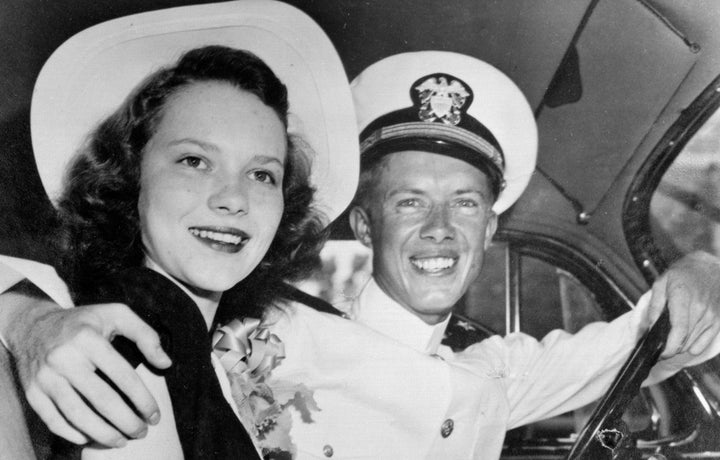 The next morning, Carter's mother asked what he did that night, since the beauty queen had been unavailable. He told her about his date with Rosalynn, which had made quite the lasting impression.
"[My mother] said, 'What did you think of Rosalynn?'" Carter recalls. "I said, 'She's the one I'm going to marry.'"
Though it's difficult for Carter to pinpoint what it was about Rosalynn that made him fall in love so deeply, he tells Oprah that he simply knew Rosalynn was truly special.
"I knew that she was quiet, she was extremely intelligent... beautiful," he says. "There was just something about her that was irresistible."
"You're blushing!" Oprah says.
"I can't help it!" says Carter.
 Less than a year after their first date, Carter proposed.
"Rosalynn came up to Annapolis to visit me, on Lincoln's birthday," he says. "I asked her to marry me."
Unfortunately, he didn't get the answer he had hoped for -- yet.
"She said no. From then until late May, she maintained, 'No," Carter says, smiling. "I kept trying, and finally, she said okay."
The couple celebrated their 69th wedding anniversary this past July. In his near-seven decades married, Carter also tells Oprah what he has learned about the secret to a good marriage: "Give each other plenty of space."
"SuperSoul Sunday" airs Sundays at 7 p.m. ET on OWN.
PHOTO GALLERY
First Ladies Through The Years
Calling all HuffPost superfans!
Sign up for membership to become a founding member and help shape HuffPost's next chapter