A Texas deputy constable has been charged with official oppression in the brutal 2011 beating of a young man and his family.
The charges came after an internal investigation into the Sept. 10, 2011 incident. Police dashboard camera footage released earlier this month allegedly shows deputy constable Jimmy Drummond beating a man who was pulled over for speeding. The suspect's father and mother also claim they were dragged and kicked by deputies, according to KHOU. The beatings left the son's ribs broken and his father's face bruised.
UPDATE: 9/10, 1:30 p.m. -- The Huffington Post obtained the criminal complaint against Drummond, which provides a detailed account of "gratuitous" acts by the deputy constable toward the suspect which "furthered no law enforcement purpose."
The document does not mention acts by Drummond against the suspect's family. A representative from the Harris County District Clerk's Office told HuffPost that no other documents were currently available.
According to the criminal complaint, Drummond, 45, "[dropped] his knee and placed his body weight on the complainant [then-suspect David Scherz, Jr.]... [wiped] his shoe on the back of the complainant's shirt" and grabbed and pulled back his head, all while the man was "handcuffed and face-down on the ground."
The document also mentions the above-mentioned dashboard camera footage, and describes how Drummond kicked Scherz five times in the chest, breaking his rib. The document also claims Drummond grabbed Scherz's arms and pulled them back.
"I had several law abiding citizens. I checked their records. They had no crimes on their record whatsoever," Kallinen told the station. "They have come to me and said they have run into Jimmy Drummond on traffic stops and he has been swearing, going berserk and crazy on them as well."
All criminal charges against Kallinen's clients were dropped in June. Drummond is no longer a deputy constable for Harris County.
Correction: A previous version of this article erroneously stated that Drummond worked for the Harris County Sheriff's Office at the time of the incident; Drummond was a deputy with one of eight elected constables for Harris County when it occurred.

Related
Before You Go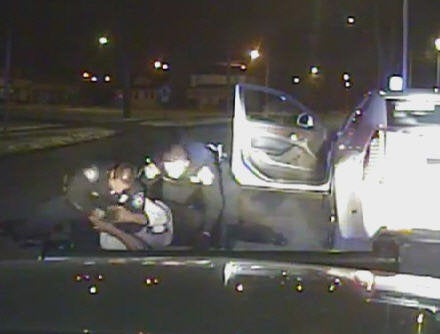 Police Brutality Incidents
Popular in the Community