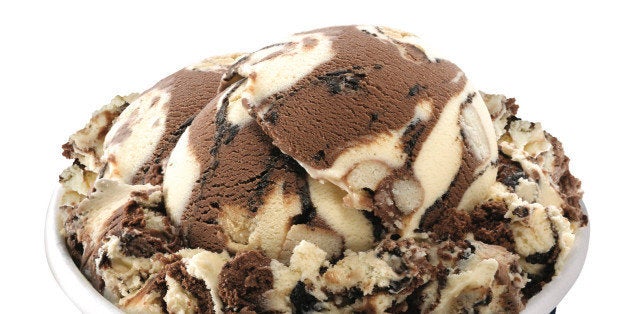 Ben & Jerry's has released some pretty epic flavors recently. Peanut Butter Half Baked came out in December, and just when we thought nothing could top adding peanut butter to the most popular Ben & Jerry's flavor, the ice cream geniuses released new versions of their Core ice cream flavors: Cookie Cores. When we heard about Ben & Jerry's latest flavor, we were excited but didn't expect a new favorite. We tried it and we now stand corrected.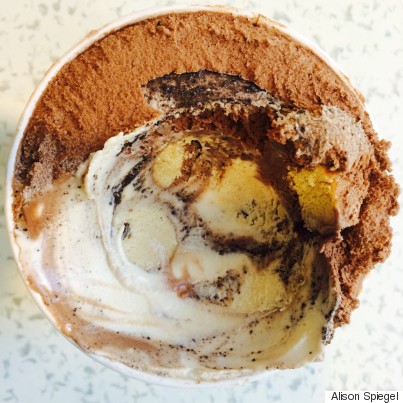 The newest flavor is The Tonight Dough Starring Jimmy Fallon. It consists of chocolate and caramel ice creams with chocolate chip cookie dough, peanut butter cookie dough and a crunchy chocolate cookie swirl. That's TWO kinds of cookie dough in ONE ice cream. The chocolate chip cookie dough is traditional and perfect, and the peanut butter cookie dough has an awesomely sandy texture (sandy in a good, peanut buttery kind of way) that tastes just like homemade dough. Rich and gravel-y, the cookie swirl tastes similarly homemade.
We suspected the caramel ice cream might be too much in this already packed flavor, but its sweetness is a welcome addition. We're also so glad it's regular caramel and not salted caramel, which we're sort of sick of. The straight-up regular and delicious caramel not only works well in the ice cream, but it also confirms that Ben & Jerry's values taste over trends.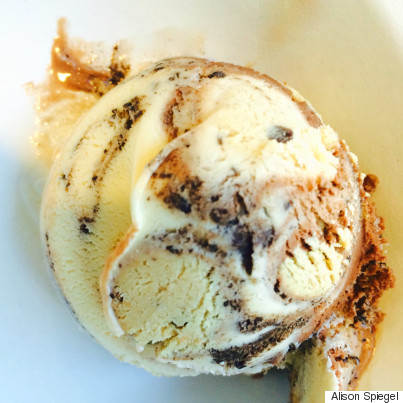 Although the newest Ben & Jerry's flavor falls in the canon of celebrity-inspired ice cream, which may be something of a gimmick, this ice cream has nothing gimmicky to speak of. It contains no trendy ingredients, and isn't even the first flavor associated with the celebrity in question. No, this ice cream is an instant, effortless classic -- just like its namesake.
Yes, The Tonight Dough is far superior to Fallon's last flavor, Late Night Snack. While we're all in favor of that ice cream's fudge-covered potato chips, there weren't enough chips in the ice cream, which only left us wanting more and feeling unfulfilled after digging for more of the best part. No digging necessary in The Tonight Dough. You're pretty much guaranteed cookie dough of some kind in every bite.
It may be called The Tonight Dough, but we're going to think of it as an every night dough.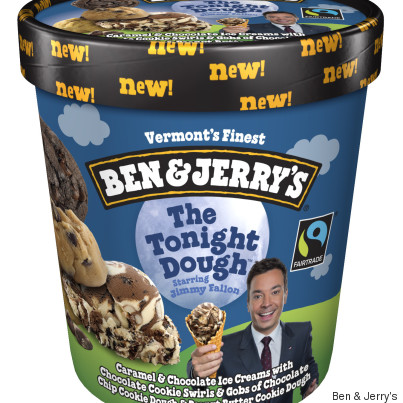 The flavor is available nationwide in pints for $4.89, and you can also find it in Scoop Shops. Watch Ben & Jerry talk about their new ice cream on HuffPost Live.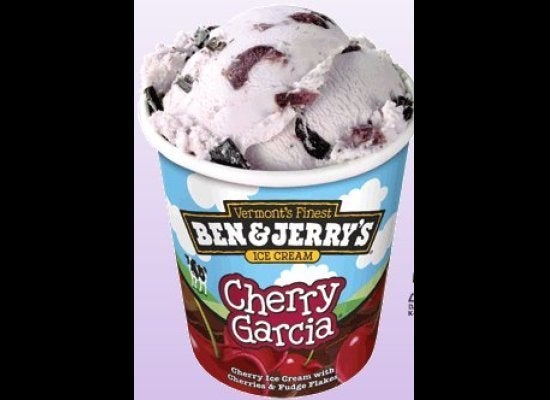 Funniest Ben & Jerry's Flavors