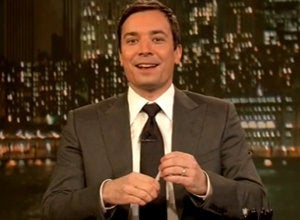 NEW YORK — Jimmy Fallon enjoyed a healthy win in the ratings his first week on the air.
NBC's "Late Night with Jimmy Fallon" attracted an average 2.4 million viewers the week of March 2, against CBS' "Late Late Show with Craig Ferguson," which averaged 1.9 million viewers, according to final Nielsen figures released Thursday.
In their opening night clash, Fallon scored 2.9 million viewers against Ferguson's 1.9 million.
On that March 2 debut, Fallon also beat ABC's "Jimmy Kimmel Live" during their overlapping half-hour by 100,000 viewers. "Jimmy Kimmel Live" begins 30 minutes earlier.
Fallon has taken over "Late Night" from longtime host Conan O'Brien.
Jimmy Fallon finished his first week as host of NBC's "Late Night" franchise on top, beating all cable and broadcast competition while also besting incumbent Conan O'Brien's season average.

In addition, Fallon's was the most watched premiere week for a latenight yakker in the last decade, bettering the bows of "The Late Late Show With Craig Ferguson" (2 million viewers in January 2005), ABC's "Jimmy Kimmel Live" (1.7 million in January 2003) and "The Late Late Show With Craig Kilborn" (1.5 million in March/April 1999) ....

The total viewer count for Fallon's premiere week was 21% higher than O'Brien's 991,000 "Late Night" average this season and 11% above his adults 18-49 season rating.
Related
Popular in the Community