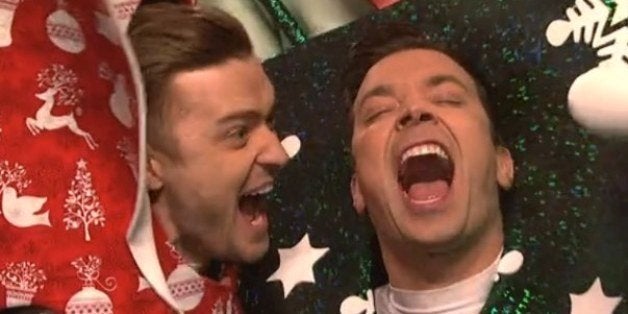 Two years ago, Jimmy Fallon hosted one of the better "SNL" holiday episodes in recent memory. This time around, he comes back with his frequent comedy co-collaborator (and five time "SNL" host) Justin Timberlake. What could possibly go wrong? It's almost as if the mindset for this show was "Let's outdo ourselves!" – more cameos, more recurring sketches, more flaming eyeballs! – so, yes, there was a lot going on, but that doesn't necessarily make for a great show. Buckle up, here comes the last Scorecard of 2013…
"(Do It On My) Twin Bed" (Mckinnon, Bryant, Wells, Pedrad, Bayer, Strong, Fallon, O'Brien, Killam, Bennett) While home for the holidays, it's hard to "do it" on what was once your childhood bed in what was once your childhood bedroom. This is one of the best sketches "SNL" has done this season.
"Weekend Update" (Meyers, Strong, McKinnon, Fallon, Bloomberg) This was the strongest that the Seth Meyers and Cecily Strong team has been all season. Strong's delivery of a punch line about a collar that interprets what dogs are saying – which was a prolonged "duhhhhhhh" – wound up being a showstopper. The segments were fine. There wasn't anything particularly memorable about Kate McKinnon's Billie Jean King. Nor was there anything really interesting about Michael Bloomberg's appearance, which basically served as a way to introduce NBC's new late night lineup of Jimmy Fallon and Seth Meyers. (To be fair, it would have been kind of dumb not to do this.)
"Jimmy Fallon Monologue" (Fallon, McCartney) The last time Fallon hosted, he led a Christmas-themed jamboree featuring the entire cast dancing on stage. This time, Fallon's monologue went small, ending in a duet performed by Fallon and Paul McCartney that was very pleasant.
"Cold Open: Wrappinville " (Timberlake, Bryant, Fallon) Nope, it sure didn't take long for Timberlake to appear in a sketch. Anyway, people seem to like the "Bring it on down" guy, even though there's certainly nothing new going on. (I miss Will Forte's sad sack that used to play opposite Timberlake.) We knew this was coming because this sketch appears to be a requirement when Timberlake is part of the show. He seems to enjoy it, which is fine, I guess.
"Baby It's Cold Outside" (Fallon, Strong, Thompson) First of all, I'm glad they changed the lyrics. (Hoo boy, those lyrics.) At first this seemed like a callback to Sigourney Weaver and Buster Poindexter's (aka David Johansen) duet from 1986's season opener (which took place October 11th, so in probability wasn't that cold outside.) This one had the twist that Jimmy Fallon wants Cecily Strong to leave, until he changes his mind and it's a happy ending. I feel the point of this sketch was along the lines of, "How do we do a fun duet with this song, only we can't use the original lyrics"?
"Christmas Album" (Fallon, Ensemble) Fallon's Severus Snape is pretty good, but this felt like a cheap knockoff of the far superior Michael Bublé sketch from two years ago. (And it didn't help that Fallon did a Bublé impression during this sketch.)
"Barry Gibb Talk Show" (Fallon, Timberlake, Strong, Madonna, Killam, Gibb) Well, this was a little odd, considering that Robin Gibb died in May of 2012. Though, it did drive home the point that Fallon and Timberlake really did want to perform their Greatest Hits last night. I am not a fan of when the real person confronts the parody -- but I was happy to see the real Barry Gibb come out, for no other reason than to let us know that his blessings were given to do this sketch one last time. Also, Madonna was in this sketch for no reason whatsoever.
"Family Fued" (Thompson, Fallon, Killam, Milhiser, Wells, Timberlake, McKinnon, Pharoah, Wheelan) Nope, I sure wasn't expecting a Hayao Miyazaki reference. I know it's "funny" to have Timberlake do an impression of Fallon, but, boy, Timberlake's Fallon impression is not very good. Also, this was not a very good sketch. Half of it was spent introducing the players, the second half was spent watching Fallon laugh at Timberlake. The best part was that Brooks Wheelan, one of the least active cast members on "SNL" right now, played himself on the NBC team.
"Waking Up with Kimye" (Pharoah, Pedrad, Ensemble) Pharoah's Kanye West is aces, but I just do not like this sketch. Honestly, Kim Kardashian is the only character Nasim Pedrad plays that I absolutely cannot stand. This has more to do with the real life personality than the performance, but, regardless, these are a chore to get through.
"Christmas Past" (Killam, Thompson, Moynihan, Bryant, McKinnon, Fallon, Mooney, Wheelan) Yikes. Sometime I feel bad using the moniker "the ugly" for my least favorite sketch of the night. You know, sometimes it was a good idea that, in the end, just didn't work. Anyway: Not today.
Average Score for this Show: 5.80
Mike Ryan is senior writer for Huffington Post Entertainment. You can contact him directly on Twitter. Click below for this week's "SNL," Not Ready For Primetime Podcast featuring Mike Ryan and Hitfix's Ryan McGee.
Related
Popular in the Community