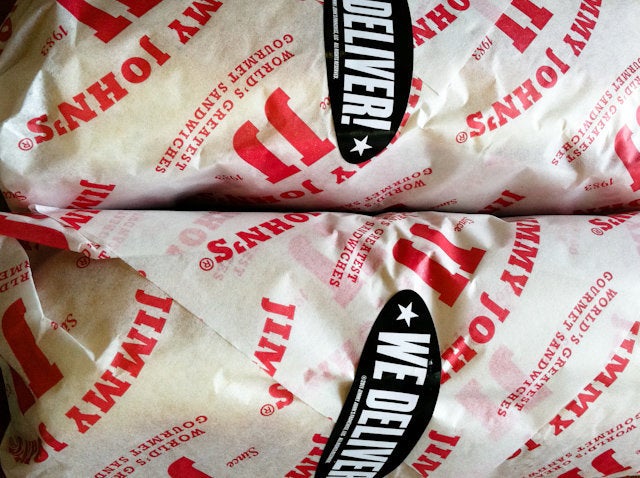 For years, sandwich chain Jimmy John's has had an unusually strict dress code. The Huffington Post revealed in May that two pages' worth of guidelines stipulated all the rank-and-file do's and don't's, right down to how much stitching was permissible on blue jeans. One franchisee called the manual "insanely restrictive" for both franchisees and their employees.
Now, Jimmy John's has decided to loosen its collar a bit.
In an email sent out Tuesday to franchisees and viewed by HuffPost, the chain's director of marketing shared a new, more forgiving dress code. The email included a note attributed to company founder Jimmy John Liautaud, who said the updated manual would serve as "a reasonable way" to maintain the store look without burdening anyone:
My kids tell me I am getting old. I keep telling them not so old that I can't evolve!!! With that in mind we are making a big change, by updating the look at JJ's. 

 

Over the years I've learned from the best restaurateurs in the biz. Papa John the pizza titan, Kent Taylor the Texas Roadhouse founder, Dick Portillo, the only guy who makes a better sandwich than me, Howard Schultz the coffee king, and Fred DeLuca who paved the way for me in this industry.

 

I've learned from the best, and now I'm taking their lead and my team has updated the JJ's dress code. It's time. It's time to focus on perfect sandwiches and serving our customers.
The biggest problem with the older, stricter dress code was that some employees needed to buy new clothes in order to be in compliance. For someone earning the minimum wage or close to it, purchasing even an extra pair of blue jeans can be a lot to ask. Two franchisees told HuffPost they sometimes dipped into their own pockets to purchase clothes for employees in order to meet the stipulations. It was in their interest to do so: Spot inspections by corporate could lower their franchisee grade, in turn hurting their chances to open new Jimmy John's stores.
One franchisee described the difference between the new and old codes as "night and day." Pants no longer have to be blue jeans with minimal embroidery or "medium tan" khakis as before. "As long as they are plain, clean, and basic light or dark denim or other material, it is up to you," the guidelines state. High-top shoes are now allowed, too.
Workers can also have exposed tattoos, whereas tattoos had to be covered up before. "A little ink is OK, as long as it's tasteful and not on the face or throat," the code says. "No sex, drugs, or profanity please." The previous tattoo policy was the target of a petition at Coworker.org started by a Jimmy John's worker and signed by thousands.  (Starbucks once had a ban on visible tattoos for employees as well. The coffee chain lifted the ban last year with the same caveat: No face or throat tats or profanity.)
"If you love the old dress code, great, keep it," Liautaud wrote to franchisees. "Our vision is that the updated dress code allows for more options & flexibility."
Jimmy John's has yet to comment on the new dress code.
Read the chain's new guidelines:
REAL LIFE. REAL NEWS. REAL VOICES.
Help us tell more of the stories that matter from voices that too often remain unheard.