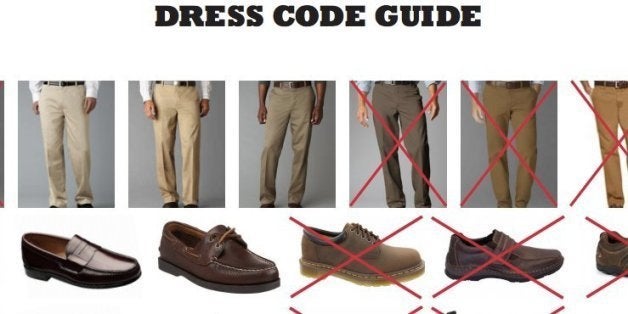 WASHINGTON -- If you want to work at a Jimmy John's sandwich shop, you'll need to bring a "killer work ethic" and a "rock star personality," as the chain's job advertisements like to say.
You're also going to need a surprisingly particular wardrobe.
Despite its efforts to cultivate a cheeky and irreverent image, the Jimmy John's franchise apparently enforces a strict grooming and dress code that's distributed to the chain's franchisees around the country. The Huffington Post obtained a copy of the most recent guide, which lays out more than two pages' worth of clothing and hygiene stipulations that sandwich-makers, delivery drivers and other employees must meet.
Workers who don't have the appropriate clothes must find them, and franchisees who fail to uphold the sometimes-confusing guidelines can be downgraded by corporate. According to Jimmy John's franchisees who spoke on the condition of anonymity, it's not uncommon for store owners to dip into their own pockets to help employees meet the corporate dress requirements.
There's nothing unique about a chain wanting uniformity across stores, and many of the dress code's stipulations -- like those restricting beard length, jewelry, clothing color or tattoos -- are fairly common in the restaurant world. (Starbucks, for instance, only recently relaxed its tattoo policy for workers.)
What sets the Jimmy John's code apart is its level of detail. One store owner described it as "insanely restrictive." The guide regulates not just the color of workers' dress shoes but the color of their shoe soles (dark brown or black only). Pants can't have any cuffs or cargo pockets. Workers' jeans can't have any "excessive stitching."
Some stipulations from the guide:
If your hair happens to be dyed, you may want to take your application over to Potbelly: "Coloring of hair limited to natural hair colors only (no purple, green, etc.)"
The guide instructs workers on how to shave: "If you have a beard you must shave below your jaw line to create a clean distinctive line and shave a portion of your cheek to create a clean distinctive line." (Some restaurants other than Jimmy John's don't allow beards at all.)
Pants must be plain blue jeans or "medium tan" khakis. No "excessive stitching" allowed, though the term "excessive" is not defined. Pants must extend "below your ankle bone." Rolls or cuffs are forbidden, as are skinny jeans.
No high-tops allowed. Low-rise athletic shoes may be worn if they are black, white, gray or red, but "any other accent color must be limited to 25% or less of the shoe." Dress shoes must be black or dark brown, as must the soles. "All socks must cover the ankle bone."
Only one cause bracelet may be worn, and it must be "professionally made, for an approved national cause, must be no wider than ½ inch, must be all one color, and must be the 'rubber' style."
Only one plain earring per ear; hoops may have a diameter no wider than a dime's. "All holes in ears resulting from gauges or plugs that are the size of a dime and larger than 3/32" must be filled with a Kaos Softwear Flesh Tone Hider Plug that matches the color of the employee's skin. The approved sizes are from 9/16" (14mm) to 3/32" (2.4mm). Gauge holes that are larger than a dime must be covered by Band-Aids. Gauge holes that are smaller than 3.32" must be left empty."
"No visible tattoos or portions of tattoos are allowed."
The rules are complicated enough that Jimmy John's corporate created a pictorial guide, which HuffPost also obtained, providing examples of what's kosher and what's not. Yet even after a close reading of the dress code, it's not necessarily clear from the pictorial guide why one pair of pants or shoes is acceptable while another is not:
Silly as it may seem, such a strict dress code may be putting franchisees in a bind. Jimmy John's shops tend to pay close to the minimum wage, employing college and high school students looking for extra cash and low-income earners trying to make a living. The guidelines can end up forcing workers -- or their bosses -- to pay for clothes they don't already have.
If they don't, there may be a greater price to pay. Jimmy John's representatives regularly visit franchise locations, auditing owners on the cleanliness, maintenance and appearance inside their stores -- including uniform adherence. If workers are out of compliance, a franchisee's grade can slip. And that can make it harder to, say, expand and open up more locations, a common path to profitability.
The Jimmy John's dress code cuts to the heart of the problem with the franchising model. Jimmy John's operates under such a model, just like McDonald's, Subway and almost all other brand-name fast-food companies. That means most of the stores are owned and operated by individual franchisees, rather than Jimmy John's corporate. Franchisees get to buy into an established brand and business model, and in exchange they pay fees to the franchiser.
Under this arrangement, the franchisees are technically the employers, which means they -- not Jimmy John's or any other franchiser -- are on the hook when, say, labor laws get broken. Critics of this system say it allows big franchise brands to dodge accountability in the stores that bear their names. With the franchise model now under attack on several legal fronts, the franchise lobby continues to insist that franchisees are the ones who control the workers inside stores.

But that argument gets tricky when Jimmy John's corporate is setting work conditions of the most elemental sort, regulating what a worker must look like when he or she shows up for a shift. If Jimmy John's can dictate what color your hair is, how much stitching is on the pockets of your jeans, or how you shave your neck in the morning -- and essentially punish franchisees for noncompliance -- is the company not exerting at least some control over the work experience?
Jimmy John's declined to answer HuffPost's questions regarding the dress code.