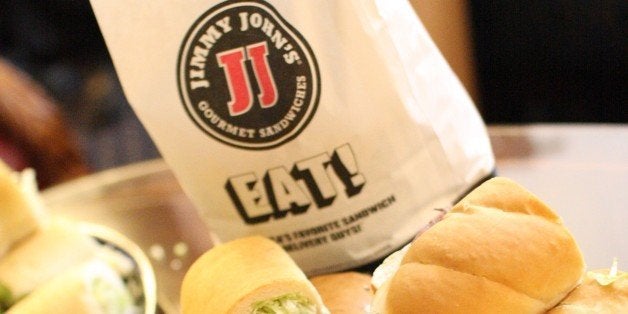 If you're considering working at a Jimmy John's sandwich shop, you may want to read the fine print on your job application.
A Jimmy John's employment agreement provided to The Huffington Post includes a "non-competition" clause that's surprising in its breadth. Noncompete agreements are typically reserved for managers or employees who could clearly exploit a business's inside information by jumping to a competitor. But at Jimmy John's, the agreement apparently applies to low-wage sandwich makers and delivery drivers, too.
By signing the covenant, the worker agrees not to work at one of the sandwich chain's competitors for a period of two years following employment at Jimmy John's. But the company's definition of a "competitor" goes far beyond the Subways and Potbellys of the world. It encompasses any business that's near a Jimmy John's location and that derives a mere 10 percent of its revenue from sandwiches.
Employee covenants and agrees that, during his or her employment with the Employer and for a period of two (2) years after … he or she will not have any direct or indirect interest in or perform services for … any business which derives more than ten percent (10%) of its revenue from selling submarine, hero-type, deli-style, pita and/or wrapped or rolled sandwiches and which is located with three (3) miles of either [the Jimmy John's location in question] or any such other Jimmy John's Sandwich Shop.
It isn't clear what sort of trade secrets a low-wage sandwich artist might be privy to that would warrant such a contract. A Jimmy John's spokeswoman said the company wouldn't comment.
The noncompete agreement is now part of a proposed class-action lawsuit filed this summer against Jimmy John's and one of its franchisees. As HuffPost reported in August, Jimmy John's workers recently brought two lawsuits accusing the company of engaging in wage theft by forcing employees to work off the clock.
Last month, the workers filing one of those suits amended their initial federal complaint to argue that the noncompete agreement is overly broad and "oppressive" to employees. (Another Jimmy John's franchisee included the same noncompete language in a hiring packet posted online, but that packet was apparently pulled from the web after this story was published.)
Kathleen Chavez, the lawyer handling the case, told HuffPost in an email that her two clients named in the complaint were required to sign the agreement as a condition of employment; one is an assistant store manager, the other a former delivery driver and assistant store manager. Chavez argued that, if enforced, the clause would dramatically limit the places a worker could earn a paycheck following a stint at Jimmy John's.
Chavez said the effective blackout area for a former Jimmy John's worker would cover 6,000 square miles in 44 states and the District of Columbia. Founded in 1983, the college-town staple now has more than 2,000 locations.
"It is disturbing this document is being used and it is our position that it has broad impact on thousands of employees," said Chavez, who is a lawyer with the Chicago firm Foote, Mielke, Chavez & O'Neil.
Chavez used the example of a student who works at a Jimmy John's in Illinois during high school. Once he leaves for college at the University of Alabama, he has been foreclosed from working just about anywhere in Tuscaloosa that serves a decent share of sandwiches -- including, in theory, the school cafeteria -- because most of those places fall within three miles of a Jimmy John's.
One Jimmy John's franchisee, who asked to remain anonymous to protect the relationship with the company, told HuffPost that the noncompete clause is part of a standard-issue hiring packet provided by corporate, and the decision to require workers to sign it is ultimately at the discretion of individual franchisees. The franchisee said that since this story was published, some shop owners have decided to pull the noncompete from the packet.
HuffPost knows of no instances in which Jimmy John's has actually enforced this covenant upon a worker, and the company wouldn't necessarily be successful if it tried.
But it's not unheard of for a sandwich chain to enforce a noncompete clause. Last year, a former Subway manager accused her old employer of trying to block her from starting a new job at another sandwich shop, citing a clause the manager signed in 2009.
The effectiveness of noncompetition agreements varies from state to state. If the worker fights the clause in court, the company generally needs to demonstrate that it's legitimately trying to protecting itself, and that the clause is reasonable and wouldn't put an undue burden on a worker.
"A guy who's putting a piece of roast beef between two pieces of rye bread -- the challenge for the employer is to show what the hell this person knows that will hurt you," said one expert on noncompete agreements, who asked not to be named since he isn't involved in the case.
"Without making a judgment about Jimmy John's, I would say the lower you go down the food chain of employees, the question becomes a little more pressing: What is your legitimate business reason here?"
A company in this position may feel there's little to lose by inserting such language into an agreement. Even if the clause failed to hold up in court, the very possibility of limited employment opportunities could dissuade certain workers from rocking the boat -- like, say, those who are trying to unionize their Jimmy John's sandwich shop.
This post has been updated with comments from a Jimmy John's franchisee regarding the decision whether to include the noncompete as part of hiring packets.
HuffPost readers: Have you been asked to sign a noncompete agreement for a low-wage job? Tell us about it.
Related
Popular in the Community