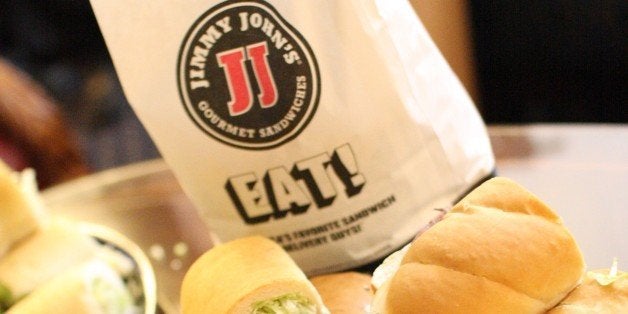 WASHINGTON -- As Huffington Post reported on Monday, many workers at Jimmy John's sandwich shops have been asked to sign the sort of strict noncompete agreement usually reserved for high-level executives. According to the clause, the worker agrees not to take a job at a competing sandwich shop for a period of two years following employment at Jimmy John's.
The company's definition of "competitor" is rather broad: any business that derives 10 percent or more of its revenue from the sale of sandwiches, and that resides within 3 miles of a Jimmy John's location.
After HuffPost posted a copy of the agreement, many readers wondered just how badly such a contract could restrict workers' job options in the unlikely situation it were actually enforced. Thanks to Sean Maday, founder of the news mapping site SigActs, we now have an answer to what he calls "an interesting geospatial question."
Using the addresses of Jimmy John's roughly 2,000 locations, Maday created a map that reveals the effective blackout areas under the restaurant chain's noncompete clause. The red circles indicate zones in which a worker who signed the agreement would technically be forbidden to pursue sandwich-related work:
As the map shows, if a franchisee were to enforce the clause -- and if a judge were to uphold it in the case of a challenge -- a former Jimmy John's employee could effectively be run out of Chicago, Minneapolis and Denver for the purposes of deli employment. Large swaths of other major metropolitan areas would also be off-limits, and former Jimmy John's workers would have to head to the fringes of the nation's college towns if they still wanted to make hoagies.
According to one franchisee, the clause is included in the standard-issue hiring packet distributed by Jimmy John's corporate offices, although individual store owners decide who must sign it. The franchisee said many owners have jettisoned the language from the hiring packet since it came under scrutiny.
HuffPost still knows of no cases in which a franchisee tried to enforce the clause, which many judges would likely find unreasonable anyway. Several low-level employees, however, did confirm that they were required to sign the noncompete as a condition of employment. Use of the clause has apparently varied from store to store; in some, only management-level employees have been asked to sign.
Support HuffPost
The Stakes Have Never Been Higher
Related
Popular in the Community