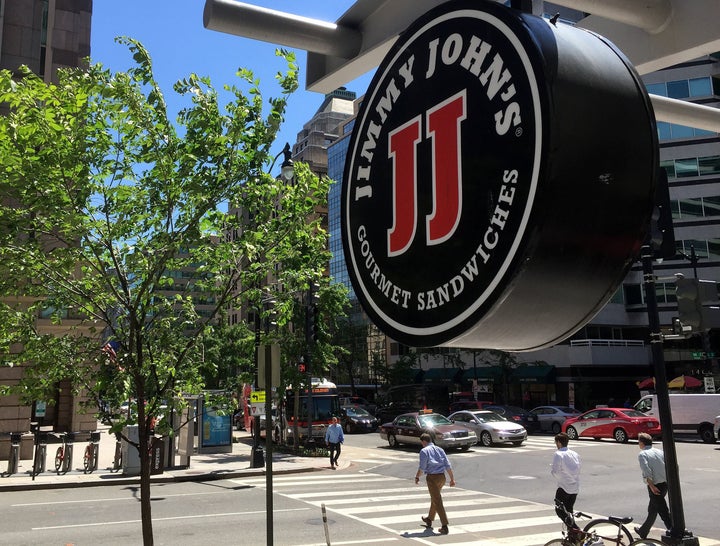 If your career at Jimmy John's comes to a premature end, rest assured you'll have the right to make sandwiches somewhere else in town -- at least in New York.
The Illinois-based sandwich chain will remove noncompete agreements from hiring packets for new store employees after reaching a settlement with New York State announced on Wednesday. The Huffington Post first reported about the agreements with low-level employees requiring them to give up the right to work at a competitor for a two-year period after leaving Jimmy John's.
The company defined a "competing" sandwich seller as any business that derives 10 percent or more of its revenue from the sale of sandwiches and that resides within 3 miles of a Jimmy John's location. The firm has roughly 2,000 restaurants. If enforced, the clause would effectively bar a former Jimmy John's employee from working at restaurants or delis in entire cities around the U.S.
"Noncompete agreements for low-wage workers are unconscionable," New York Attorney General Eric Schneiderman, who brokered the settlement, said in a statement. "They limit mobility and opportunity for vulnerable workers and bully them into staying with the threat of being sued. Companies should stop using these agreements for minimum wage employees."
Executing the noncompete agreement was left at the discretion of individual franchisees, but the clauses were included in hiring packets that Jimmy John's corporate distributed. The packets will no longer include the noncompete language, and franchisees will be voiding any existing agreements with low-level workers, according to Schneiderman.
Jimmy John's said in a statement that it was happy to reach a settlement. The company said it would not support the enforcement of a noncompete on store employees. "We value the [attorney general's] professionalism throughout this matter, and appreciate the opportunity to have worked together," the company said.
Jimmy John's faced scrutiny from Congress and state regulators and the company was mocked following revelations of the agreements in 2014. Noncompetes have traditionally been reserved for high-ranking executives or employees who hold onto trade secrets, to prevent them from taking insider corporate knowledge to a competitor. Sandwich makers and delivery drivers earning close to minimum wage pose no such threat.
But by forbidding them to work at other sandwich shops, Jimmy John's could effectively suppress their wages, preventing them from taking their work to the highest bidder. And though it's unlikely such a noncompete would hold up in court, many workers may not have the wherewithal to challenge it legally.
Jimmy John's agreement is solely with New York State. The company has not said whether it will remove noncompete agreements from hiring packets for new store employees elsewhere in the US.
New York State allows noncompete agreements only under particular circumstances. These were not met in Jimmy John's case. according to Schneiderman. The New York attorney general reached a similar agreement last week with the news service Law360, which agreed to drop its noncompetes.
Calling all HuffPost superfans!
Sign up for membership to become a founding member and help shape HuffPost's next chapter
BEFORE YOU GO
PHOTO GALLERY
Fast Food Chains With Recognizable Smells