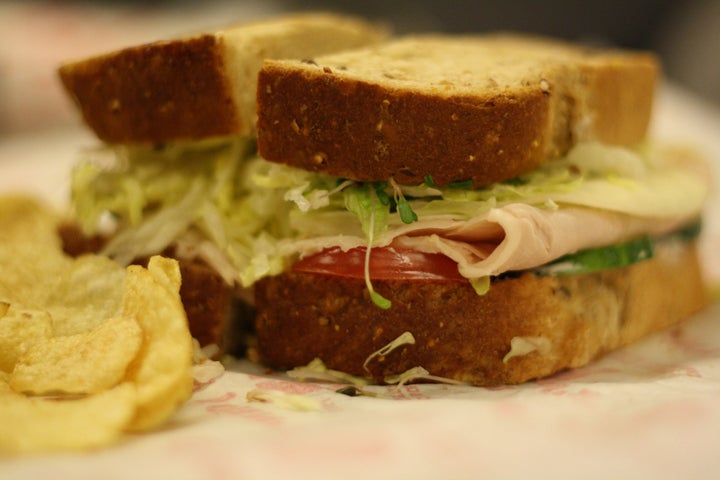 It's been five years since Mike Wilklow was slinging sandwiches at a Jimmy John's shop in Minneapolis. No longer a 20-something activist, Wilklow is 31 years old and punching the clock as a computer programmer, earning far more than he did during his fast-food days.
And yet, thanks to some recent legal developments, Wilklow now finds himself pondering a return to Jimmy John's to dress Totally Tunas for next to minimum wage.
"I definitely don't need the money," Wilklow told The Huffington Post. "But I'd go back. Maybe just work the weekends. I'd do it out of bitterness, if nothing else."
In 2011, Wilklow and five of his friends were fired by the Jimmy John's franchisee they worked for, a company called MikLin Enterprises. The group had led an effort to unionize roughly 170 Jimmy John's employees who worked at 10 shops in the Minneapolis area, coming painfully close to notching a landmark labor victory in the union-free world of fast food. The group of workers -- let's call them the Jimmy John's Six -- were fired after publicly shaming the company for not providing employees with paid sick days.
Wilklow and his buddies maintained that the firings were illegal retaliation for union activity. They filed charges with the National Labor Relations Board, asking for their old jobs back, with backpay. So far, the powers that be have agreed with the workers every step of the way. In 2012, an administrative law judge determined Wilklow and the gang were illegally fired and should be reinstated. In 2014, the NLRB affirmed the judge's ruling. And just last week, a federal appeals court upheld the board's decision.
MikLin Enterprises can drag out the case even further by appealing the latest ruling to the Supreme Court, but that doesn't mean the justices will choose to hear the case. The company is running out of options in this fight. In a statement sent to HuffPost through a spokesman, the company said it was "disappointed" by the decision and is "currently evaluating its options for continuing to protect its interests." It declined to comment beyond that. (Illinois-based Jimmy John's itself did not employ the workers, so it is not a party to the case.)
On its surface, the case would seem to be an example of the system working -- protecting vulnerable, low-wage employees who exert their rights in the workplace. But instead, the case shows just how weak labor law really is.
If you're an employer who wants to snuff out an organizing campaign, there isn't much to stop you. Workers have a right to what's called "protected concerted activity," but the penalties for violating those rights are pretty meager. If the labor board finds you at fault, you owe the worker backpay and reinstatement. That is, you owe her whatever wages you would have paid her since her firing -- minus any wages she collected after getting hired elsewhere. And you must offer to reinstate her at her old job, where management despises her enough to have fired her in the first place.
"The workers have won, technically. But in reality, have they?" asks Moshe Marvit, a labor lawyer who co-wrote a book, Why Labor Organizing Should Be a Civil Right, arguing that employers need to be subject to stiffer penalties for union-busting. "They can come back to a job that very few of them will come back to. And even if they do come back, it's sent a message to other workers that you may have legal rights, but what does that matter if you'll not be able to keep your job?"
Given the weak penalties for it, retaliating against union agitators becomes a rational economic decision for businesses to make, Marvit said. "Even if you're not anti-union, you're just looking at the bottom line," he said. "Look at the costs and benefits of violating a worker's rights, and it makes sense to."
Even when workers prevail in these cases, it often takes years to win their jobs back or finally see those back wages, thanks to appeals. By then, the wind has long since fallen from the sails of the original organizing campaign. The employment rolls have turned over, and the workers winning reinstatement have already moved on with their lives. Just consider the case of Jimmy John's.
Max Specktor is one of the six workers who the judge ordered reinstated. His commute to the Minneapolis Jimmy John's won't be easy. He now lives in Fairbanks, Alaska. He moved there in June and found work in a diesel mechanic's shop. Like most people who light out for Alaska, Specktor was looking for a fresh start -- not necessarily a return to making Vito Italian subs back home. And yet he said he was excited to hear about the appeals decision last week.
"I guess we'll cross that bridge when it happens," Specktor said of the possibility of working again at Jimmy John's. "A lot of people are interested in going back. A few still live in Minneapolis. Maybe I could help long-distance. I don't know."
Specktor said the delays and complications in their case are "by design," to help employers rather than workers.
"We already knew this is what the system is set up like," he said.
His friend David Boehnke agrees. At 30 years old, Boehnke still lives in Minneapolis, now working as a high school teacher. In his spare time he's still an active organizer, trying to improve conditions for workers in prison. He said the prospect of donning the Jimmy John's apron again intrigues him.
"I think it just depends on whether or not there's an ability to get something done," Boehnke said. "Clearly, people still need a union in fast food. We'll have to see what's possible." As for the legal system they face, "It wasn't built for us and it's not going to run for us. It's the context we have to live and work in. It's clearly set up to stop organizing."
"I feel like the whole situation is absurd and we should have been back at work long ago," said Erik Forman, another fired worker. "This is extremely dysfunctional. Justice delayed and justice denied. It's a textbook case."
Still, Forman said he would not hesitate to return to Jimmy John's -- even though he is now a high school history teacher in the Bronx. "We're excited to go back to work and finish the job," he said.
"It would be like getting an aging rock band back together," offered Wilklow. "I'm in my 30s now. I could probably do union organizing, but I'd be an old guy there now."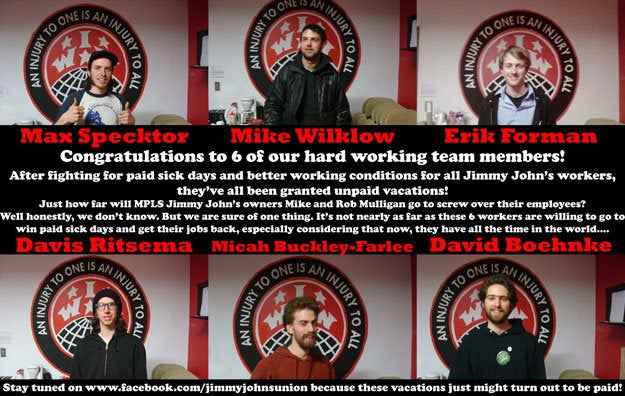 If this crew seems surprisingly open to a Jimmy John's reunion tour, the union they're affiliated with could help explain why. The Jimmy John's organizing effort is a project of the Industrial Workers of the World, a.k.a. the Wobblies, a union that has radical roots and resides on the fringe of U.S. organized labor. Membership-wise, the IWW is a shadow of its early 20th century self, but its militant members are still organizing in a hard-to-organize corner of the U.S. economy: fast food and retail, particularly Jimmy John's and Starbucks. The union is scrappy; the Jimmy John's Six did much of their own legal work before getting pro-bono assistance, according to Forman.
After their firings, the group mocked up a picture that captured their flinty, irreverent ethos. It featured their portraits, along with some self-congratulations for getting canned. "After fighting for paid sick days and better working conditions for all Jimmy John's workers, they've all been granted unpaid vacations!" the picture read. It asked "just how far" MikLin Enterprises would go "to screw over their employees," and said the workers now had "all the time in the world" to fight to win their jobs back.
In many ways, the Jimmy John's campaign was ahead of its time. Unions face immense barriers in trying to unionize fast food, including the fragmentation of the industry through franchising, and the sky-high turnover rate among employees. And yet the Minneapolis Jimmy John's workers almost pulled it off. In 2010, they lost a heartbreaker of an election -- 85 yes votes to 87 no -- following what the workers described as an intense anti-union campaign by MikLin Enterprises.
The idea of organizing fast food doesn't seem so quixotic anymore. In 2012, fast food workers launched what's become known as the Fight for $15. The workers have periodically gone on strike in cities around the country, protesting low pay and shaming the likes of McDonald's and Pizza Hut. It is undoubtedly one of the most successful labor campaigns of modern times, shaking the entire industry and spurring minimum wage hikes around the country. In recent weeks, both New York and California passed $15 state minimum wage laws -- a development that seemed preposterous just three years ago.
The Fight for $15 campaign has been coordinated by the powerful Service Employees International Union, which boasts 2 million members and vastly deeper pockets than the IWW. (Unlike the IWW, SEIU has not filed for union elections at individual fast-food restaurants, renouncing a piecemeal approach through the labor board.)
Watching the triumphs of the Fight for $15 has been heartening, Boehnke said. "I know they paid close attention to the work that we did. Insofar as [we made] a contribution to that, it's an important thing."
The Jimmy John's campaign was prescient in another way: The workers publicly embarrassed their company for not offering paid sick days. Sick leave has since become a cause du jour for labor and its allies. The Jimmy John's workers wisely argued that their lack of sick leave was a threat to public health, since they handled food for a living. They hung up posters that featured two identical photos of a Jimmy John's sandwich, one purportedly made by a healthy worker, the other by a sick worker. "Can't tell the difference?" the poster asked. "That's too bad because Jimmy John's workers don't get paid sick days."
That aggressive bit of shaming precipitated their pink slips. With the loss of a half-dozen lead organizers, the Minneapolis Jimmy John's campaign fizzled. There hasn't been another attempt at an election there since. (The IWW campaign is still active elsewhere, however, particularly in Baltimore.)
"I take the long view of the whole situation," said Forman. "We see what we were part of as the beginning, in a lot of ways, of a broader movement in fast food. People said this was crazy. Now, it's almost common sense that this needs to happen. I'm happy we carried the torch in that first little stretch."
If MikLin Enterprises declines to appeal the most recent ruling, the company will be compelled to offer the six workers backpay and reinstatement on the job. Most -- if not all -- of their old colleagues would be gone if they returned, a natural result of industry turnover. How much backpay they're owed would depend on how quickly they found new jobs. Given that they were making fast-food money to begin with, the payout will inevitably be modest.
For a computer programmer like Wilklow, the money is now beside the point anyway.
"They killed the union campaign," Wilklow said. "They can't give us that back."
Correction: This post originally suggested the IWW campaign had little support from other, more mainstream unions. In fact, other unions volunteered to staff the campaign.
Support HuffPost
The Stakes Have Never Been Higher
Related
Popular in the Community