 A few years after Mike and Karen Schilling moved onto Meadowlark Lane in 1977, their doorbell started ringing in the wee hours. Mike would usually wake to find a delivery man with pizza or Chinese food on the doorstep. Other times, an impatient cabbie stood waiting. Eventually, the local Chinese, pizza and taxi vendors all refused to send anyone to Meadowlark Lane.
Then there was the shrub Mike left on the curb for the garbage men to pick up. The next morning, he found the plant on his front step. Back to the curb he took it –- only to find it waiting for him again the next morning. The charade continued for weeks; Mike got so annoyed that he started sleeping on the couch in an effort to catch the culprit. But he never did.
Then, 30 years later, Schilling's torturers confessed their crimes on national television. He was surprised to hear Cleto Escobedo III fess up -- Schilling had always pegged him as "an altar boy." But the other guy had always been Schilling's chief suspect. His name? Jimmy Kimmel.
"Jimmy was a terror on wheels," Schilling said. "He really tormented the neighborhood."
Kimmel never gave up his prankster ways. And his tricks only got grander as he became more famous. But as he sat on a plush sectional couch in his Hollywood office on a blazingly hot afternoon in mid-September -- now almost three decades removed from Meadowlark Lane in Las Vegas -- Kimmel admitted a special fondness for those early stunts. "The main reason we did it is we had the best view of his house from Cleto's living room. We just thought it was the funniest thing," Kimmel said. "It's like we were addicted to laughing."
The addiction has served Kimmel well. Over the past decade, since he was hired as the host of his own late night talk show on ABC, "Jimmy Kimmel Live," he has transformed himself from the fratty host of Comedy Central's "The Man Show" -- the first show to feature slow-motion footage of girls in bikinis jumping on trampolines in every episode -– to the heir apparent to Johnny Carson.
Kimmel's rise to the top, like a graph of the bacteria count in a bowl of cold milk, started slowly. His show gradually started to get better and better ratings, while those of his late night rivals declined. A few sketches he made for the show went viral on the Internet. People started to forget his time on "The Man Show" and to take him more seriously. And it's an understatement to say that 2012 has been his best year yet.
"It's his time. He's earned it," said Carson Daly, one of Kimmel's oldest friends. "We see so many people's ascension happen for no reason. That isn't what's happened with Jimmy. What Jimmy's been able to do is pay his dues at a time when no one else does." Kimmel high-fives President Obama at the White House Correspondent's Dinner.
His good fortune began in late March, when Kimmel was chosen as the host of this year's Emmy Awards, which take place this Sunday. A month later, Kimmel hosted the White House Correspondent's Dinner to solid reviews and a hearty high-five from President Obama. In July, "Jimmy Kimmel Live" was nominated for the Emmy for Outstanding Variety Show, the most prestigious award for a late night talk show. On Aug. 15, Kimmel announced that he'd gotten engaged to Molly McNearney, his longtime girlfriend and co-head writer on the show. That same week, ABC revealed that it was finally moving Kimmel's show from midnight to the prime night time slot at 11:35 pm. So starting in January, Kimmel is going to be competing directly against Jay Leno and his childhood idol, David Letterman.
"Since he was a zygote, he's had his eye on that 11:35 slot," said his old friend and colleague Adam Carolla. "He's young and the other guys are getting a little long in the tooth; Jimmy can only look better and better in comparison to them."
A VERY ENTERTAINING FAMILY
James Christian Kimmel was born November 13, 1967, in Mill Basin, a working-class neighborhood on Jamaica Bay in Brooklyn. He moved to Las Vegas when he was 9 years old. Most of his memories involve being in motion: running around the neighborhood, playing sports, building clubhouses, getting in fights. "Normal kids play basketball," Kimmel laughed. "But we didn't have a basketball court. So we would just fight."
With his small size and big mouth, Jimmy needed an ally, and he eventually found one in Escobedo, who lived four doors down from the Kimmel family in Las Vegas. The pair soon added a third boy, Jim Gentleman, to their posse; they all took band class together at Kenny Guin Junior High and all went to church at Christ the King Catholic Community, where they sang in the choir and where Kimmel was an altar boy for seven years. They hung out in school and spent afternoons and nights at each others' houses -- especially at the Kimmels'. "It was a very entertaining family," Gentleman said. "You just never knew what was going to happen."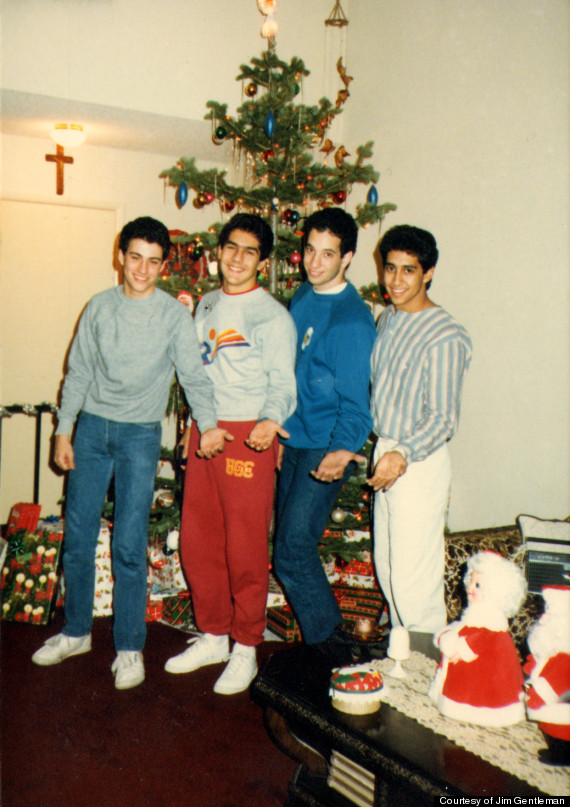 Kimmel, at left, with friends Jim Gentleman, Elliot Blut, and Cleto Escobedo in the Escobedos' living room Christmas 1984.
The three also bonded over a mutual love of David Letterman. Kimmel would host viewing parties of "Late Night With David Letterman" at his house. "We'd have a barbecue in Jimmy's backyard -- it's 12:30!" Gentleman said. "One year [Jimmy] handed out sponges with the 'Late Night' logo on them. "Later, Jimmy would affix a "L8 NITE" vanity license plate to his first car, an Isuzu I-Mark.
The only rival to Letterman in their hearts was the prank. Kimmel and Escobedo liked to shoot kites out of the sky using a shotgun, then run to see the sad, confused faces of their owners as the strings wafted to the ground. And they spent hours crank-calling strangers and restaurants. The Schillings were favorite targets, as was Kimmel's aunt Chippy, a pugnacious Italian woman who moved to Las Vegas from Brooklyn a few years after Kimmel's parents. "I would tie cans to the back of her car," Kimmel said. "I'd get into her Marlboro Reds with a razor blades and load every cigarette in the pack [with a small charge] and then seal it up so it looked like it had never been opened. Then she got to work and they started exploding."
Kimmel was a class clown in high school, though he never acted or pursued comedy. He was well-liked, but stuck close to his few intimates. He got good grades without trying too hard and showed an aptitude for visual art. He thought, for much of the time he was growing up, that he would become an artist or graphic designer.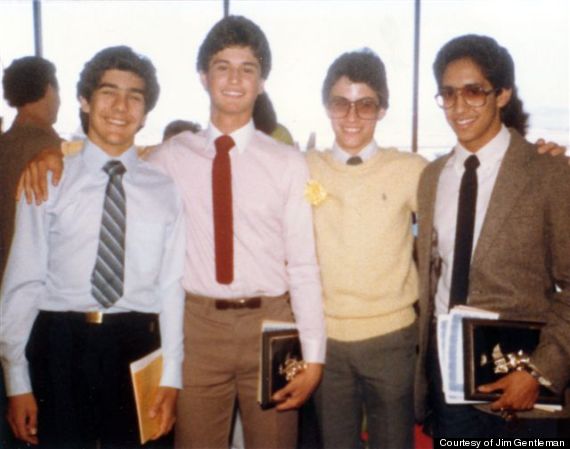 Kimmel and friends at a band event in high school in 1983. From left, Gentlemen, their friend Jimmy Vega, Kimmel and Escobedo.
When Kimmel was 16, he was working at a local clothing store when a co-worker, who moonlit on the college radio station, invited him to try broadcasting.
"I loved David Letterman, and I knew he'd started on the radio, so I thought, 'Yeah, I would like to do that,' and I started doing a local interview show on Sunday nights, where I would talk to local oddballs," Kimmel said. "After the show, I would come home and my parents would be listening, my friends all listened ... I got so excited by this idea of broadcasting, this idea that people could hear what I was saying. I really loved it."
After a year at UNLV, Kimmel enrolled in Arizona State University, where he got his first job on a professional radio show -- and met his first girlfriend, Gina. In high school, he'd been awkward around girls. "There were girls that Jimmy liked, but he was very shy," Gentlemen said. "And when it came to that, he lacked a bit of self-confidence." As Kimmel recalls it, he was so thrilled to have finally found a girl who liked him that he felt like he should do anything in his power to keep her. So they decided to marry -- shocking Kimmel's friends and family. He was just 20.
"I was a kid. We were both very young," Kimmel said. "My mom was 19 when she got married, so it didn't seem unusual to me. It seemed unusual to all my friends, but not to me."
Gina would give birth to the couple's first child, Katie, four years later; a son, Kevin, followed in 1993. Kimmel dropped out of ASU soon after his marriage -- he'd never been all that serious about graduating -- and started working in radio full-time
His early years on air were trying. The entire staff of his Phoenix station was laid off about a year after he started working there, and he was fired from next two jobs, in Seattle and Tampa, after less than a year at each. All the moving and money worries put pressure on his marriage. Things started to look up, though, when Kimmel was hired as the host of a radio show in Palm Springs, Calif.
It was there that Kimmel reconnected with Carson Daly, whom he'd met briefly years before on a church trip to Hawaii. He thought Daly was funny, so he asked him to become his intern. Daly fell in love with the job, and became friends with Kimmel for life -- but he also found himself forced into some truly embarrassing situations as Kimmel's radio sidekick.
"He famously tortured me," Daly says. "It was really his genius. Every morning it was a new adventure, a new embarrassment for me."
Kimmel was poached away from Palm Springs by a bigger radio station in Tucson, Ariz., but he was fired from that job, too, after just 11 months.
Old friends chalk up all the firings to Kimmel's uncompromising edge, but he has a less flattering explanation. "It was just series of little pranks that eventually reached a boiling point -- at every single job I ever had," Kimmel explained. "I always think people are going to appreciate that I'm joking, so I would do things that I thought were fun and funny that would make my bosses very, very angry. And that would make me laugh even harder. Just silly things -- like I'd call the boss's wife at home on air and ask personal questions about him. They hated this. And I used the Xerox machine to construct nude photos of my bosses and I'd put it on the cover of the company newsletter."
Another prank bore a striking resemblance to the dead bush trick he pulled on the Schillings: after finding a hot dog in a boss's garbage can, he put it in his desk drawer. When the boss tried to throw it out again, Kimmel put it back in his desk. The prank continued for some time. Eventually, his boss started locking his office door -- so Kimmel and his co-pranksters decided to climb in through the ceiling panels. "As I was helping my partner climb in," Kimmel said, "he fell down onto our boss's desk and just destroyed everything. We didn't know what to do, so we just locked the door and walked out."
In 1994, Kimmel got a call from Kevin Weatherly, an old acquaintance from Phoenix who had recently become the program director at KROQ, a major radio station in Los Angeles. He asked Kimmel to come aboard as a producer on their morning show "Kevin & Bean." In Weatherly, Kimmel finally found a real champion. "I loved his passion, his confidence, his desire to want to climb to the top," Weatherly said. "No one was going to get in his way."
Weatherly hired Kimmel in a strictly off-air position -- "I didn't think Kimmel was LA-ready at the time, and I would tell him that," he explained -- but eventually let him host a sports segment. A few weeks later, Kimmel stirred up a small controversy within his studio when he made a sophomoric comment on air about black people skiing. One of his co-producers, who was black, challenged him -- on air -- to a boxing match to settle the score.
One listener, Adam Carolla, a boxing coach looking for a way to get into radio, saw the fight as an opportunity. He drove to the station and offered to train Kimmel, who accepted. When Carolla later confessed his desire to work in radio, Kimmel told him he was plenty funny enough to do it and committed to getting Carolla on air. Carolla began making guest appearances on "Kevin & Bean," and later became the co-host of late night sex-themed show "Loveline." The two have been close friends ever since. "The thing about Jimmy is that he is easily the most generous guy I have ever met," Carolla said. "He will do anything for anyone at any time."
In 1996, Kimmel helped his old friend Daly get a job at KROQ. That same year, "Loveline" got picked up as a show on MTV. A year later, Daly got a gig as a "resident" on MTV's "Motel California." It wasn't long before he was hosting MTV's smash hit "Total Request Live" and dating actresses including Jennifer Love Hewitt and Tara Reid.
Watching his former protégées becoming more famous than him, Kimmel wondered when -- or if -- he would get his big break. "I felt a little bit left behind, because both of these guys had passed me," he said. "I was always very happy for them, and ultimately it all worked out, but it was kind of a weird thing."
He didn't have to wait long. TV producer Michael Davies, a longtime fan, helped Kimmel land a job on the Comedy Central game show "Win Ben Stein's Money." Kimmel says his starting pay was $550 per episode -- not enough to justify quitting his job at KROQ. So he would work at KROQ starting at 5:30 in the morning, then drive over to the Comedy Central studio to film "Ben Stein" into the evening. It made for a punishing schedule that left little time for his family.
Not that Gina, in their 10 years of marriage, had enjoyed much down time with Kimmel, who describes himself as "a workaholic." He's driven by ambition, to be sure, but also by the example of his mother. "She has never watched television sitting down," he said. "I've never seen her eat anything. She will cook dinner, put it on the table and then start cleaning the kitchen. Not a moment of relaxation -- and I'm exactly the same way."
Kimmel's compulsive work ethic put a strain on his family life. Carolla first met Kimmel's wife when he was training him for his boxing match; he reassured Gina that Kimmel wouldn't be injured in the match.
"She said, 'I hope the other guy kicks the shit out of him,'" he recalls. "That's what she said to me -- and I went, 'Oh boy.'"
Kimmel is aware that his mania has its costs, but he never felt compelled to tone it down. "I think you just have to know what you're getting into with me," he said. "And I don't think it'll ever come as a surprise -- you'll figure it out in the first 24 hours. No one ever meets me and thinks, 'What a laid-back individual.'"
Not long into "Win Ben Stein's Money," Kimmel came up with the idea for what became his breakout hit: "The Man Show." Carson Daly still remembers when Kimmel first told him the idea. "We sat down, and he first said, 'I'm so sick of Oprah and her whole feel-good female power thing,'" Daly said. "Then he paused and said 'What Oprah is for women, I want to be for men. I'm going to start a show like that.'"
Kimmel asked Carolla to be his co-host on the show, which premiered on Comedy Central in June 1999. The two shared equal billing, pay and hosting duties (which included a great deal of mandatory on-air beer guzzling), but it was always clear who ran the show. "He's just born to do comedy and born to lead," Carolla said. "Ultimately, these things are not democracies. It has to be run like an aircraft carrier. There needs to be a captain."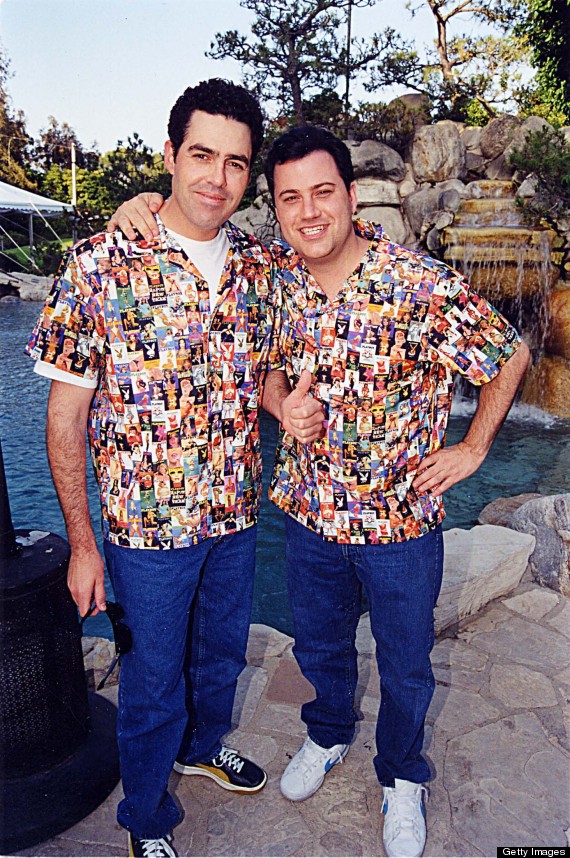 Carolla and Kimmel at the Playboy Mansion.
Critics were divided on "The Man Show." Some appreciated its anti-PC irreverence, but others found it misogynous. Kimmel says the depiction of women was always intended to be tongue-in-cheek, and that no one who knew him well would ever accuse him of sexism.
In the amoral universe of TV, such distinctions were made irrelevant by the fact that "The Man Show" was a hit. Its first episode was the highest-rated series premiere in Comedy Central history, with 1.6 million viewers. And it remained one of the highest-rated shows on among males between the ages of 18 and 34 for its entire six-season run.
The show made Kimmel a hot commodity. Still, even Kimmel was surprised to learn, in spring of 2002, that ABC programming executive Lloyd Braun was considering him to be the host of a talk show in its 12:05 a.m. slot, following up the long-running news magazine "Nightline." (It helped that Braun's number two was Michael Davies, who had hired Kimmel as Ben Stein's co-host.) Kimmel knew that Letterman and Jon Stewart were also in the running, and assumed he had no chance. But in the well-documented horserace that ensued, Kimmel came out in front. At 34, he had fulfilled his decades-old ambition of becoming a late night talk show host.
"I still get chills when I think back to the first night of our show," Esposedo said. "When he sat down at that desk, I was like, 'Shit. I'm watching someone's exact dream come true."
Kimmel quickly learned that fulfilling your dreams doesn't solve all your problems.
From the beginning, Kimmel made an effort to differentiate "Jimmy Kimmel Live" from its better-established rivals. It had a more casual, raucous vibe than the shows hosted by Letterman or Leno. And Kimmel notoriously hired a fleet of friends and family members -- including Cleto and Aunt Chippy -- to work in different capacities on the show.
But in his eagerness to be distinctive, Kimmel made a few questionable moves, such as serving unlimited quantities of wine and liquor to the audience. And though he had been in the hosting business for years, he still had a lot to learn. "Radio is different from TV. You don't have to make eye contact, you can look at your notes whenever you need to, the time restrictions are a lot looser," he said.
For the first few weeks of the show, Kimmel had trouble booking guests, especially women. Ratings were mediocre and reviews were worse. Nancy Franklin, the TV critic at the New Yorker, called the show "dead on arrival" and said its host should be "admitted immediately to the Witless Protection Program."
Meanwhile, Kimmel's home life, never perfect, had gone to shambles. He and Gina separated in 2002, around the time he learned he had gotten the late night gig, and formally divorced in June 2003. They continue to share custody of their two children, who now both attend college near Chicago, but they are not on good terms.
Kimmel reacted to the stress of his divorce by channeling his anxiety into his work, and he soon gained a reputation for being unusually involved in the nitty-gritty details of his show. He also put extra care into his own performance as a host, working harder to separate the stubborn, creative-genius persona he wielded in the writer's room from the charming interviewer and monologist he needed to be on-air.
Little by little, the show soon started to improve.
One early obstacle to broad appeal was the fratty imprint of Kimmel's past. "'The Man Show' roots ran pretty deep," explained Kimmel's cousin Sal Iacono, a writer on "Jimmy Kimmel Live" known to audiences as "Cousin Sal." "That's what we thought was funny -- farts, stupid things. But we realized that for us to take it to the next level, we had to appeal to a wider audience. So now we cover things that everyone thinks are funny."
Kimmel says many of the changes came at the urging of ABC, which "became a very female-oriented network" soon after his show premiered. "If you want to get women to watch the show, you don't throw darts in Steve-O's ass. We kind of just smoothed some of the edges off the show," Kimmel said.
The changes -- along with what is likely the savviest digital marketing strategy of any of the late night shows -- attracted viewers and, just as crucially, support from Kimmel's network overlords. In early 2011, ABC moved the show from 12:05 to midnight, shaving five minutes off the long-untouchable "Nightline."
Ratings (though still far below those of the 11:35 shows) keep growing, while those for Kimmel's older rivals' shows have been shrinking. Kimmel's viewership has risen 14 percent in the last year alone. And Chris Hamer, a marketing executive who's worked with "Jimmy Kimmel Live," said that the show's position as the most outré of the late night talk shows makes it unusually appealing to advertisers.
"He's edgy enough that Bud Light or the automotives like the edginess, but at the same time, his cerebral humor keeps it from being crass or off-putting," Hamer said.
As a result, Kimmel is now paid handsomely -- close to $10 million a year, according to reports. He invested some of his riches into building a home life that can lure him more effectively away from work. He's become especially excited about cooking in the past few years -- he installed a custom-built pizza oven with the imprimatur of Arizona pizza legend Chris Bianco, along with a professional immersion circulator for sous vide cookery, in his palatial home kitchen. His Sunday afternoon football parties have become the stuff of Hollywood culinary legend.
Another important element in his personal life was his nearly seven-year relationship with the comedienne Sarah Silverman, which began right around the time of his separation from Gina and lasted until March 2009. The two also collaborated on many business projects, including "I'm Fucking Matt Damon," the most popular "Jimmy Kimmel Live" sketch ever. Silverman and Kimmel
Many media watchers took notice of Kimmel in a more serious way when he hosted the ABC Upfront presentation in May 2009. Upfronts, during which networks present their shows to advertisers, are usually parades of jargon and bland cheerleading. Kimmel's sarcastic lampooning of his network bosses and colleagues underlined his take-no-prisoners daring. The New York Times' Dave Itzkoff described his performance as a "withering, blistering monologue" in an article with the headline "Jimmy Kimmel Demolishes ABC's Upfronts."
The Upfronts shtick showed that Kimmel still had the fangs that made his early pranks so viciously funny, but that are sometimes absent from the softball-heavy interviews on "Jimmy Kimmel Live." "These are celebrity guests promoting their projects," Kimmel admits. "We're not really talking about anything serious." Kimmel also shows real bite in some of the pre-filmed videos he features on "Jimmy Kimmel Live." And he hasn't abandoned his streak of pugilism; he's gotten in several high-profile disputes with other celebrities, most notably in an ongoing feud with Jay Leno.
Leno can hold his own in a fight -- but Kimmel has also, on occasion, behaved like a bully, most notoriously in a public spat with writer Emily Gould, then a writer at Gawker. While guest-hosting "Larry King," with Gould as a guest, Kimmel accused the site of endangering celebrities with its "Gawker Stalker" feature, a critique he stands by. "Deep down, I think Emily Gould knows I was right," Kimmel said.
Gould, for her part, felt unfairly attacked, given her limited role in the development of the site. "I do have some amount of PTSD from the experience," Gould said. "It was awful for a lot of reasons, but I definitely don't watch his show. Seeing his face reminds me of this terrible thing that happened."
Kimmel's instinct to go for the jugular made a brief appearance on April 28, when he hosted the White House Correspondent's Dinner. The joke about Governor Chris Christie representing "the Olive Garden State" had to sting. Still, the majority of Kimmel's routine conveyed the unthreatening charm of the spiffed-up "Jimmy Kimmel Live" of 2012.
"He's learned how to curb his lethal arsenal," Daly said. "It's at his disposal, so he can defend himself against anybody, but he's normally so likable and friendly that he doesn't turn anyone off."
'A REALLY GOOD SHOT AT NUMBER ONE'
This Sunday's Emmy Awards represent the most significant test yet of Kimmel's ability to be seriously funny without alienating a large audience. The awards show demands a host who can keep viewers entertained during the presentation of awards to shows and miniseries they may never have seen, and who can also keep things running at a fast enough clip to finish precisely on time.
Don Mischer, who's producing the Emmys for the 12th time this year, said he has high hopes for Kimmel as a host. "There are not a lot of people who can come out and do this well," he said. "And I think he'll soon join that group, and do awards shows well for a long time."
Kimmel will be rehearsing his routine in the Nokia Theater all day Friday and Saturday in an effort to time and perform everything perfectly. If Kimmel does a good job, he'll instantly be put on everyone's short list as a potential host for the Academy Awards. It's a job that was long associated with Bob Hope, to whom Kimmel bears a passing resemblance, and later with Johnny Carson, one of his heroes. But his first great inspiration, David Letterman, hosted only once, to mixed reviews and has not been invited back.
Kimmel has made it clear that at some point he would love to host the Oscars, but he said he's been careful not to seem too aggressive. "If they decide they want you to host, they ask you," he said. "And if they do, I'll say yes, of course. But I think it probably hurts to actively pursue something like that."
Insiders consider it very unlikely that Kimmel would be asked to host the Oscars the same year he hosts the Emmys, but in the meantime he has more immediate challenges. In late October, a week of "Jimmy Kimmel Live" will be filmed at the Brooklyn Academy of Music, in Fort Greene, Brooklyn. After that, Kimmel will start ramping up for his show's move to 11:35. Friends say Kimmel is as determined as ever to succeed in his new time slot.
"He can't not want to be number one," Escobedo said. "Now that we're getting this slot at 11:35, I think we have a really good shot at being number one at some point. Maybe not right away, but if he continues to work and continues to grow, I think he feels like he has a really got shot at being number one. Our whole staff does."
Beating Leno and Letterman would be a huge accomplishment -- and require a Herculean effort. In Molly McNearney, Kimmel appears to have found a fiancée who (because she's the co-head writer of "Jimmy Kimmel Live") shares his ungodly hours. "One of the nice things is we have the same schedule and the same concerns," Kimmel said. "That might not always be the case, but she works pretty hard too. So we're very compatible." Kimmel says he and McNearney have tentative plans to marry next summer -- but they won't set a date until they figure out the shooting schedule for the show.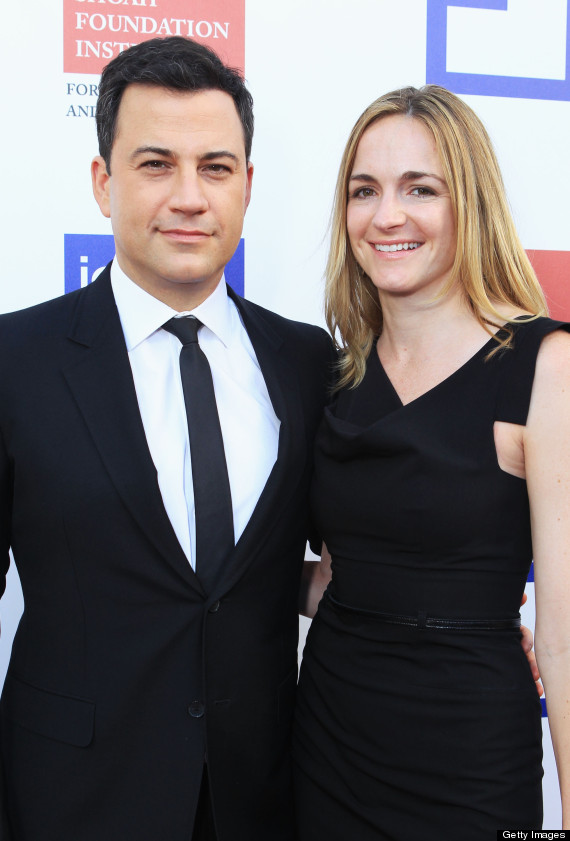 Kimmel with his fiancée and co-head writer, Molly McNearney.
Spending time with Kimmel in his office makes it easy to see why he's in no rush to drive back to his mansion in the Hollywood Hills every night. It's here -- in the three-room suite two stories above the "Jimmy Kimmel Live" set -- that he feels most at home. It has everything he needs. A large glass window allows him to summon his assistant Tim without getting up from his desk chair. He can exercise on the new treadmill next to his desk. If he's sweaty afterwards, he can take a shower in the gigantic tiled bathroom, well-stocked with plush white bathrobes. And if he gets hungry, he has a reach-in freezer stuffed with shrink-wrapped crab legs and meatballs, which he can cook in the two Sous Vide Supreme machines on the counter of his small office kitchenette. He seems, sitting here, almost content.
Asked about his ambitions beyond the myriad projects already lined up in the next year, he said, "I don't really have any ... I'd like the show to go well and keep everybody working and to be successful."
At heart, he's still the same boy that terrorized Meadowlark Lane so many years ago. His office is crammed with the evidence of recent pranks, which take advantage of resources that would have stupefied him in his kite-shooting days. The props department fabricated the two-foot-tall effigy of "Jimmy Kimmel Live" executive producer Jason Schrift sitting in a realistic-looking toy box marked "My Schrifty" on a bookcase as a birthday present for Kimmel. At one point in the interview, Kimmel got up and pointed at the nude painting of a fleshy middle-aged man, whom Kimmel identified as his agent, James Dixon, framed on a wall. Kimmel explains that he sent raunchy Christmas cards of the odalisque, signed with Dixon's name, to dozens of Hollywood acquaintances, his fourth such imposter-card in a row.
"Probably 25 percent of the people who get it think he sent it to them and think he's a fucking maniac," Kimmel said.
He's also incorporating his love of pranks into his Emmy routine. Though he refused to divulge any of specific plans for the night, he did say that the centerpiece of his host performance would be "a spectacular prank."
"Nothing like it has ever been done on television before," Kimmel boasted.
One thing has changed, though, which may help explain his relative placidity. Kimmel no longer worries that his pranks will get him in trouble.
"What's the worst that could happen to me? If I got fired, I'd have 30 job offers tomorrow," he said. "So I just don't feel pressure in that regard, as far as getting in trouble. I used to be terrified of getting fired, probably as a result of getting fired over and over again. That's one thing I don't stress out about now." Kimmel smiles at this year's Television Critics Association awards show.
Popular in the Community