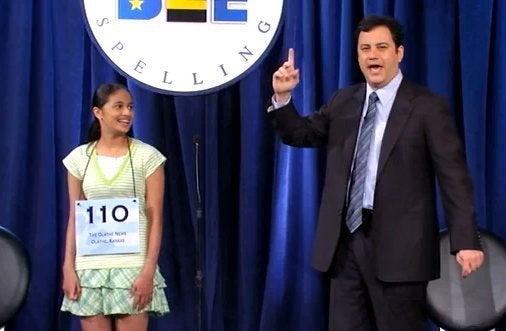 Jimmy Kimmel went head to head with Scripps National Spelling Bee Champion Kavya Shivashankar last night in the 6th Annual Jimmy Kimmel Live Spelling Bee. It was a mess. Kimmel had perpetual sidekick, Guillermo, act as the "pronunciator" for the event. He pronounced the word vegetate, BEE-KAH-TAY...Kavya unsurprisingly got that wrong.
When Jimmy got up to the plate, Guillermo pronounced the word "facet" FAH-KID. When asking to use it in a sentence Guillermo said, "I can say FAH-KID." When Kimmel found out what the word was supposed to be he looked at Guillermo and said, "That's facet you dumbass."
Kimmel lost, but not for lack of trying. At one point he went as far as to pull Kavya's ponytail.
Related
Popular in the Community