The annual upfronts give networks the chance to brag about their upcoming shows and pitch them to advertisers and the media. Thankfully, Jimmy Kimmel didn't get the message again this year.
On Tuesday, the late-night talk show host destroyed his own network, ABC, its parent company Disney and many other TV targets in a hilarious presentation in New York City.
Kimmel just signed a new three-year contract for "Jimmy Kimmel Live," so he's safe to roast and toast.
"This is my 16th upfront and it's great to be here again. That was a lie, but I've been doing this so long, I remember when we previewed 'Lost' and 'Alias' and 'Desperate Housewives.' Those were back in the days when Felicity Huffman only played a scheming suburban mom."

"I can't believe [former ABC President Channing Dungey] left us for Netflix. Who does she think she is — our viewers?"

"What a year it's been for all of us. I mean, Roseanne is gone and the measles are back. Remember last year when you got all excited for 'Take Two' and 'The Kids Are Alright' and 'Roseanne' and 'Speechless'? Well, 'canceled,' 'canceled,' 'racist,' 'canceled.'"

"But we still have 'The Bachelor' franchise. Like the genital herpes it thrives on, 'The Bachelor' will never go away. Last year, we had a virgin bachelor, which was great, so next year to kind of mix things up, we're going the other way. We got ourselves a real live truck-stop prostitute."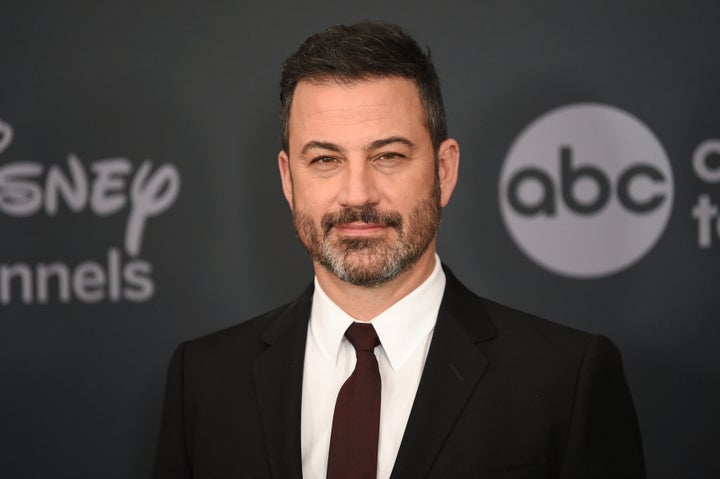 "As [new network president Karey Burke] mentioned, 'Fresh Off The Boat' has been renewed for season No. 6. She also mentioned that moment after the renewal was announced, one of the stars of the show, Constance Wu, tweeted, 'So upset right now that I'm literally crying. Ugh. Fuck.' Only on ABC is getting your show picked up the worst thing that could happen to you."

'Modern Family' was the rarest of ABC shows — a hit."

"It really is amazing. We own Disneyland, we own Iron Man and we own 'Star Wars.' At this point, the only cherished memory of your childhood we don't own is jerking off."
 He zinged elsewhere, too.
"Remember last year when you guys gave Les Moonves a standing ovation?That was funny. How is it possible the network whose logo is literally an eye did not see that coming?"
Skewering Fox's Terry Bradshaw for calling "The Masked Singer" judge Ken Jeong "the little guy from Japan" when Jeong is actually an American-born son of South Korean immigrants, Kimmel quipped: 
"Was that some kind of concussion awareness PSA? Terry Bradshaw and 'The Masked Singer.' What a stupid time to be alive. Poor Fox though, they have nothing left. Fox is now the network equivalent of a divorced dad's refrigerator. Eighteen to 49 isn't even a demo anymore, it's the number of people who still work there."

"Fucking Netflix. They even signed the Obamas. The Obamas are making TV shows and Trump is running the country. If this isn't some 'Freaky Friday'-type bullshit, I don't know what is."
Calling all HuffPost superfans!
Sign up for membership to become a founding member and help shape HuffPost's next chapter