Jimmy Kimmel is one funny guy. Do you remember when he duped the world with a video of a twerking girl who caught on fire? Almost 23 million people (suckers) watched that video. That's the equivalent of every single person living in Ohio and Pennsylvania!
What about his stunt at the Oscars when his mother made and served PB&J sandwiches to the celebrity audience? Classic.
Given all of his antics, I never expected that Jimmy would make me cry. I never imagined that I would see Jimmy act like me, scared and completely vulnerable. This wasn't a sketch. This was real life.
On April 28, Jimmy and his wife welcomed their second child into the world ― Billy. After a couple of hours, a nurse noticed that Billy looked purple which suggested that he was not receiving enough oxygen. After a few tests, he was diagnosed with a congenital heart defect called Tetralogy of Fallot.
Congenital heart conditions are the #1 type of birth defect. Septal Defects (hole in the heart) are most common. About half close on their own; the rest require a procedure. However, Billy's defect was complex and life threatening. He will require three surgeries and lifelong medical care to manage this condition. But, the prognosis is good. Just ask extreme sports phenom and Olympic gold medalist, Shaun White, who was born with the same condition.
Have you ever heard a song from childhood that instantly takes you back to a place and time? For me, it's "These Are the Days" by Ten Thousand Maniacs. I spent a high school summer playing tennis in Europe. It was pretty amazing! As I traveled through Sweden and Austria with my Sony Walkman, I always had that song blaring. No matter who we are, where we were, or what kind of music we like, we all have those songs.
"These are days you'll remember. Never before and never since, I promise, will the whole world be warm as this." After 45 years of living, I can honestly say that Natalie Merchant was right. That summer, the whole world felt pretty warm.
Jimmy Kimmel's monologue also took me back to a time and place. It wasn't because he performed a song. It was because his voice cracked. It was because he constantly shifted his weight as if that distraction would somehow squash the tears. It was because he fought like hell to keep his composure. It was because he was completely defenseless.
That time and place was January 24, 2005, the night that my three-month-old son, Simon, died. I suddenly remembered the blue color of Simon's face; the panic in our house as my husband bolted out of the front door with my son; the call to 911; the ride in the ambulance; the chaos at the hospital while we watched from an isolated room. I remember the feeling of despair and helplessness.
I remember the moment the doctor told us that he was gone. I remember holding him for the last time. I remember thinking that this is not happening ― babies just don't die!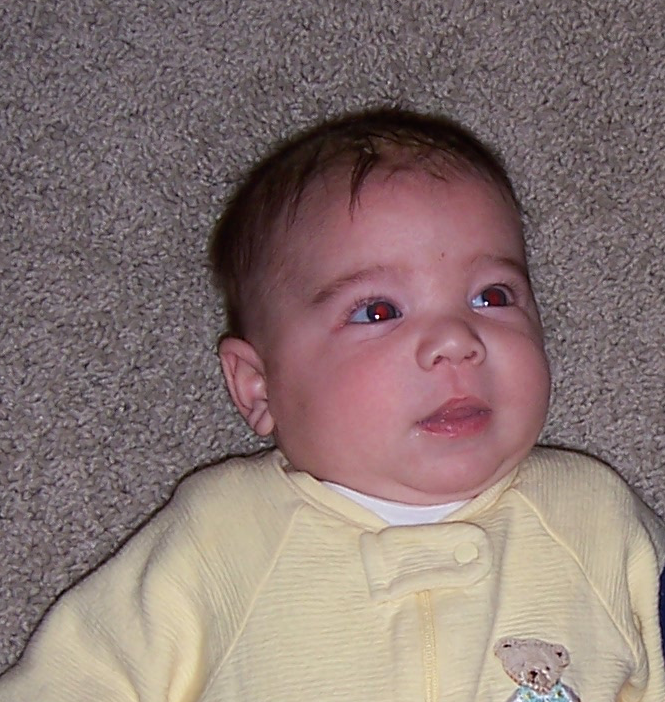 As I watched the monologue, I struggled to keep it together. Honestly, I'm still struggling. I guess that sounds and body language are more powerful than the melody of a pop song. Jimmy said that "no parent should ever have to decide if they can afford to save their child's life." He is right, but there is something even more basic than the cost, Jimmy.
No parent should have to bury their child to a detectable and treatable heart condition. Unfortunately, we don't do much to prevent it (key word is prevent).
We look for symptoms. Thankfully, the nurse recognized Billy's. But, Billy would have also likely had a pulse oximetry test, which is mandatory in most states. This test evaluates the oxygen level in a newborn's blood and is used to diagnose certain congenital heart defects.
After our kids leave the hospital, and assuming that they go to the pediatrician once a year, we listen to their hearts with a stethoscope ― a 200-year-old device. There you have it.
Here's what we don't do, but could and should.
(1) ECG exams. These inexpensive tests have been shown to improve our ability to discover congenital heart conditions that were not detected at birth (e.g. cardiomyopathy and Long QT Syndrome). There are organizations offering this kind of testing, but it shouldn't be left to them. It should be a medical standard. We check our kids eyes and ears in schools. What about the heart?
(2) CPR education. This doesn't prevent sudden cardiac arrest but it dramatically increases the chance of survival. It keeps the blood flowing to vital organs. It is becoming a graduation requirement in many states. What about yours?
(3) AED access. This prevents sudden death and it's the only thing that can. It delivers a shock and brings the heart back into its normal rhythm. Without one, the chances of survival are under 10 percent. Many schools and most youth facilities don't have them. Is there one where your kids learn and play?
Heart conditions are the #1 birth defect, and sudden cardiac arrest is the #1 cause of death. So, we know (1) the biggest threat facing our children when they enter this world; and (2) what could likely kill them when they get older. Despite this reality, we continue to ignore their hearts for the majority of their lives. We spend more than $444 billion treating cardiovascular disease in older people, around $2 billion treating congenital heart defects, and virtually nothing in between, unless, a kid collapses and almost dies. That can cost about $1 million per kid.
Is there anything more insane than this?
Related