It seems Jimmy Kimmel's longtime nemesis isn't that bad of a guy after all.
The late night talk show host revealed in the first episode of the new podcast "Strike Force Five" that Ben Affleck and the "despicable" Matt Damon — the latter of whom Kimmel has had a long-running fake feud with for nearly two decades — offered to support Kimmel's staff during the Writers Guild of America strike, which started in May.
"[They] contacted me and offered to pay our staff for two weeks — a week each — they wanted to pay out of their own pockets, our staff," Kimmel said about 44 minutes into the show, which he co-hosts with late night's Jimmy Fallon, Stephen Colbert, Seth Meyers and John Oliver ― all of whose shows are currently on hiatus due to the strike.
Kimmel admitted he ultimately turned down the offer.
"I did say no, I felt it that that was not their responsibility," Kimmel said.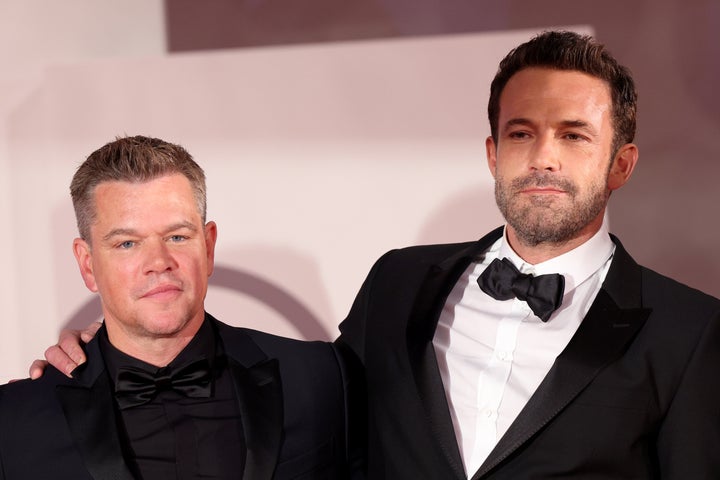 The other hosts were somewhat flabbergasted that Kimmel didn't take the money. Meyers asked if the money was "transferrable," prompting Colbert to ask Kimmel if he could "say yes and then give your money to us?" in order to pay the other hosts' staffs.
"Strike Force Five" is a brand-new podcast from the five late night hosts, which launched Wednesday. The comedians started the podcast to help raise money for their out-of-work staffers.
Damon and Affleck's offer to Kimmel seems in step with their production company Artists Equity, which the two launched last year. The company's aim is to ensure that all cast and crew members on movies get a fair cut of profits.
"As streamers have proliferated, they have really ended back-end participation, and so this is partly an effort to try and recapture some of that value and share it in a way that is more equitable," Affleck told The New York Times in 2022. "Not just writers and directors and stars, but also cinematographers, editors, costume designers, and other crucial artists who, in my view, are very underpaid."
Earlier in the podcast's episode, around the 19-minute mark, Kimmel also admitted that he was "very intent" on "retiring right around the time where the strike started," but seemed to have changed his mind. To check out his thoughts on waving goodbye to "Jimmy Kimmel Live" check out the full episode here.
Support HuffPost
The Stakes Have Never Been Higher
Popular in the Community