Unfortunately, unlike the Oscars, there was no wrap-it-up music on Tuesday's "Jimmy Kimmel Live!"
With the controversy over the Academy Awards' lack of diversity, Kimmel decided it'd be great to address the issue on his show. To do so, he brought out the "Academy's PR person," aka actor Tom Virtue, aka the dad from "Even Stevens." What followed was a few minutes of pretty offensive photoshopping to put black people in Oscar-nominated movies.
C'mon, guys. Not even Louis Stevens would get into this big of a mess.
We don't know if this was a misguided attempt to parody the Academy's tone-deafness in the matter, but the sketch turned "The Big Short" into "The Big Shawty," the film "Room" into "Crib" and easily takes home the award for most cringeworthy segment of the year.
"Jimmy Kimmel Live" airs weeknights at 11:35 p.m. ET on ABC.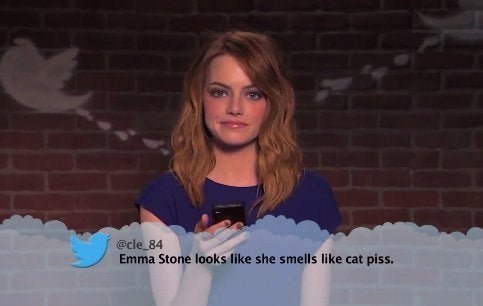 Celebs Read Mean Tweets
Support HuffPost
The Stakes Have Never Been Higher
Related
Popular in the Community