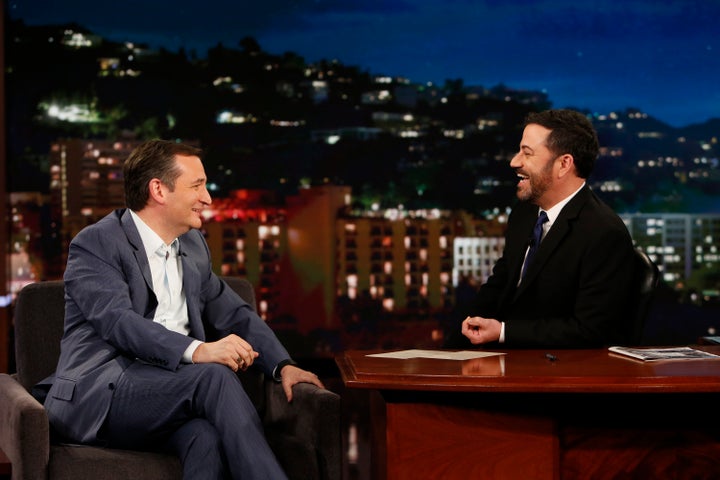 Late night TV host Jimmy Kimmel is used to dunking on Sen. Ted Cruz (R-Texas), but he was no match for the Republican lawmaker during a charity basketball game this weekend in Houston.
Cruz defeated Kimmel 11-9 in the so-called Blobfish Basketball Classic, held Saturday at Texas Southern University's arena in Houston.
"Did you spend more time this week practicing basketball than trying to get those kids out of that detention center?" Kimmel asks Cruz on the court in a video clip tweeted by ABC's "Jimmy Kimmel Live."
The unlikely face-off originated when Cruz challenged Kimmel in May to a basketball game after the comedian mocked his facial expressions at a Houston Rockets game.
"When Ted arrived at the Toyota Center, some of the fans mistakenly thought it was Grandpa Munster Bobblehead Night," Kimmel had said. "I mean, look at him. He looks, and I'm not joking here, he looks like a blobfish."
The one-on-one game raised money for two Texas-based charities, with Cruz playing for Generation One, which focuses on early childhood education, and Kimmel playing for the Texas Children's Hospital. The players each pledged to donate $10,000 to their opponent's charity.
The Blobfish Basketball Classic is set to air during Monday's episode of "Jimmy Kimmel Live."
Check out more action from the game below:
Popular in the Community