Jimmy LaSalvia said that among the reasons why he fled the party was that the Republican National Committee (RNC) chairman Reince Preibus told him that he was afraid of getting "a phone call from Tony Perkins [of the Family Research Council]" if the party spoke out against anti-gay rhetoric. LaSalvia charged Preibus, House Speaker John Boehner (R-Ohio), and other Republican leaders with lacking "the backbone to say to the forces of intolerance, 'You either change or you can't come with us on this journey.'"
Former GOProud founder says GOP wants to change, but doesn't have a backbone:
LaSalvia said the GOP suffers from "a cultural disease that can't be fixed," and charged that the recent crop of GOP potential presidential contenders, including New Jersey Gov. Chris Christie (R), refuse to confront the problem. He also spoke out on the recent controversy over attempts at outing GOP Congressman Aaron Schock (R-IL.), saying if Schock is gay, he has "lied about it repeatedly."
LaSalvia says GOP has a cultural disease that cannot be fixed:
"Intellectually, they know that the party has to change and modernize," LaSalvia said in an interview with me on Friday on SiriusXM Progress. "It's kind of like the drug addict who knows they have a problem, who knows the drug is not good for them, but can't [get off the drug]."
"I did say I was embarrassed to be a Republican," he said. "The 2012 election is when I really came to the realization that no matter how hard we tried, no matter how fast support grew, there were still the anti-gay forces in the Republican Party. While I thought they would dissolve over time, the truth is they're tolerated. They tolerate anti-gay people and that shows a cultural disconnect and they're so out of touch that I think you can't fix it."
He was hopeful, he said, that the post-mortem on the party after the 2012 loss would change it, but he said on many other issues in addition to marriage equality, extremists are still not challenged. He specifically pointed to the statements of Michigan Republican National Committee Chairman Mike Agema, who on Jan. 9 posted an email to his Facebook page that asked, "Have you ever seen a Muslim do anything that contributes positively to the American way of life?"
"It's not just about the issue of marriage," LaSalvia said."It's bigger than just a single issue. It's about a cultural disease that just can't be fixed. The fact that last week when [Agema] went on an outrageous anti-gay Muslim rant — unless that kind of behavior is denounced it, it stains everyone."
Asked specifically about potential GOP presidential contenders Sen. Marco Rubio (R-Fla.), Sen. Rand Paul (R-Ky.) and New Jersey Gov. Chris Christie (R), LaSalvia said he didn't think any of them could win.
"They cannot win the presidency with the cultural problem they have," he said. "The problem all of those people have is that they're not willing to stand up and say, 'The forces of intolerance in our party are wrong.' Chris Christie has the best ability to connect with people and people trust him, but he does what everyone else does and says,'Well that's not me.' And honestly, if you're going to win elections, that's not enough. You have to say, 'Those people are wrong,' because bigotry is something different from everything else. If you have people demonizing gay people, you have to say,'That's wrong,' because everyone in American knows that's wrong. If you can't acknowledge that, if you only say, "That's not me, they don't speak for me,' that's not enough. Because their bigotry will stain you."
LaSalvia on GOP presidential nominees:
LaSalvia also addressed the recent controversy over the alleged outing of Congressman Schock (R-IL), who has voted with, and supported the positions of, anti-gay conservatives for the past several years.
"I have no idea if Aaron Schock is gay or not," he said. "And frankly, I think he's wrong on all those issues. And he's free to be wrong. The problem that Aaron is going to have if in fact he turns out to be gay, is that he's lied about it repeatedly. "
Before You Go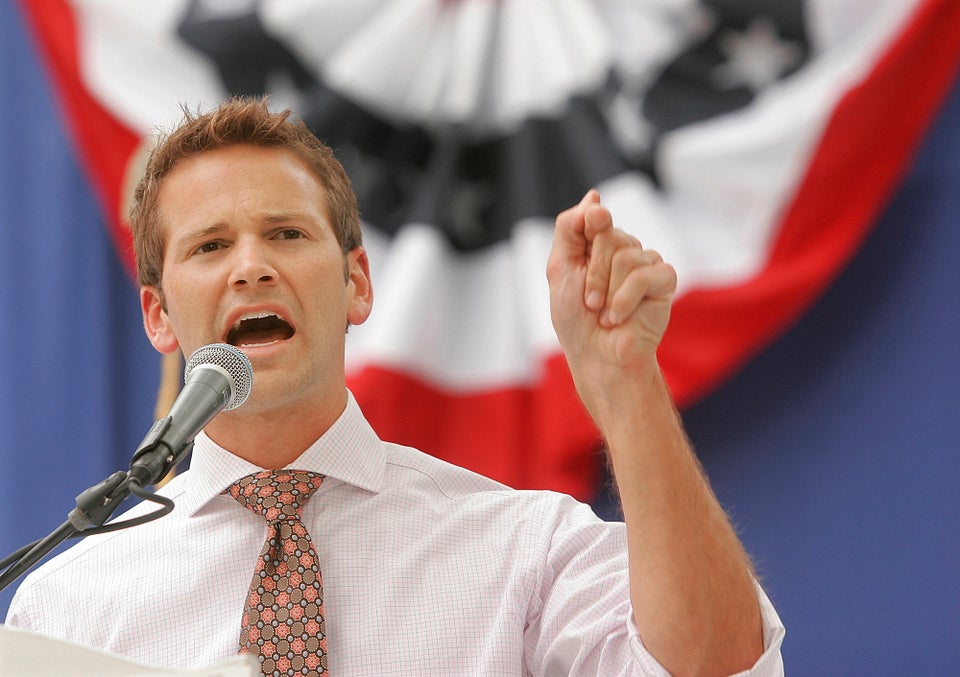 17 Politicians Who've Faced Gay Rumors Or Scandals
Popular in the Community