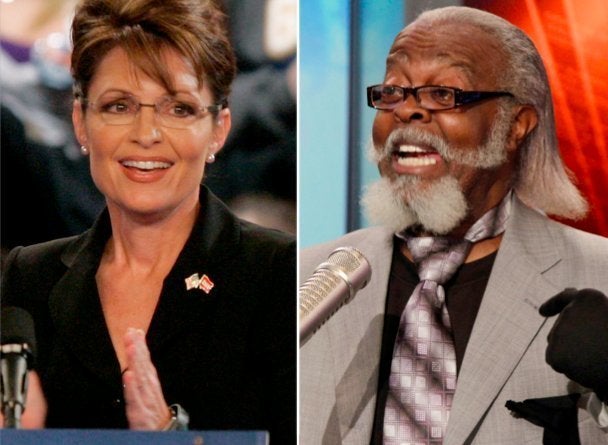 Jimmy McMillan, who captured the political spotlight with his unsuccessful bid for New York governor during the 2010 midterm election season, professed his love for Sarah Palin in an interview with AOL News published Saturday.
McMillan is the founder and leader of "The Rent Is Too Damn High" political party. He has mounted multiple failed campaigns for mayor of New York City and was kicked-off the ballot when he tried to run against Hillary Clinton for U.S. Senate in 2000, according to the Village Voice.
McMillan recently announced that he is running for president in 2012.
When asked by AOL News what he thinks of Sarah Palin and if he would consider her as a potential running mate for his campaign, here's what McMillan had to say:
Love her. Constitution. American citizen. Exercising the right to privacy. Free speech. Haters -- those who don't like Sarah Palin. That's what they are. Sarah Palin: I love you because America gives you the constitutional right to do whatever you want to do as a woman. And people don't think you can do because you're a woman. They try to make a mockery out of you. But you stand up for your rights and stand strong for your rights. And don't let anyone try to cut you down. Not only are they talking about Sarah Palin. They're talking about me.
In the one-on-one, McMillan was also asked to explain an eyebrow-raising suggestion he recently made that he's coming after the president's "black ass." Click here to see his response and much more from the interview.
REAL LIFE. REAL NEWS. REAL VOICES.
Help us tell more of the stories that matter from voices that too often remain unheard.