What is the next dream project for Jeff Koons? Designing an album cover for Jimmy Page.
The visual artist and the guitar hero were at the 92nd Street Y in New York on November 3 for a discussion, moderated by Koons, about Page's career.
"Within my life, I learned how to feel through listening to Jimmy's music, "said Koons. "I listen to his music every day."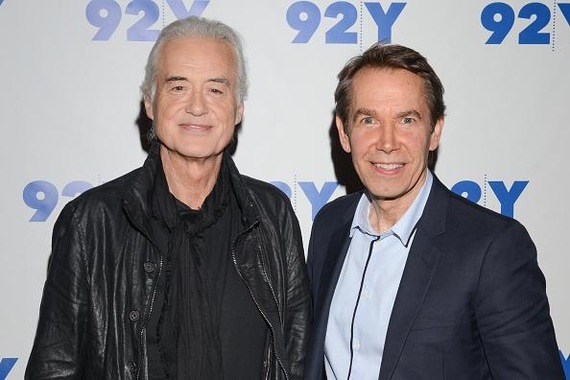 "I was fourteen the first time I heard Led Zeppelin I," he recalled. "My life was changed. I had a feeling of hope and expansion," referring to the rock group's debut album in 1969.
When Koons offered to produce any artwork to go along with Page's anticipated solo tour and album next year, Page enthusiastically shook his hand, closing the deal.

The two also exchanged ideas about their creative process.
For Koons, it's a cerebral approach. "I carry things around with me that resonate, that are interesting" before beginning a new work.
For Page, "It's starts on the guitar, even though I've written lyrics. I wasn't keen to be writing reams of poetry, and then putting the music to it. I want my own technique and character to be on it."
Page, 70, released his new autobiography, Jimmy Page by Jimmy Page, last month by Genesis Publications, a photographic journey charting his metamorphosis from angelic choir boy in suburban London to one of rock's most enigmatic pioneers.
Page told Koons about his first exposure to music at his church, and how he started playing guitar in a local skiffle group, the launching pad for many British musicians who came of age in the 1960s.
The group made it on a BBC television news program when Page was in his early teens, although he finds the photographs and video footage embarrassing today.
"When you've had a lifetime in music, there are certain things that come back and haunt you. That is one of them. I was nervous as anything in front of the camera. I was a shy kid, and I still am quite shy, quite introverted."
Koons and Page talked about Page's career as a session musician when he played on records like The Who's "I Can't Explain" to his stint in the Yardbirds with his old-friend Jeff Beck. When Koons finally beamed an early photo of Page in the late 1960s when he formed Led Zeppelin, the crowd erupted in applause.
"I knew exactly what I wanted to do with it," Page said about those early years, as he was formulating a plan for a band that would pioneer a new blend of acoustic and electric guitar sounds. "There was a definite direction, an attempt that would shake everything."
In recent years, Page has been busy remastering the Led Zeppelin catalog, tending to his website, and publishing his book.
He told Koons next year he will finally be ready to work on solo projects, even touring for the first time in decades.
"I'm still a young man," Page said, or as the last page in his book reads, "it might get louder."
Related
Popular in the Community