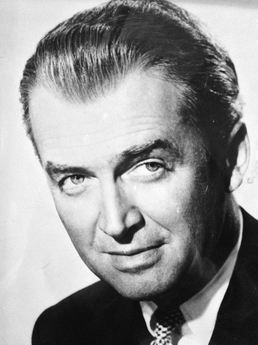 During the Blizzard of 2016, my better half and I had plenty of hours to watch, debate, discuss and bicker about movies. We cast our own in-house votes for which movie will win the Oscar for best picture, who will win for best actor, best screenwriter, the hair, the makeup, the whole spiel. We've been on a movie marathon so that we are well poised when the red carpet rolls out in Hollywood at The Academy Awards.
It's a head-to-head lead by this time in January as studios do all they can to attract Oscar's nod. Audiences are betting high for "The Danish Girl," "The Martian," "Brooklyn," "Joy," "The Revenant," and "Room." We've see all of them and had intended to see more last weekend, but the polar vortex-y bombogenesis on the East Coast hexed the endeavor. So when spouse and I tired of CNN blizzard coverage, we switched to Turner Classic Movies.
"It's a Wonderful Life" was about to begin. "Get another bag of popcorn, would you, hon?" I yelled from the sofa to the kitchen. Two minutes later (I love micro-wave ovens), we were parked with steamy, buttery popcorn in front of a blazing fire to watch one of my all-time favorite films. (And the American Film Institute backs me up on this. "It's a Wonderful Life," released in 1946, is solidly ensconced on their prestigious list of "100 Greatest American Movies of All Time.") And although I recently watched the film at least four times over the holidays, I still needed more George Bailey.
In a sense, you could say that we once had a relationship.
What makes Jimmy Stewart one of the forever-great Hollywood stars to me? As one of his press agents when he appeared in "Night of 100 Stars 1982 Salute to the Great Screen Stars" at Radio City Music Hall, I saw first-hand what it is that makes for a truly great celebrity. It's not the looks, the swagger and the flash but rather a quality that Jimmy Stewart embodied: humility.
A few days before his appearance at Radio City, a stretch limousine picked me up at my apartment in Manhattan. We drove to JFK Airport and I awaited Mr. and Mrs. Stewart's arrival from Los Angeles.
They slipped into the back seat and I made my introduction. I was struck by how tall Mr. Stewart was in person, and how lithe/beautiful/soigné was his wife Gloria. And even after their long flight from the west coast, the Stewarts were unfailingly polite and gracious. The ride to mid-town was heady, indeed, for a young girl just starting her career in entertainment publicity in New York City.
The following day, during a rehearsal at Radio City for "Night of 100 Stars," I sat in the audience amidst rows of managers, photographers and other press agents. The Art Deco design and architecture of this renowned entertainment mecca was stunning. Even better was the moment the hydraulic stage lifted. From below the orchestra pit, a platform rose, and on that platform stood some of Hollywood's royalty: Jimmy Stewart, Bette Davis (who was about 74-years old and looked devilishly chic in leather pants, a fur vest and black beret), Lillian Gish, Gene Kelly, Myrna Loy, Gregory Peck and Ginger Rogers.
Along with appearing in the Radio City gala, Mr. Stewart did a two-part interview we booked on "Good Morning America." Seeking a setting beyond the ABC-TV studio, we decided to conduct the interview in Leona Helmsley's office at The Helmsley Palace on Madison Avenue. Okay, yes ... it is true. Leona was a complete (B-word), but I loved that her office was right next to her husband Harry's hotelier command headquarters. They were like boy/girl offices: he had rich mahogany paneling and she had opulent pink moiré wallpaper. There was something sort of adorable about it ... except when Leona opened her mouth.
(Preface to the next paragraph: There is a cardinal rule between women that if one's mascara is running, or bra strap, slip, or label is showing, you say something.)
As Leona stepped in front of me and tried to be the magnanimous location host for the GMA interview, I noticed what any dignified, rules-abiding Girls Club member would notice. In fact, it was considered a serious fashion faux pas: Leona's label was sticking out of her silk blouse.
"Excuse me, Mrs. Helmsley," I said politely. "Your label is showing."
She lammed into me and said, "My dear ..." With raised voice and an abrasive accent, I was admonished for how supposedly rude it was to mention her exposed label. I had worked at Glamour magazine and, believe me, I knew a "Glamour 'No'" when I saw one. Leona was treading deep in its territory. The woman's sobriquet as "The Queen of Mean" was well deserved.
Later, in a more neutral zone, Mr. Stewart and I waited offset in a makeshift green room in one of the rooms at The Palace. A bowl of fresh red apples on a modern glass coffee table was across from us as we sat in this schmaltzy hotel room in the middle of Manhattan.
A few minutes later, out of the quiet interim, Mr. Stewart asked me something I could hear a million times over and never tire of. Not, "Will you marry me?" but, "Uhhhh, want an apple?" The question was delivered in his renowned laconic drawl.
After returning to Leona's office to complete the second part of the television interview, Mr. Stewart and I walked across Madison Avenue toward Fifth Avenue, near St. Patrick's Cathedral. Stargazers and autograph seekers were in force. Mr. Stewart stopped for each and every one. "We love you!" they said and in Jimmy Stewart's inimitable cadence, he responded, "Why, thank you."
Here was a Hollywood leading man acting as humble as a regular citizen. He had no airs (unlike Leona). Even in real life, he exemplified his fictional character of George Bailey from "It's a Wonderful Life."
Mr. Stewart's unpretentiousness was made all the more impressive by his bravery in the service of his country. He not only entertained the troops during World War II but also flew in 20 bombing missions over Europe and was awarded the Distinguished Flying Cross. Neighborly, self-effacing, often stammering, yet quietly chivalrous, Jimmy Stewart was America's archangel. He even wrote me a thank-you letter.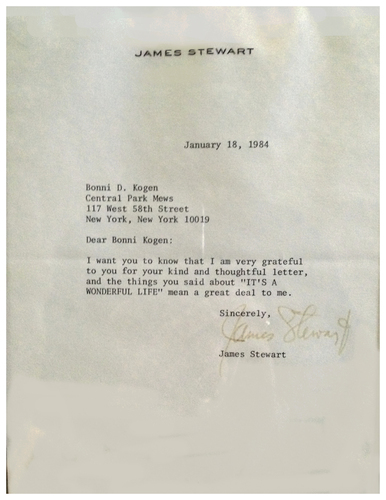 As we ramp up to watch The Academy Awards on Oscar Sunday, consider this: Are you living your Wonderful Life? Take inspiration from this shining star in the galaxy of great celebrities. Show humility, gratitude and grace. Use the quietly formidable Jimmy Stewart as your beacon. (And don't forget to write your thank-you letters.)
Popular in the Community