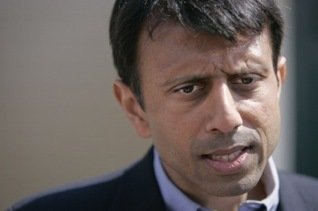 Gov. Bobby Jindal fired a state worker, Melody Teague, one day after she publicly condemned his plans to privatize state services. The worker's attorney claimed Teague was told that she was terminated for poor performance in the wake of Hurricane Katrina, years ago.
Melody Teague criticized Jindal during a forum held by the Commission for Streamlining Government. Soon after, the contract grants reviewer was told she was fired for her handling of the state's disaster food stamps program four years ago, in the aftermath of Hurricane Katrina.
According to The Advocate, Commission member Leonal Hardman believes that Teague was "unfairly targeted because she spoke out publicly at the streamlining forum."
In a statement, Chairman Whittington said, "For all of his talk about ethics reform, how ethical is it to fire a state employee for expressing her opinion publicly at a forum?"
Jindal has a history of firing or attempting to fire critics.
In July, the Associated Press reported that Jindal attempted to force out Board of Elementary and Secondary Education appointment Tammie McDaniel after she questioned a state official's budget decisions.
In March 2008, Jindal fired James Champagne, the executive director of the Louisiana Highway Safety Commission, after the two disagreed on the state's motorcycle helmet law. Champagne had worked for the Louisiana State Government for twelve years.
Popular in the Community