Denim is taking over the world. That is no hyperbole. It's coming back in a big, big way: jorts, dungarees, and Canadian tuxedos. In fact, denim is covering every square inch of our bodies. And, soon enough, our interiors.
Just so that we are all on the same page... denim is a certain type of fabric made of cotton and woven in a much too particular way. Jeans are pants made of said denim. And, any article of clothing starting with a "j", is constructed of denim.
Jean + shirt = jirt. Got it? Good.
Jeans were conceived for the workingman of the 19th century: the hard-working, gold-rushing, entrepreneur-birthing middle-class American man. He needed a durable pant to suit his lifestyle. A "git 'er done" pant, if you will. And, what is known today as the blue jean was officially born via Levi Strauss' mangina.
Once a cultural phenomenon, always a cultural phenomenon. The blue jean exploded during the gold rush and fashion icons ever since have been rocking denim. Kate Moss got her big break because of a pair of, you guessed it, jeans. Hello, JT and Brit? They redefined jean on jean on jean. And it doesn't get any more classic than Madonna donning her boyfriend j-jacket (jean jacket).
Yet the manipulation of denim is still unfolding. Today, denim has evolved past the staple of every wardrobe and has begun trickling into interiors. Denim is the new leather. Mark our words. And again, that is no hyperbole because denim hits the genetic jackpot of upholstery fabrics. It is durable as hell. It is about as cheap as it comes. And it is freakishly versatile.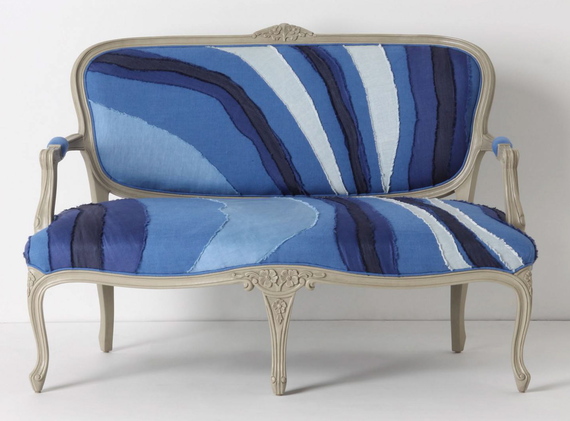 Get the denim look with a settee from Anthropologie.
Light wash, dark wash, acid wash? We like them all the same. But if blue isn't your color, try upholstering your sofa in a gray-washed denim. This will keep a neutral palette so that you can bring in color through accessories. We are salivating over the thought of a sexy gray denim accent chair paired with a white Mongolian fur throw pillow. Scrumptious.
The best part about denim: there is no such thing as a denim overdose. Channel your inner hipster and layer on the denim, from the windows to the walls. Denim is the design Gods' gift to interior designers. And in the holiday spirit, we gift denim unto you.