A gun-obsessed Vietnamese immigrant named Jiverly Voong has been ID'd as the shooter in the media and local news reports, although late Friday there was some confusion and clarification about his name, which may be Jiverly Wong:
Updated | 7:25 p.m. The New York Times has now identified the alleged shooter as Jiverly Wong, who used the alias Jiverly Voong, according to law-enforcement officials.

Updated | 7:59 p.m. A law-enforcement official said that Mr. Wong had a New York State pistol license that listed two pistols, a 45-caliber Beretta and a 9-mm Beretta. The authorities matched the serial numbers of two guns found with the gunman's body to the serial numbers on his license. The authorities were trying to trace the guns to determine where Mr. Wong obtained them and their history.
Saturday a portrait of an isolated, angry guy with a penchant for guns came out about Jiverly Wong/Jiverly Voong, who wore a bullet proof vest during the massacre:
"From the people close to him . . . the actions that he took were not a surprise to them," the upstate city's police chief, Joseph Zikuski, said today.

"We picked up that, apparently, people were making fun of him and he felt that he was being degraded because of his inability to speak English and he was upset about that."
Voong was the "kind of guy who would come in mad one day and shoot people," said Kevin Greene, who described himself as a former co-worker of the alleged shooter at a Shop Vac assembly plant that had since closed, the New York Daily News reported.

Greene said that he had asked Voong -- who he knew as Jiverly Wong -- whether he liked the New York Yankees.

"He said, 'No, I don't like that team. I don't like America. America sucks," Greene said, adding that Voong's penchant for guns was well known and that the alleged killer often practiced shooting at range.

Jiverly Wong also was close to his family and went to target practice:
"He went to target practice on Saturday. He said he had two guns, one in his glove compartment. He was always talking about his guns."

But around his home in nearby Johnson City, Voong was known as an attentive son and quiet neighbor...

Voong came to the United States from Vietnam with his family when he was young, a source said. He had a brother and a sister, who told The Associated Press her brother couldn't have been the killer.

The gunman, Jiverly Voong, held dozens of people hostage for several hours before shooting himself to death, police said.

According to multiple state law enforcement officials, the gunman entered the one-story American Civic Association in downtown Binghamton about 10 a.m. today and began a shooting spree.
Jiverly Voong is from nearby Johnson City and has an alternate name:
He allegedly walked into the center wearing a greenjacket and dark-rimmed glasses with a hunting knife tucked into the waistband of his pants.

Voong had backed his car up to the back door of the building to block any escape before he went around to the front door and started to execute people.
His rampage came one day after he was laid off from a multinational corporation.

Johnson City is just a few miles west of Binghamton, and it was home to Voong. Neighbors said he shared a Taylor Street house with father and sister...

As detectives removed a rifle case, computer hard drives, and other evidence from the home, a call was made to the house and a woman who answered and identified herself as Voong's sister said, "He didn't have a gun. I think he got shot by somebody else."
NBC also reported the gunman may have been a Vietnamese immigrant named Jiverly Voong.
Jiverly Voong is believed to be 42: "Jiverly Voong, a 42 year old local man of Vietnamese origin."
BINGHAMTON, N.Y. (AP) - A gunman opened fire at an immigration services center in downtown Binghamton on Friday, killing as many as 13 people before authorities found him dead, officials said.
Gov. David Paterson said at a news conference that 12 or 13 people had been killed.
A law enforcement official said the body of the man believed to be the gunman was found in an office of the American Civic Association building. The official was not authorized to speak publicly about the details of an ongoing hostage situation and was talking on condition of anonymity.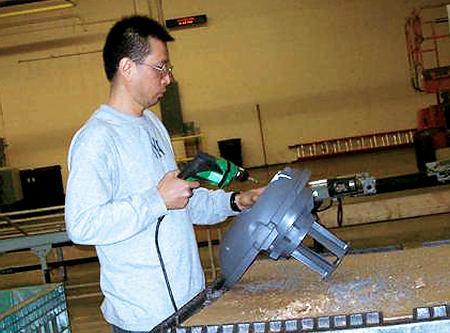 Related
Popular in the Community