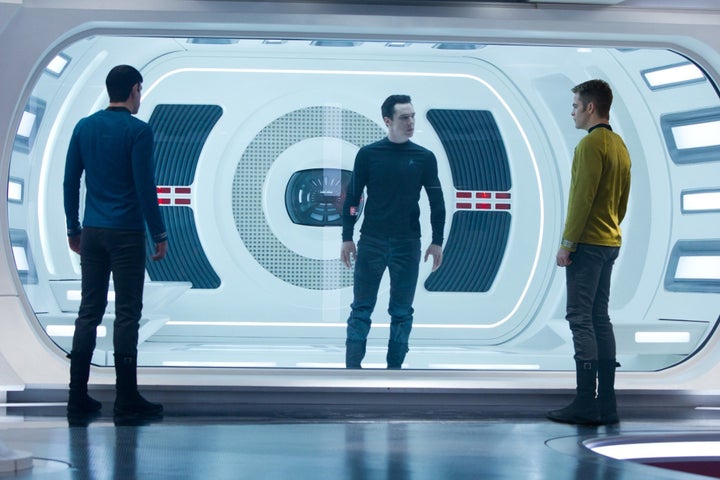 So far, everything about "Star Trek Into Darkness" has been decidedly dark. There's the title, obviously, but also those ominous trailers and teasers: "You think your world is safe? It is an illusion. A comforting lie told to protect you," Benedict Cumberbatch threatens at one point. "Enjoy these final moments of peace, for I have returned to have my vengeance." Yikes.
According to director J.J. Abrams, however, the "Star Trek" sequel won't be as gloomy as you think.
"I don't like going to the movies to feel bad. I don't like going to the movies to feel depressed and feel diminished. The reason you go to the movies is to feel bigger and stronger and happier," Abrams apparently told Empire Magazine (transcription via The Playlist). "So this is a movie that they certainly go 'Into Darkness,' but I would be the wrong director if it was about characters staying there. This is very much a movie about hope, about love, about romance, and about facing something that is truly terrifying and finding a way through the connection of your family and surviving and being stronger afterwards."
The official plot summary of "Star Trek Into Darkness" is as follows:
In Summer 2013, pioneering director J.J. Abrams will deliver an explosive action thriller that takes "Star Trek Into Darkness."



When the crew of the Enterprise is called back home, they find an unstoppable force of terror from within their own organization has detonated the fleet and everything it stands for, leaving our world in a state of crisis.



With a personal score to settle, Captain Kirk leads a manhunt to a war-zone world to capture a one man weapon of mass destruction.



As our heroes are propelled into an epic chess game of life and death, love will be challenged, friendships will be torn apart, and sacrifices must be made for the only family Kirk has left: his crew.
Starring Chris Pine, Zachary Quinto, Simon Pegg, Anton Yelchin, Karl Urban, Zoe Saldana, John Cho and Cumberbatch, "Star Trek Into Darkness" is out in theaters on May 17, 2013.
PHOTO GALLERY
2013 Movies To Watch
Calling all HuffPost superfans!
Sign up for membership to become a founding member and help shape HuffPost's next chapter
BEFORE YOU GO