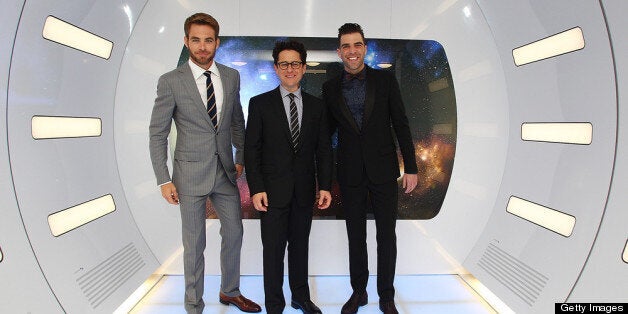 When Disney and Lucasfilm made the surprise announcement that J.J. Abrams had been hired to direct "Star Wars: Episode VII," many fans wondered what that meant for Abrams' other beloved science-fiction franchise, "Star Trek." In a new interview with the New York Times, Abrams' future with "Star Trek" was put into slightly better focus. (No lens flares required.)
"He was noncommittal about directing a third 'Star Trek,' except to say that Bad Robot would produce it," Times reporter Dave Itzkoff wrote in his piece on Abrams. "He said it was unlikely that Paramount would wait another four years for such a film, in which case his 'Star Wars' schedule would likely conflict with it." Disney has "Star Wars: Episode VII" set for release in 2015, though no official release date has been set. Paramount, the studio behind "Star Trek," does not have any official plans for a sequel to "Star Trek Into Darkness" just yet, but expectations are that it would happen sooner rather than later. The studio wanted four years to release a sequel to "Star Trek," owing to the fact that Abrams and his team of collaborators wanted to take some time to make sure the script was right.
"We all felt that rather than rush the second one into production, we needed to wait a year to give ourselves the time to metabolize what had worked about the movie," co-screenwriter Alex Kurtzman told HuffPost Entertainment last year. "Not to be on set scrambling to fix problems, but to take the time to make sure the story was worth telling. [...] J.J. Abrams has done an extraordinary job shooting the movie, and I think we feel like we were really happy we took the time, because we were ready when we went out again." Kurtzman co-wrote the "Star Trek Into Darkness" script with Roberto Orci and Damon Lindelof.
As for Abrams, this isn't the first time he's taken a wait-and-see approach on "Star Trek 3." In an interview with Playboy, the director said it was "a possibility."
"We're trying to figure out the next step," he said. "But it's like anything: It all begins with the story."
PHOTO GALLERY
Star Trek Into Darkness Premiere
Calling all HuffPost superfans!
Sign up for membership to become a founding member and help shape HuffPost's next chapter
BEFORE YOU GO