NBA player J.J. Redick says that he saw what may have been a person in a "box or cage" in the back of a car service driver's vehicle in New York City.
Redick said that after a photo shoot with men's lifestyle company Mr Porter this week, the company arranged for a driver to take him home, along with his wife, Chelsea, and sister-in-law, Kylee.
As the trio put their bags in the car, Redick said, he noticed a "weird smell" but didn't think anything of it.
But then during the ride, he said, Kylee turned to him, "pale as a ghost," tapped him on the shoulder and whispered, "There's a person in the back." That's when Redick says he turned around and saw what he described as "big blanket" covering a "cage or box."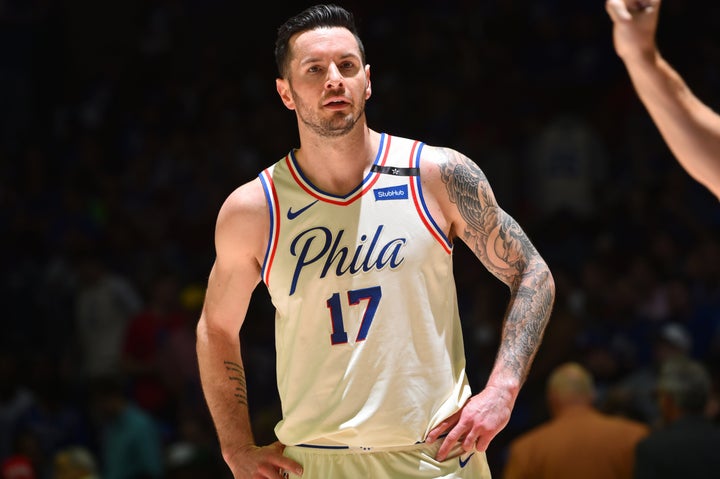 The three jumped out of the car, and Redick said he asked the driver, "Sir, you have something in the trunk in your car. Do you know what that is? Is there something in the trunk of your car?" The driver said no, at which point Redick asked the driver to pop the trunk, and after grabbing their things, he started to confront the driver further about the situation in back.
That's when things started to take a truly unsettling turn, according to Redick:
He lifts the blanket up, but like towards the window, so that the blanket is facing up, so we couldn't see cause we were on the sidewalk, perpendicular to the car, not behind the car. And he's like "No, there's nothing in here. There's nothing in here." And he closes the blanket back, and then he closes the trunk.

And as he's, like, walking around to the front seat, a head pops up. ... No, this is not funny. There's a back of a female's head ... blonde hair, there's a ponytail, and based on the size of the box or cage that this person is in, it's like either, like a very small human, or a child.
At that point, the driver drove off. Redick says he questioned whether what he saw could have actually been a dog, but Kylee told him it definitely was not. She told Redick that when they were still in the car, she saw "half of a human face" peeking out of the blanket ― "a woman's eyes, woman's face, woman's blonde hair."
Redick said they called the police as well as the car agency, and phoned into an FBI tip line. He said the car agency responded by saying that they suspended the driver for having a passenger in the front seat, even though Redick clearly told them the issue was a person in a box or cage in the back of the car.
Contacted by HuffPost, a New York Police Department spokesperson said they were unable to locate a report on file about the incident.
Mr Porter, the company that Redick said arranged the car ride, did not immediately respond to a question from HuffPost asking for the name of the car service. The FBI press office also did not immediately respond to a request for comment.
On the podcast, Redick speculated that there could be an innocent explanation, even if there were a person in the back ― like the driver trying to give a friend or relative a ride unbeknownst to his customers.
"From there you can go darker," he said. "And this is not funny, but like child abduction, human trafficking?" In the end, he said he didn't know "what to make of it."
Meanwhile, Redick has been defending his actions on Twitter from critics who say he should have reacted differently to the situation.
For one thing, he noted that when Kylee first mentioned a person in the back, his first thought was that the situation was a potential robbery.
He also emphasized that the entire incident happened quickly, and that even now, he and his wife and sister-in-law aren't completely sure about what they saw.
"I was more concerned with safety of wife and sister in law," he said in another tweet. "Had no idea what was under blanket and still don't. Didn't see back of human head until after [the driver] locked doors and drove."
REAL LIFE. REAL NEWS. REAL VOICES.
Help us tell more of the stories that matter from voices that too often remain unheard.