50 members of the media will vote on the 2014 Associated Press NFL Most Valuable Player (MVP) award before the playoffs start on January 3. The NFL's MVP voting procedure differs from the other major professional team sports in this country because a points system isn't used. For example, the NBA MVP is determined by voters ranking their top-five candidates on a 10-7-5-3-1 points system. Instead, each NFL voter selects a single player as MVP, with selectors sometimes splitting a vote between two players. The results will be announced on January 31, the day before Super Bowl XLIX, during the NBC televised NFL Honors Awards Show in Phoenix, Arizona.
Watt should be the 2014 NFL MVP despite history working against him. The only two defensive players to win the MVP are Minnesota Vikings defensive tackle Alan Page in 1971 and New York Giants outside linebacker Lawrence Taylor in 1986. The last MVP from a team that didn't make the playoffs was Buffalo Bills running back O.J. Simpson in 1973.
Watt had one of the most dominant seasons ever for a defensive player. His historic performance was better than his 2012 season when he was named the NFL's Defensive Player of the Year. Watt became the first player in NFL history to have multiple 20 sack seasons by tying his career high with 20.5 sacks. He had a league leading five fumble recoveries, tied for second with four forced fumbles and was second in sacks. Advanced metrics better capture Watt's dominance. According to Pro Football Focus (PFF), Watt had a career-best 119 quarterback pressures (combined sacks, hurries and hits) to top has previous high of 85 in 2013. NFL sacks leader Justin Houston was second this year to Watt with 85 pressures.
Watt was an occasional two-way player as a red-zone threat on offense. He also became the first player in NFL history with an interception return for a touchdown, a fumble recovery touchdown and three touchdown receptions during a season. Although the Texans narrowly missed the playoffs with nine victories, Watt led the team to the NFL's biggest win improvement in 2014. The seven-game turnaround from a league-worst two wins in 2013 occurred without a legitimate starting quarterback or another elite defensive player to turn the opposition's attention away from Watt. It will be a surprise if Watt wins the MVP because of the advantage quarterbacks have by impacting the game on practically every offensive play. A quarterback has been named MVP in 37 of the 57 years of the award. Watt should get more than four votes, which would be the most for a defensive player during the 21st century.
Rodgers probably clinched his second MVP award with a gritty performance against the Lions in the season finale. After an aggravation of a left calf injury that forced him out of the game in the first half, Rodgers returned in the second half to break a 14-14 tie and lead the Packers to their fourth straight NFC North title. Rodgers completed 65.6 percent of his passes for 4,381 yards to post a 112.2 passer rating (second-best in the NFL). He threw 38 touchdown passes (third in NFL) and only five interceptions, which are the fewest of his career since becoming a starter in 2008. The 2011 NFL MVP was extremely consistent throughout the season with his only major hiccup coming in a Week 15 loss to the Buffalo Bills when Rodgers completed only 40.5 percent of his passes (17 of 42 attempts) for a career-worst 34.3 passing rating.
It's hard to believe that there was a rush to judgment about Brady being washed up when New England had a 2-2 record given the way the season unfolded. In the first four games, Brady only threw for 197.8 yards per game, completed just 59.2 percent of his passes, had four touchdown passes and two interceptions with a 79.1 passing rating. The two-time MVP rebounded from the slow start to give the Patriots home field advantage throughout the AFC playoffs. New England's 12 wins put them in a tie with four other teams for the NFL's best record. It's hard to ignore that Brady's resurgence coincided with All-Pro tight end Rob Gronkowski shaking off the rust after receiving limited action initially during his return from a 2013 ACL tear. In the eleven games with a healthy Gronkowski (he sat out the season finale for precautionary measures), Brady had a 66.2 completion percentage and 104.4 passing rating while throwing for 294.4 yards per game with 29 touchdown passes and seven interceptions.
Murray started the 2014 season like gangbusters as the Cowboys transformed into a rushing team after running the ball 36.4 percent of the time in his first three NFL seasons. He broke Jim Brown's 56-year-old NFL record of six consecutive games with 100 rushing yards or more to begin a season with an eight-game streak. At the midway point of the season, Murray had 1,054 rushing yards and 1,293 yards from scrimmage, which put him on pace to break Eric Dickerson's single season rushing record of 2,105 yards by three yards and Chris Johnson's single season yards from scrimmage record (2,509 yards). Murray couldn't sustain his pace of production, but the Cowboys rode him to a 12-4 record to win the NFC East crown. Murray broke Emmitt Smith's single season franchise rushing record of 1,773 yards by gaining 1,845 yards on the ground while playing through a late season broken left hand. The NFL's rushing leader had almost 500 more yards than runner up Le'Veon Bell. Murray also tied for the NFL lead with 13 rushing touchdowns and was tops in the NFL with 2,261 yards from scrimmage.
Romo made a late season MVP push with his stellar play in December, which should earn him the final NFC Player of the Month award of the season. During December, he led the Cowboys to a 4-0 record by completing 74.8 percent of his passes (83 of 111) for 987 yards with 12 touchdowns and one interception to post a 133.7 passer rating. Less has been more with Tony Romo, as the quarterback attempted only 29 passes per game after throwing 35.7 and 40.5 per game in 2012 and 2013, respectively. Romo's efficiency has never been greater with the Cowboys becoming more reliant on the running game. He led the NFL in completion percentage (69.9 percent), passer rating (113.2) and yards per pass attempt (8.52 yards).
Related
Before You Go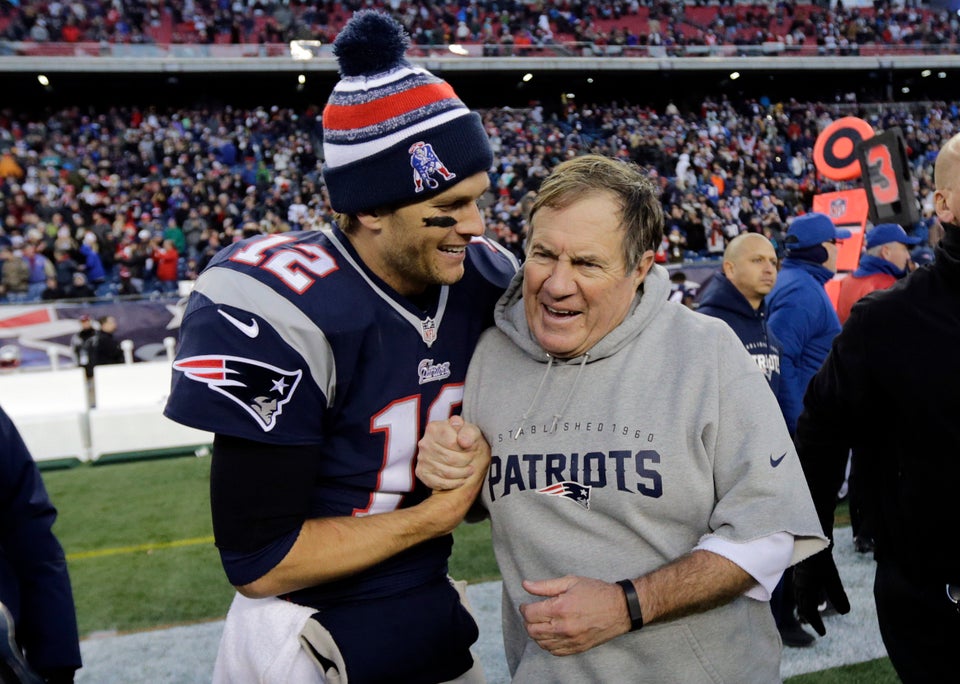 2015 NFL Playoff Teams, Odds
Popular in the Community