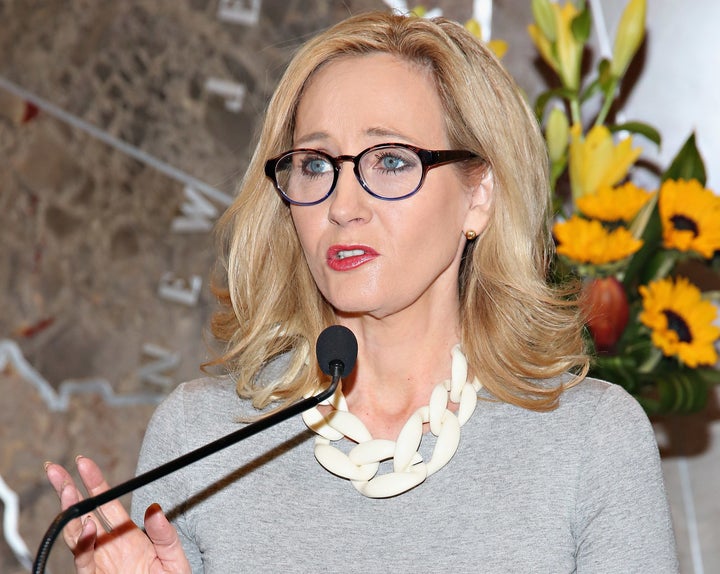 Harry Potter author J.K. Rowling called presumptive Republican presidential nominee Donald Trump a fascist and compared him to an "unstable nightclub bouncer" in a statement she posted on her website Monday.
She made the comments in a statement titled "On Monsters, Villains and the EU Referendum" that denounced the scare-tactics used by British political parties when advising the public whether or not to remain a member of the European Union.
"His stubby fingers are currently within horrifyingly close reach of America's nuclear codes," she wrote of Trump. 
Nationalism and fear is driving the current conversation about the upcoming EU Referendum vote, Rowling wrote. But she also noted that on the U.S. campaign trail, the same tactics are being used.
"He achieved this pre-eminence by proposing crude, unworkable solutions to complex threats," she said. "Terrorism? 'Ban all Muslims!' Immigration? 'Build a wall!'"
If my offended feelings can justify a travel ban on Donald Trump, I have no moral ground on which to argue that those offended by feminism or the fight for transgender rights or universal suffrage should not oppress campaigners for those causes. If you seek the removal of freedoms from an opponent simply on the grounds that they have offended you, you have crossed the line to stand alongside tyrants who imprison, torture, and kill on exactly the same justification.
Now, Rowling is using Trump, his comments and his tactics as an example of the type of nationalism she says is so dangerous.
"Look towards the Republican Party in America and shudder," she said. "God help America. God help us all."
Calling all HuffPost superfans!
Sign up for membership to become a founding member and help shape HuffPost's next chapter
BEFORE YOU GO