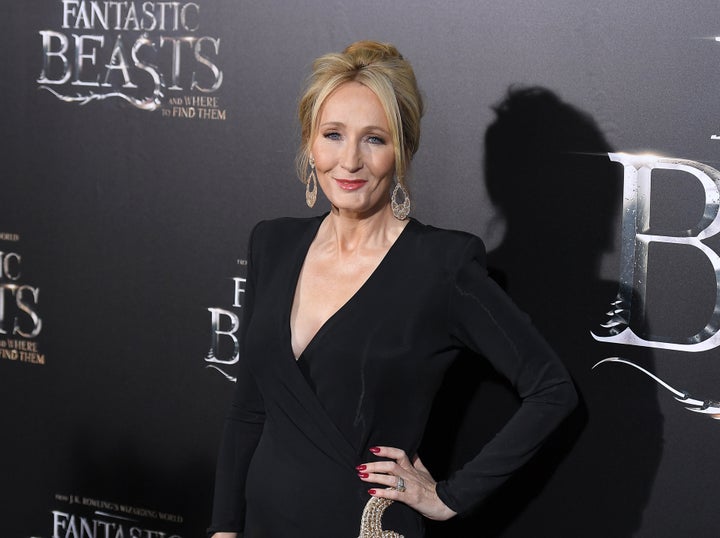 Since "Fantastic Beasts and Where to Find Them" acts as a prequel to the "Harry Potter" universe, we're about to get a lot more backstory about our cherished wizarding world. The film mostly operates as its own entity, but at a press conference in New York on Thursday, J.K. Rowling and producer David Heyman promised more "connective tissue" with the initial Hogwarts novels as the new five-part franchise continues. 
That raises many questions about what's in store for our new hero, sheepish magizoologist Newt Scamander (Eddie Redmayne), and the established characters who may resurface. With the exception of the dark wizard Grindelwald, most of "Fantastic Beasts" introduces fresh faces. But we already know that Albus Dumbledore will appear in the second film, and at the press conference, Screen Crush senior editor and former HuffPost writer Erin Whitney asked whether that movie will present the future headmaster as openly gay. 
In a room filled with domestic and international press, Rowling smiled knowingly at the question. "Well, I can't tell you everything I would like to say because this is obviously a five-part story, so there's lots to unpack in that relationship," Rowling said, referring to Dumbledore's known romance with Grindelwald. "I will say that you will see Dumbledore as a younger man, and quite a troubled man, because he wasn't always the sage. He was always very clever, but we'll see what I think was the formative period of his life. As far as his sexuality is concerned, watch this space."
Of course, this is no confirmation either way. But it sounds to me like the author, who wrote "Fantastic Beasts" and is putting finishing touches on the sequel's script, is inching toward an affirmative answer. Given her advocacy for the LGBTQ community and her anti-Trump sentiments, one can assume Rowling understands how revolutionary it would be for young viewers to see a queer hero on the big screen. 
Rowling, a Brit, has been vocal about the American presidential election on Twitter, but she didn't want to talk Trump when asked about him at the press conference. Rowling said any Trumpian parallels to storylines in "Fantastic Beasts" are coincidental, as the story was conceived years ago.
However, she noted that the film, which opens Nov. 18, revolves around unlikely heroes thrust into a situation while dark forces try to take control. The overarching themes, Rowling said, were a response to "a rise of populism around the world." She was in a "bleak mood" boarding a plane to America on Wednesday, so she worked on revisions to the next "Beasts" script to distract herself. 
"I need to do it," she said. "I feel strange if I don't write. Clearly, I don't need to write anymore. I love it so much. I would feel almost like a psychic amputation if I didn't do it. I have to write."
Calling all HuffPost superfans!
Sign up for membership to become a founding member and help shape HuffPost's next chapter
BEFORE YOU GO
PHOTO GALLERY
'Harry Potter': Where Are They Now?