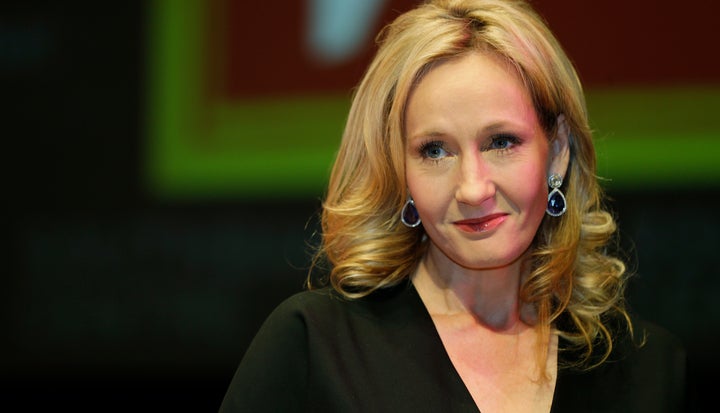 On Monday and Tuesday, Rowling provided a further explanation of her political position to fans using one of her beloved Harry Potter characters, as many had already done in counterarguments posted online. (Readership of her books, after all, spans the globe -- even war-torn areas.)
It all centers around a moment when Snape calls Dumbledore to meet him on a hilltop in the seventh book, Harry Potter And The Deathly Hallows. Why does such a wise old wizard take that risk, when Snape could easily kill him? 
Dumbledore, she stated, is "an academic."
"He believes that certain channels of communication should always remain open. It was true in the Potter books and it is true in life that talking will not change willfully closed minds," Rowling went on. "However, the course of my fictional war was forever changed when Snape chose to abandon the course on which he was set, and Dumbledore helped him do it."
The author clarified that she feels the Palestinian people "have suffered untold injustice and brutality," and would like to "see the Israeli government held to account for that." And she is glad that fans use her made-up world as they see fit, to make their own political arguments based on the moral dilemmas in her work.
But Rowling views cultural boycotts as "divisive, discriminatory and counter-productive."
"I can only say that a full discussion of morality within the series is impossible without examining Dumbledore's actions, because he is the moral heart of the books," she wrote. "He did not consider all weapons equal and he was prepared, always, to go to the hilltop."
CORRECTION: This post has been updated to accurately reflect the circumstances surrounding Dumbledore's death in the Harry Potter books. It has also been updated to reflect that the scene Rowling described takes place in Harry Potter and the Deathly Hallows, not Harry Potter and the Half-Blood Prince. 
PHOTO GALLERY
Celebrity Homes
Calling all HuffPost superfans!
Sign up for membership to become a founding member and help shape HuffPost's next chapter